Montreal's two main forms of transportation are its public bus and subway system.  If you are studying abroad, you'll probably invest in a monthly metro pass, as it is the best deal.  This gives you access to both the bus and subway with the unlimited fare for that month. That being said, the metro goes right from the student housing at Evo to the academic center, so there is no direct need to ever use the Montreal busses.  Hopefully, at some point of time in Montreal however, you may decide to go out and do things in the city, but chances are that you've only ever really taken the metro. I was in a similar boat, and I believe I chose wrong. Whenever I was in a situation where I could either take one bus, or transfer between multiple metros and do a fair bit of walking, I would choose the metro since it is what I was familiar with, and I didn't trust the reliability of the busses.  While this works, there are ways to further familiarize yourself with the bussing system so you aren't afraid to use it. Download the Transit app so you are able to keep track of the best bus routes, and don't be afraid to learn some bus routes as early into the year as possible, so you can get the hang of it before it gets cold.
Where the cool food markets are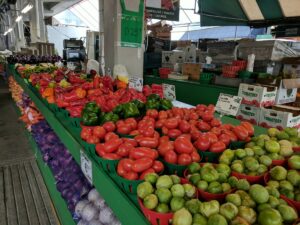 Montreal may be a big city, but it has its share of niche farmer markets and locally grown or produced food.  The two big ones that I have had the delight of attending are the Atwater Market and the Jean-Talon Market. The Jean-Talon Market is the bigger and more well-known of the two, with sprawling areas filled with fresh produce, butchers, pastries, and many more.  I got a maple syrup pie there that was to die for, and some pretty great pizza. Then on the flip side, there is the Atwater Market, a market that has a great number of outdoor booths, but also an entire indoor section. It is a pretty popular market during the Christmas season, and it has chocolate, cheese, flower, and miscellaneous stores all full of local products.  I had some great cheese and tomato cake there and would recommend going there while the outside section is still open before October.
Where the best shopping malls are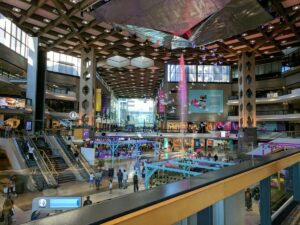 Montreal gets really cold in the winter, so cold that people don't really want to be outside at all during the coldest part of the year.  Luckily, Montreal has a surprisingly large amount of malls nestled into its underground, so that shoppers can do all of their shopping without ever stepping foot outside since most malls connect directly to the metro.  My two favorites are the Place Ville Marie and the Complexe Desjardins. The former is an enormous shopping mall, complete with a food court that takes up the entire floor, with easily over twenty different food options.  The latter is a smaller mall located right by Chinatown, that has a crazy fountain smack in the middle of it with towering water jets, as well as an IGA for convenient grocery shopping.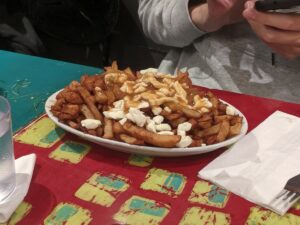 Poutine is a controversial topic in Montreal, with many places claiming to be the best.  From my experiences in the three months I have lived here, my money would go to La Banquise, a diner-style restaurant with over thirty types of poutine, all of which make your mouth water when read. The last time I went there, I got a poutine with three different types of meat and boy did it hit the spot. The decor of the place is charming, with the tables all painted by the wait staff that works there.  There is poutine for everyone there, and as a result, everyone goes there, so make sure you go at a time when business is at a lull (This can be checked through Google maps).
Abundance of networking opportunities
This applies doubly if you are a game major here in Montreal, but unlike Burlington, you'll run into a ton of people throughout your daily trek and commute.  I know several classmates who have had unlikely encounters with people in the industry or with connections to the industry and have had to opportunity to chat and socialize.  Additionally, the Montreal staff keeps in contact with alumni who currently work in Montreal so you will have a chance to meet people who may be in a similar spot to where you may wish to be when you graduate.  I highly recommend going to any and all networking events you have the privilege to attend.
Montreal may be a city with multiple colleges, but it doesn't have as much of a college-town vibe that places like Burlington or Boston have.  It is good to get into the thought process that not every store will be open 24/7, and that you won't be able to do late-night shopping over the weekend.  Late night shopping is usually done on Thursday and Friday when shops are open until 9 pm. The same applies to restaurants and department stores, just make you plan ahead when you need to buy something. 
A bit of a follow-up to the last tip, but remember that Montreal is far north, even though it is only two hours away from Burlington, which is 2 hours directly north almost.  This means it gets dark quickly and the days get shorter in the winter. It was normal for the sun to go down around 4:00 pm during November, and it only got worse past that.  Prepare to be shocked when you look out the window and assume that your day is over already, before looking at a clock and it only just hit 5 pm.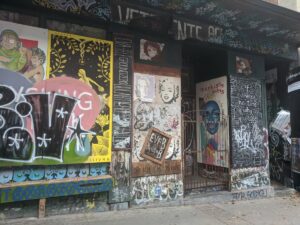 Upon direction from our Assistant Director at the Montreal campus, Hannah, I went with a couple of friends to check out a thrift store in between Chinatown and campus called Eva B.  The outside appearance is reminiscent of a graffitied subway or some boarded-up building, but the inside is a sprawling arrangement of the craziest thrift merchandise you'd ever see.  This was a unique experience I did not expect to have anywhere, let alone Montreal. At the entrance, they gave complimentary popcorn and cider, and they had a bag check where they gave you a card from a playing card deck to hold onto to exchange for your bag on the way out.  There were multiple floors, where there was room for an in-house theater where there are occasional live performances, a fully functional haunted walk for the Halloween season where the walls were lined with discarded dolls, puppets, and mannequin limbs, a knick-knack section with tons of sewing and arts and crafts supplies, as well as a legitimately absurd quantity of cowboy boots.  The place is a clustered mess, but it is well worth the crowd for the hidden gems you may find, as well as if you are ever searching for some low-priced cowboy boots, of which they may just have an infinite supply of.
If you take the metro outside of Montreal, it will cost you extra to come back
When you are taking the orange line towards Montmorency, you may notice that the metro line extends past the island of Montreal. If you were for any reason taking the metro all the way out of the island, do know that your monthly metro card will NOT work on your way back. The metro card is valid for anywhere inside of the island, but once you leave the area you'll have to pay for tickets to get back in.
The faculty and staff are people and love to chat
This one may seem obvious, but I really didn't take advantage of this until relatively late into the semester.  Whether it is one of your teachers or any member of staff, pretty much all of them are willing to talk to you about anything.  I've had some great conversations about non-course-related things with my professors and I think it is important to try to get to know them better since all of the professors have ties to the industry here in Montreal.  Remember that they are teaching by choice and most likely enjoy student interaction. I've learned about Montreal events and cool things to check out just by chatting with members of the faculty, so remember they don't have to just be course material resources to reference, they are humans who enjoy the fun too!