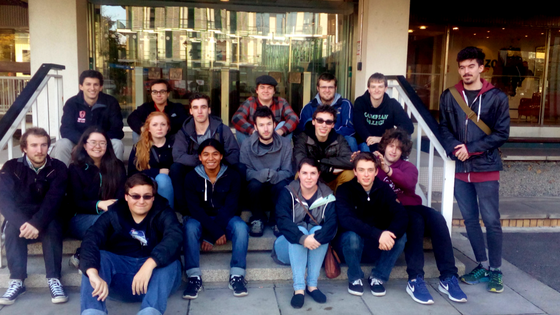 On November 16th the Global IT & Ethics class (CSI 320) class went to visit Amazon Web Services (AWS) on the canal at Grand Parade in Dublin. We were hosted by Matthew Pye, Operations Manager and two of his colleague engineers one specialising in security and the other in game development in the cloud. Matthew's talk began by explaining the history, background and current structure of Amazon. The founder – Jeff Bezos -despite starting by selling books from his garage, always saw the company as a technology supplier and not a bookseller. Matt then gave an overview of the type of Services provided by Amazon and how they allow companies such as Netflix to operate from the cloud and dynamically utilise extra capacity when needed. The list of services now is vast and also includes a specialised game development engine, secure authentication servers and dedicated platforms for the Internet of Things.
They also provide free experimental use of AWS for student projects. He also described the Amazon approach to graduate recruitment and more generally the types of background research that applicants should do before attending any interview. Amazon currently employs 1700 people in Dublin and Cork and has released plans to hire 500 more over the coming years. Finally after discussions about ways to prevent Distributed Denial of Service attacks the afternoon concluded with a question and answer session. It was fantastic to be allocated so much time and it was much appreciated. All this and free pizza too! As an aside the meeting took place on the 7th floor of the old Nationwide Building Society offices which was the previous home of their CEO Michael Fingleton and now contains pool tables and fantastic views across the City – changing times indeed.
APPLY NOW FOR YOUR INTERNATIONAL EXPERIENCE WITH CHAMPLAIN ABROAD!