We asked Chelsea Blount, '19, Psychology major at Champlain College, to tell us a little about her experience taking the Media Psychology (PSY 360) course last semester. The course is newly added to the Champlain Abroad Dublin's course listings and is taught by Lauren Christophers, a Media Psychologist with the University College Dublin's School of Psychology. Please see below for a full biography.
Have you ever watched a television show, a movie, read a book, or even listened to a song and suddenly you are one with the media? Identification and transportation are just two of the theories we learned, as to how and why this happens. Curious about how and why you emotionally respond to the media you engage with? We learned that as well. Mirror neurons have a role in that answer along with James Lange Theory (Emotions occur after arousal), Cannon Bard Theory (Arousal and emotion occur simultaneously), and Schachter Singer Theory (Both physiological arousal and a cognitive label determine the emotion experienced).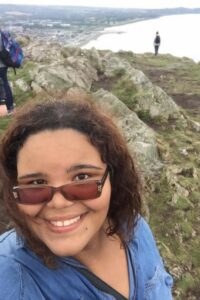 You may be unfamiliar with these theories but you will feel comfortable with them by the end of the course. Media is a constantly evolving sphere and the psychology behind it is also constantly evolving with it.
There are some fundamental theories to be learned but the class will adjust and evolve with social issues and hot topics of the day. We discussed the effects of media along with the role and importance of minority or marginalized groups in media. For example, women, members of the LGBTQA+ community, people of the Black community, the Latin community, and the Asian community. We discussed sensory overload, clickbait, alternative facts, and even fake news. You learn so much in this class it is difficult to put into a little blurb. You will take many classes in your lifetime…this should be one of them.
Lauren Christophers is a Media Psychologist with the UCD School of Psychology. She is currently working under Dr. Brendan Rooney within the MLitt/PhD Psychology programme, at University College Dublin. She graduated from Dun Laoghaire Institute of Art, Design and Technology with a BSc in Applied Psychology. Prior to her work with Champlain College Dublin, Lauren worked at UCD as a Research Assistant to Dr. Rooney and held various junior teaching positions within the School of Psychology.
Working at the Media and Entertainment Psychology Lab at UCD, Lauren has been involved with researching cognitive, emotional and psycho-physiological processes of engaging with Media, Entertainment and the Arts. Her current postgraduate research focuses on the perceived realism of television and virtual reality. The interdisciplinary nature of her research includes aspects of computer science, communication studies and philosophy.
Lauren has previously contributed publication to International Journal of Educational Research and her special research interests include creativity in learning, researching processes of judging realism in virtual environments, authenticity of mediated messages and emotional engagement with media and entertainment.