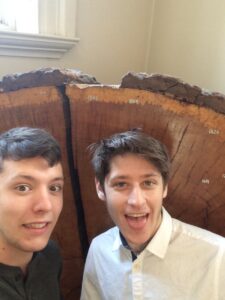 I was somewhat surprised when walking into the Redpath Museum. It wasn't very far from the Academic Center, only a few bus stops away, and was surrounded by the beautiful McGill buildings. There was even an ice rink right outside the entrance. Once we walked in, it seemed like a completely different place. Walking in the front door, you're greeted with fossils of all shapes and sizes, as well as different kinds of stuff animals, all with their names and information underneath.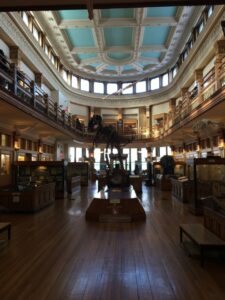 After working our way through the entrance area, filling out our scavenger hunt card, learning different facts about the inhabitants of the museum, we walked upstairs. The section that we came into next was the most interesting and useful section for me out of the entirety of the whole museum. There were all different sorts of rock and mineral formations grouped together. I say useful because in my concept painting class right now, I am going to be incorporating crystals into the environment that I am creating, so being able to see the many different kinds of rocks, take pictures of them and read some their information was extremely helpful with my project. That aside though, they were interesting to look at in themselves.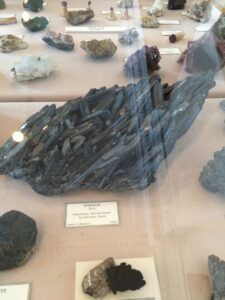 In the next section of the museum, were the highlights of their collection. The giant dinosaur skeletons, both complete and in section. There were smaller sections of animals grouped together shaped around the Gorgosaurus Libratus skeleton in the middle (part of the T-Rex genus). Behind the intimidating skeletal structure, were all sorts of stuffed animals including a Canada Lynx, like the one that was supposed to be at the Biodome we went to last week, and a beaver (our school mascot!). After continuing to fill our sheets out with a variety of different information covered on this floor, we headed to the upper and final floor.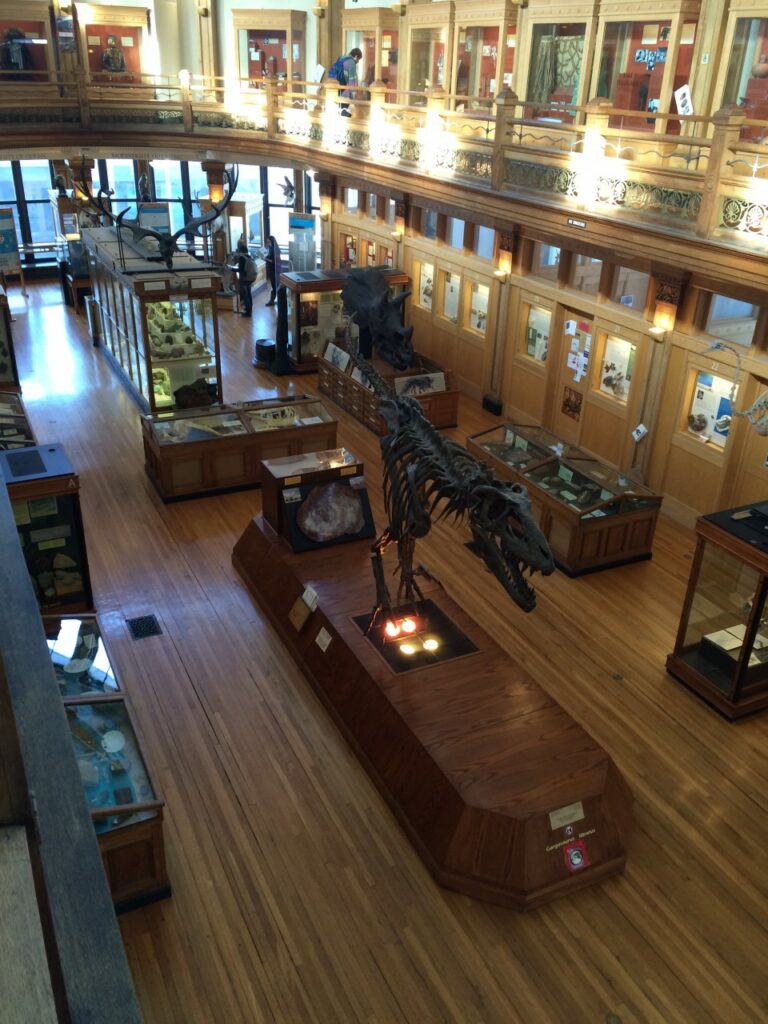 On the stairs up, there were more stuffed animals of different kinds, as well as a massive, ancient seeming tree stump was we made sure to record in the form on a selfie. What other way was there to document the occasion right? The third floor, that looked over the collection on the second, was filled with human history. There was a mummy and skulls from different points of evolution. Then there were tools from many ages and points in our history, with in depth descriptions of where they came from and how they may have been used. There were also interesting decorative pieces and fashion statements of the times that had been dug up. For example, one thing that stuck out to us was the tiny shoe collection. To think people stuck their feet into basically, baby sized shoes, and broke the bones in their feet so that they could retain the shape? Crazy. Absolutely crazy.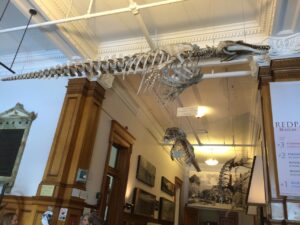 I'd be lying if I said I wasn't impressed by the collection at the Redpath museum. The museum really had all the major parts that I was looking to get out of taking this class, so I'm really glad that I was able to go, an experience I may not have taken advantage of otherwise. Definitely going to try and go back and get more pictures of those quartz rocks for my project!