One of the best parts about studying abroad is the opportunity to travel. When I came to the Netherlands I knew I wanted to see more of the world. Traveling, even for a short weekend visit, is the best way to learn about new cultures.
The friends I made from my IES program were also excited to explore Europe. Right away we knew we wanted to travel somewhere altogether, so a few weeks into being here we started planning. We decided on London because of the iconic sites and the inexpensive plane tickets were a big incentive. Traveling with new friends can be nerve-wracking, but we are all easy-going and very organized. This helped us to have a laid-back trip while being able to see everything we wanted to see.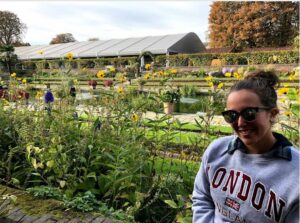 I was able to cross a lot off of my bucket list during this trip. There are so many sights there that I have always heard about, but have never seen for myself. I saw the London Eye, Kensington Palace, and went to the Camden Markets. Each place was interesting in its own way. The London Eye was in a very touristy area, so there were many people trying to snap a photo there. During a sunny afternoon in the Kensington Palace Gardens, I was able to appreciate where I was and enjoy the crisp fall day. And at the Camden Market, I met a lot of friendly British vendors. While these were all great, my favorite part of the trip was being able to snap a photo at a certain famous train station.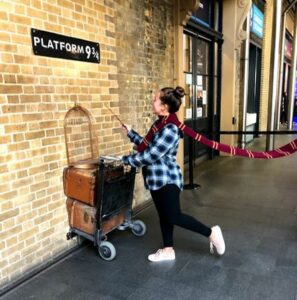 I am a big Potterhead (I have read all the books and seen the movies multiple times), so I was excited to see the inspiration for the books in person. Knowing I was in the same train station and the same city as J.K. Rowling had once been was surreal. I have read about this so many times and I was finally seeing it in person. Early one morning a few of my friends who also loved Harry Potter and I   headed to the train station so we could get in line to take a picture with the platform sign. I can easily say that the highlight of this trip was seeing Platform 9 ¾. If only it had actually taken me to Hogwarts!