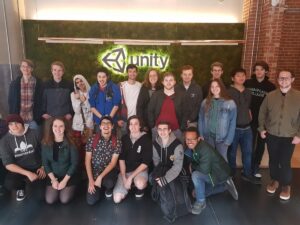 Among the many off-campus activities I participated in this semester, there are none that I enjoyed more than the company visits. While many of our visits are simply tours of the establishment, some are more personal. Even the tours opened up untold secrets of the game industry, and new possibilities for networking. This all packaged into a single trip in which we explore the city of Montreal just a little bit more. Parties set up by companies/studios or events and conventions such as MEGA or MIGS allow even more networking and communication through direct conversations.
For instance, our class toured Unity: a Montreal Studio specializing in popular game engine software. This was something that was brand new to the abroad events this year with the help of Jonathan Vogt, a fellow student who interned on campus coordinating events. This tour like many others included an overview of the physical studio, where they eat and hangout, and each teams sections. Unlike a traditional tour, we discussed internship and recruitment opportunities with an HR representative after exploring the building.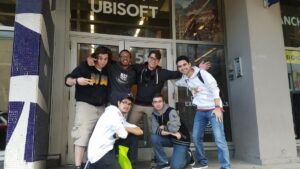 Not only does this open up new doors for future employment, but also it adds a new contact for the college for future students and alumni. Another example would be the tour of the Ubisoft Montreal or EA Studios. Both had traditional tours but with in-depth Q&A sessions about positions at the company. Questions such as "What do you look for in a new recruit", and "What tasks do Interns usually take on" both show that you are interested in employment at the company along while also getting valuable information. There is so much to gain by going on these sometimes bi-weekly trips.
Developer parties were another prominent activity throughout my time in Montreal, networking events, which skipped all the questions and got right down to friendly conversation and industry news. The MEGA Developer party for instance was simply a get together for developers and assistants of the event earlier that day. This event even included arcade machines and games to play to bond more with those around you.
The Montreal International Games Summit (MIGS) also included an after party, to which I was grateful to get an invite via my internship at the Gameplay Space. These developer parties are typically closed off to the public and are only available via invite or volunteering, thus have an exclusive vibe.
Being able to walk up to multiple or a single person and have a casual conversation about their current projects/games and their position is an amazing feeling that excites me to work in this industry.