Hello again, I'm back with a few more tips from my time in Dublin.  Along with learning how to cross the street when the cars drive on the left side of the road, re-learning how to text with T9 on our pay-as-you-go phones, and finding out where to buy toothpaste, I have also learned a lot about grocery shopping and food here.  Buying your week's worth of groceries in Dublin is a lot different than in Burlington.  First of all, our St. Augustine Apartments are only a 2 minute walk from Thomas Street which is where you can find almost anything you need, so that is very convenient.  However, if you are used to stepping into a Shaw's or Hannaford's, you will be in for a surprise.
Instead of picking up your meat in the refrigerated section of the grocery store, you can buy it fresh from a butcher!  I know, it's a very confusing and novel concept for many people in the United States (me included), but it really does taste better.   While it's a little scary at first to decide if they use pounds to measure meat and you might make the mistake of saying ground beef instead of "minced steak," once you have gone in there and given it a try, you feel ten times better the next time.  You'll also be infinitely happier once you go home and make a juicy cheese burger with that fresh, minced steak.
My second bit of advice is to check out the smaller grocery stores like Lidl or Tesco on Thomas Street before going out to find a larger, more crowded one.  My personal favorite is Lidl (pictured on the left).  Why?  I'm not really sure, it might be the fact that everything inside is painted bright blue and yellow, or maybe because it's right next to the 2 Euro store.  Either way, that's where I usually spend most of my grocery money.  One thing you'll notice about this grocery store versus Hannaford's is that the whole thing is the size of Hannaford's produce section.  This doesn't mean that you can't find everything you need there; it just means that there is one option for every type of food you're looking for.  For example, you don't really get a choice in cheese, there's mild and mature cheddar (definitely go for the mature, it tastes just like Cabot Seriously Sharp).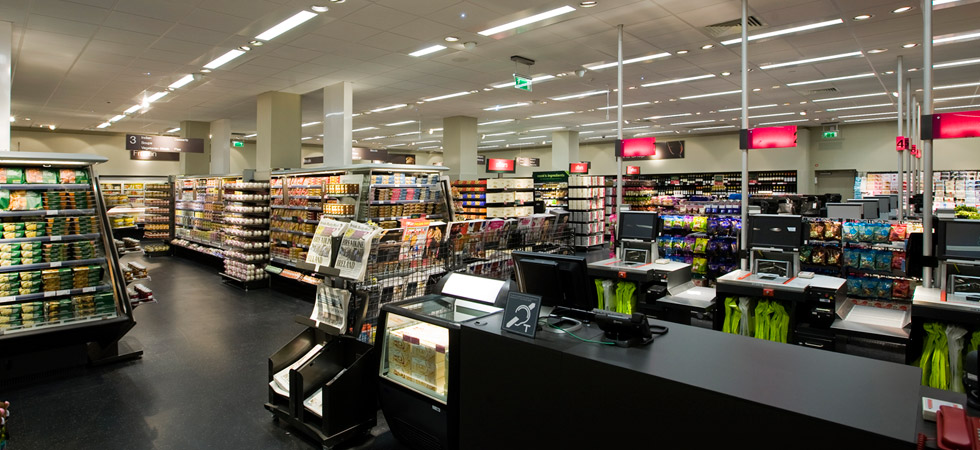 If you're not satisfied with the selection, you can also check out Tesco across the street which has a similar set up, or you can go down to Henry Street or Grafton Street and check out Marks and Spencer (pictured on the right), which is a department store with a pretty large food section.  The strange thing is that it looks very sophisticated and stylish inside, black deco rather than blue and yellow.  Here, they have a big selection of prepared meals which are actually really delicious; I highly suggest the Indian meals for two, they taste like they were freshly prepared and all you have to do is stick them in the oven for a few minutes and they're ready.  And they're only about eleven Euro with enough food for two people to be very full and happy.  So if you're feeling a little lazy and don't want to cook a meal yourself, check out Marks and Spencer, otherwise I suggest heading over to Lidl for most of your weekly grocery food. 
It will take some time to get used to, but I think it's kind of exciting to find new, strange brands and try them out.  The food selection here is a lot different, so you have to experiment with your meals.  On the bright side, along with strange cereal brands, you also get to try out new types of candy!  That's definitely the best part for me, checking out the chocolate selection at the grocery stores.  So my suggestion is to be brave, go into a store and try out something new even if it might seem scary at first.  And of course, try ALL the candy while you're here; Cadbury chocolate is delicious! 
Until next time, cheers!
-Allyson