This past week 47 students in the Environmental Earth Science course got on a bus and headed to Co. Fermanagh, Northern Ireland to visit Marble Arch Caves. The caves are part of the UN-sponsored Global Geopark network. This network aims to promote geological education, sustainable tourism, and protection of our geological heritage. Marble Arch Caves is one of three Global Geoparks in Ireland, the others being the Burren in Co. Clare, and the Copper Coast in Co. Waterford.

As a geologist and geographer I've always been fascinated by the ways that geological heritage and sites of unique geological importance are presented to the public, and the ways that the public interact with these sites. I spent some time in China a few years back visiting and learning more about their Global Geoparks, and I must say it is a unique way of putting geology front and centre in terms of preserving natural areas. The Global Geopark idea has not taken off in the United States or Canada, likely because their systems of national parks already preserve huge areas where geology is an important part of the landscape. So they don't really need another mode of preservation or public education.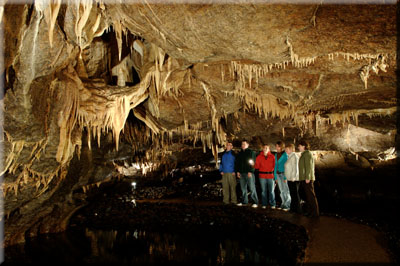 But back to Marble Arch Caves. These caves have formed over time from weakly acidic rainwater draining from the mountains to the north. The local limestone is particularly susceptible to weathering from this weakly acidic water, and over time the drainage network works its way underground through the weathered limestone and continue to expand the caves.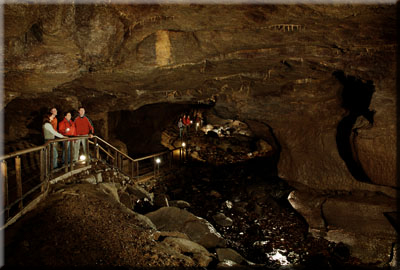 After touring the various educational displays and viewing the film about the area, our students were met by tour guides to take them around the caves in smaller groups. Usually entry to the caves is via boat, but the water levels were too high this time so everyone had to hike down the steps on through the man-made entry. Inside the cave there are a couple of rivers, quite a few stalactite and stalagmite formations, and some really impressive evidence showing how the caves flood on a regular basis. The tour guides are very well informed about cave formation, geology, and history of the area. The tour lasts slightly more than an hour, before exiting up the stairs again. The stewards of the caves take great pride in their preservation efforts, and the geopark provides a significant number of jobs for the local community.
It's quite a long bus ride from Dublin to the caves, but all of the students agreed it was worth it and it made an excellent educational day trip!
Dr. Stephen Robinson
Director and Associate Professor
Champlain College Dublin