Growing up, my father always told me stories about how he and his friends would gallivant around Queens causing the sort of trouble every teenage boy does, going on adventures, and just plain old having fun. Every time I heard one of his stories, I always wished that I was able to do that. I imagined myself doing as I pleased, walking around laughing with my best friends, and exploring parts of my town without fear. It may have taken 20 years, but finally I got to experience what my dad always talked about.
Last weekend my 37 fellow students and I went on a trip to Western Ireland. We stopped at some pretty incredible places along the way, but one of the first was Corcomroe Abbey. The abbey was a monastery built between 1205 and 1210. It was quite interesting to walk around and see how old some of the tombstones were. The oldest one I could find was from 1775, but I'm sure there were way older ones considering some of the stones had no dates at all. There's really only so much one can see at a cemetery, so I decided to walk around the perimeter of the abbey. There was a little stone wall separating the abbey from a smaller structure. I thought to myself, "Sweet, no one's even over here. I'll be the first one of the group to explore it." I peered over the wall and it was only about a 3 foot jump onto some grass. As I jumped over the wall I slowly realized the grass I was standing on had water under it. I was almost up to my knees in mud that was almost like quicksand before I finally got out. I thankfully didn't lose my sneakers coming out, so Adventure #1 was only a semi-failure.
After changing my shoes and cleaning up a bit, we went to a 5,000 year old ruin called the Burren. It was pretty cool and the view was quite beautiful, but there was no adventure here.
Next we went to the Cliffs of Moher. What an amazing place that was. I've never seen something so exquisite, yet scary. My roommates and I climbed the stairs to the top of the cliffs and approached a wall that said not to climb over. Typically I follow the rules, but you only live once right? We climbed over the wall. My roommate Sarah is deathly afraid of cliffs and even she climbed over! I love the fact that being in a different part of the world we become more confident and a little bit less fearful. From talking to everyone else here, it seems like the general consensus is that we'll probably never get to experience being abroad again, so why not do things we normally wouldn't do? Adventure #2 was a success.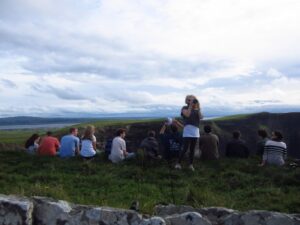 We finished walking around the top of the cliffs and then made our way to Doolin which is where our hostel was. We had gotten their fairly early and had a decent amount of time to go on a little expedition before we had to meet for dinner. My roommates and I quickly settled in to our rooms and then walked down the road to where there was a beach. The area of Doolin that we were staying in was extremely small and didn't have much for us to do, so the beach was definitely our best option. We walked along a stone wall and came to a fence, which we of course jumped over. I'm confident that jumping over fences and walls makes an adventure way more exciting. We ran up a huge hill that overlooked the ocean. In the distance we could see a waterfall. Being there reminded me of home and I loved every minute of it. We walked down to the water, despite the signs warning us of danger. Disregarding warnings always makes an adventure more exciting as well. When it was time to leave, we climbed back up the hill and we were faced with a heard of cows. There was probably a little more than 10 of them and they were coming toward us, mooing loudly. They were extremely close to us and I thought they would run us off the hill. As I was walking away from them, I stepped in a cow pie. I should probably start wrapping my sneakers in plastic. Despite my lack of paying attention to where I walk; Adventure #3 was an overall success.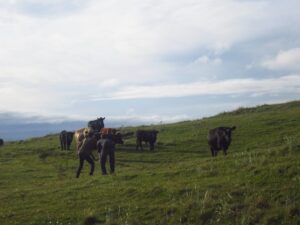 The next day we made a trip up to Galway, which reminded me so much of Burlington. I saw people my own age roaming the streets and immediately knew it was a college city. We walked around for a bit and decided to go to the rugby game that was playing near our hostel. Unfortunately, when we got there it had started to rain and we couldn't find any tickets for sale. We went to a local pub instead and watched a soccer game. The rest of the night consisted of us exploring the city and meeting new people. It was a ton of fun and if I get the chance to go back to Galway, I definitely will.
Not much adventure happened for the rest of the weekend. I figured I would give my sneakers time to recover. The weekend as a whole though, regardless of a few failures, was incredible and I'm not only happy that I went, but grateful too that Champlain gives us time to take these sort of trips. It's nice to feel like an explorer every once in a while and just go out on your own to discover new things. At home I probably would never think of just packing up to go somewhere I haven't been for the weekend. This trip has definitely opened my eyes to trying new things and covering new grounds, even if I might feel scared or nervous about doing so.
Cat Stamm
Champlain College Dublin Student Blogger
Champlain College Class of 2013