Boasting a playlist primarily made up of show tunes and Broadway soundtracks and a slow-but-steady collection of plays filling my shelf, my love for theatre runs deep. I'm left reeling for weeks after leaving a performance, and try to stay up to date on the latest shows and performers—a Hollywood of sorts. One of the greatest privileges in life is to witness live theatre. There's simply nothing like it.
Like writing, theatre has the power to touch, to move, and to inspire. It can provoke belly-aching laughter in one instant and, in the next, leave almost sorrowful tears streaming down audience members' faces. It leads us through the journeys of its characters, and we leave the confines of the theatre with a lighter step and more peace of mind. More insight; more humanity.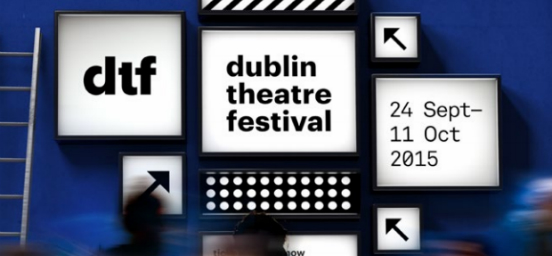 Discovering Dublin's ever-present theatre scene, especially with the Dublin Theatre Festival upon the city, brought me indescribable joy. I had the opportunity to see one participating show, The Night Alive, playing at the Gaiety Theatre, with my literature class. From Irish playwright and director Connor McPherson comes the story of Tommy, a middle-aged man living in Dublin who is just barely getting along. He lives in a room of his Uncle Maurice's home which is littered with empty boxes, clothing, trash bags close to bursting in the corner, dishes and cutlery stacked in the sink. Tommy, separated from his wife and having an almost nonexistent relationship with his children, opens his home to a young woman, Aimee, who he has discovered has been beaten by her boyfriend.
So begins the journey of five distinct characters battling their own demons who all, in one way or another, intersect and weave through each other. And together, Tommy and Aimee discover the possibility of moving forward and creating life away from the darkness that has pulled them down for so long.
The Night Alive was a wonderful experience. The acting, to start, was impeccable. Each performer naturally delivered their lines and I forgot that this was but a contained piece of fiction, it was that engrossing. It wasn't really until the lights went out and rose again on the performers, holding hands and bowing for the audience. Themes of cyclical traps, love, loss, guilt, and new life were fully fleshed out in dialogue and body language alike.
We were kept on our toes as audience members. A brief moment of joy for Tommy, Aimee, and Doc—Tommy's friend and business partner—ensues in the middle of the night as the three twirl madly and freely around Tommy's kitchen table abruptly shifts into intense, heart-stopping violence. Unexpected, and yet anticipated in the same breath. The stunned stillness that fell over the theatre was tangible.
And that is but one sign of good theatre: the ability to make you clutch the sides of your face, eyebrows furrowed, with no space to breathe as time ceases to exist.
There was a cinematic quality to the performance. With only one set, being Tommy's combined living room, kitchen, and bedroom, the use of lighting is crucial to creating a sense of passing time. The show opens with darkness outside of the windows, and soon blends into dawn. Music plays occasionally as the morning becomes night, and closes the show as Tommy, straightening his jacket in the mirror, turns slowly to find Aimee behind him. It was the first professional show that I've seen implement this technique, and for me it worked well. Again, it brought me to an entirely new place.
I left the theatre, heart swelling with complete contentment. It was a darkly humorous and poignant exploration of life and how to begin again. There were bits of Dublin humor that I picked up on, including a running joke about potatoes and other vegetables being hidden and uncovered underneath Doc's now-and-then bed in Tommy's room. It takes a few days to fully soak up all that a performance has to offer, but once it is digested, usually nothing remains but fond memories. And that's what The Night Alive gave to me. It felt like returning home once I sat in my seat.
Champlain College also purchased a number of tickets for the The Curious Incident of the Dog in the Night-Time, which I am happily seeing as well.
I've seen the show in New York, and am so ready to see it again with the Dublin Theatre Festival. The story may be the same, but the executions change from one production to the next. That couldn't be a more satisfying thing—to see it with fresh eyes, and have yet another perspective of theatre and life to carry with you forever.
To witness it at all is one of the most precious of gifts, and one that truly lasts a lifetime.
APPLY NOW TO STUDY ABROAD!
READY TO GET THAT INTERNATIONAL EXPERIENCE AND GLOBAL PERSPECTIVE?