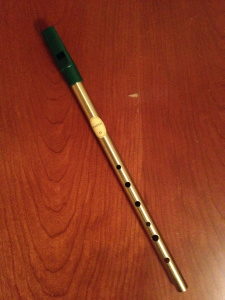 My Cultural Immersion through Music class sounds like we are strangling kittens and drop kicking puppies while learning to play the Tin Whistle. It's only the first day and we've already gotten jokingly snide comments from other students. Apparently, our cacophony of 'music' can be heard through the walls of every class room.
To any of my fellow students reading this, and to anyone else who has the unfortunate pleasure of witnessing my instrumental performance, I'm sorry in advance. I should probably take the blame for at least 78% of our musical failure.
Even as a child I was never musically inclined. I am highly tone deaf and my hands have the coordination of a drunken elephant. There must be a neurological disconnect between my brain and hands because they can't do separate tasks simultaneously. This was evident when I tried to learn guitar and, needless to say, I stopped pretty early on in that endeavor.
I'm not sure what possessed me to take this course. I know absolutely nothing about music, aside from the fact that I enjoy listening to it. Now, I'm stuck learning my scales and arpeggios, whatever that means. It's already giving me reminiscent nightmares of playing the recorder in fourth grade.
I should make an addendum to my previous apology. To the entire country of Ireland, I promise I don't mean to butcher your beautiful music. I'm intending to play it correctly, that's just not always what comes out.
There is a sliver of hope that maybe, just maybe, I can overcome my musical dysfunction and excel at playing either the Tin Whistle or the Bodhrán (a traditional Irish drum).
Wish me luck and count your lucky stars that you are not any of my roommates.