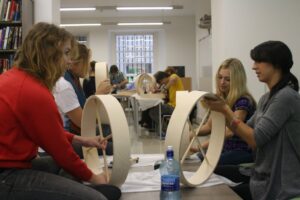 Students taking the "Ceol Na hEireann -Cultural Immersion through Music" course will explore the history and culture of Ireland through the medium of music, ranging from 12th century to the modern day. Besides learning the academic history of music, the students are also up for a very hands on experience where they get to make their own Irish drum called a "bodhrán".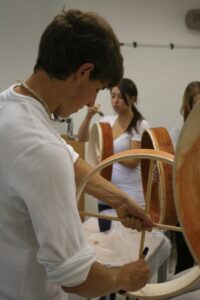 It usually doesn't take long for Study Abroad students when arriving to Dublin to notice the strong presence of music in Irish culture. One of the first encounters is usually, as for most visitors, a traditional session in one of the many pubs in Temple Bar. However, sometimes these sessions can be quite stereotypical, often referred to as "stage Irish".
To give our Champlain Abroad students the chance to get a different perspective, Caroline Elbay, who is teaching the course, invited a group of four young college students to one of her lectures. This gave our students a close up and personal experience with the opportunity to ask a contemporary peer group about their instruments. We were for example curious about the characteristics of the Irish Uilleann pipes. Uilleann meaning Elbow in Gaelic and as the name suggests they are blown from a bellows located on the right arm.
Stay tuned for some student guest bloggers about their volunteer experiences in Dublin.