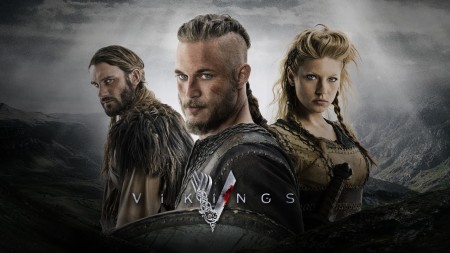 Here's how Ireland works. It's all about who you know. I happened to be introduced to a fellow Canadian named Jeff Woolnough at a US Embassy Christmas party, and of course we spoke of hockey and Canadian politics. It turned out that Jeff was in Ireland as Director of the TV series The Vikings, currently being filmed at Ashford Studios in County Wicklow, about 30 miles south of Dublin. With Champlain College having a Filmmaking program, I asked if he could arrange for us to visit the set for an afternoon. 'Not a problem', he said, 'we'll take care of you'.
So, this week myself, Ian Oliver (Champlain Dublin faculty teaching our Creative Dublin course), and six students made the trek to the studio and spent a delightful few hours watching several scenes being filmed getting a tour of the various sets. We're not allowed to reveal anything about what we saw, nor could we take photos, but suffice to say this is a very impressive and massive production. We saw the indoor sets, outdoor sets including a Viking village and large pool for filming boat scenes, the costume, special effects, and prosthetic departments. We chatted to the director, cinematographer as well as production assistants to get a view of how such a complicated TV series get made.
Huge thanks to Director Jeff Woolnough and Production Assistant Andrew Burke for facilitating our visit and being such fantastic hosts.
Dr. Stephen Robinson
Director
Champlain Abroad Dublin
APPLY NOW TO STUDY ABROAD WITH CHAMPLAIN COLLEGE!
READY TO GET THAT INTERNATIONAL EXPERIENCE AND GLOBAL PERSPECTIVE?
VISIT: WWW.CHAMPLAIN.EDU/DUBLIN