When I heard about the opportunity to go Christmas caroling on Grafton Street (one of the busiest shopping areas in Dublin), I was eager to sign up! I love Christmas songs, and really needed something to get me in the Christmas spirit. Since going away to school at the Burlington campus I have noticed that Christmas comes and goes without me even noticing it! I usually am so busy worrying about finals that I have to cram in a month's worth of decorating cookies, belting Christmas songs, and navigating for bargains around crowded malls in the few days between the last day of classes and Christmas Day. Folks in Dublin however, take Christmas very seriously. Busy shopping areas such as Grafton Street, Henry Street, and Temple Bar have been glowing every night since December 1st. While the cheery lights have helped, it's still very difficult to be so far away from my family during such a family oriented time of year. Caroling was a great way to get into the holiday mood, and our good time even helped raise money for a great cause.
When I signed up for the trip that would take place on December 8th I learned that the money we raised would be donated to a local charity called Barnardos Children's Charity. Before going on the trip John Wills, a representative from the charity, spoke at the academic center and explained all the wonderful things that the organization does. Barnardos offers tutoring services, breakfast clubs, friendship groups, and counseling services for children, teens, and parents. Barnardos has also plays a key role in lobbying for children's rights in Ireland. The organization has been pushing for children's rights to be added to the Irish Constitution. Learning about all of the wonderful work Barnardos does made me even more excited to go out carol for a great cause!
On the evening of Thursday December 8th, after class got out at 5:30, the volunteer carolers (which turned out to be nearly everyone in the program, even many of the professors), met in the basement to rehearse. We were each given either a Santa hat or reindeer antlers and red glowing nose to wear, and those holding the donation buckets were given lime green Barnardos shirts. As for the songs, we were each given a song book to follow along in. After a shaky practice we donned our antlers, Santa caps, and bundled up for our big debut on Grafton Street.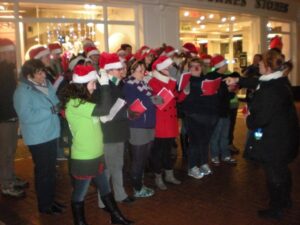 We arrived at the bustling shopping area and nervously attempted our first Christmas carol. While we may not have been the most in tune singing group, we were enthusiastic! After a few songs we got comfortably belting it out. We migrated to several locations on the street, and even sang along the way. All of the white donation buckets were extremely heavy by the end of the two hours. I had so much fun singing, even if we weren't as good as the Trinity choir down the street from us. We raised money for a wonderful cause and had a blast doing it!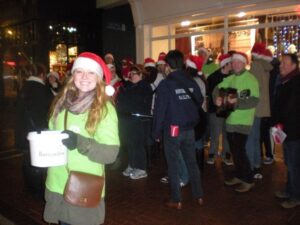 After caroling we went to the Tavern on the Green for our end of the year party. While eating pub bites we couldn't stop talking about how much fun we had, let alone stop singing. During the party it really hit me that it's the end of the semester. In just over a week I'll be home! The semester flew by. I have accomplished so much in just four months. I have become much more independent and adventurous. If someone told me a year ago I'd see Paris, Rome, Madrid, and Dublin, all within four months, I wouldn't have believed them. It has taught me that if want to go somewhere then go! It was difficult to sacrifice my summer for work over the beach, but I don't regret it for a minute.
While saying goodbye to Dublin is emotional, I am ready to go. I am beginning to miss the Burlington campus, snow and all. The question I am faced with is how exactly to say goodbye? Do I have one last pint of Guinness? Do I visit the charming seaside town of Bray one last time? Or, do I take a day and explore an area of the city I haven't yet? Hopefully, I will have time to do all of those things before I depart.
Laurel O'Meara
Champlain College Dublin Student Blogger
Champlain College Class of 2013
Editor's Note: We'd like to thank Dublin Faculty member Caroline Elbay for organizing our fundraiser for Barnardos and inviting John Wills to speak to our students.  Thanks to her (and our students and faculty who gave a few hours on a freezing cold night) we raised over €470 for Barnardos Children's Charity.