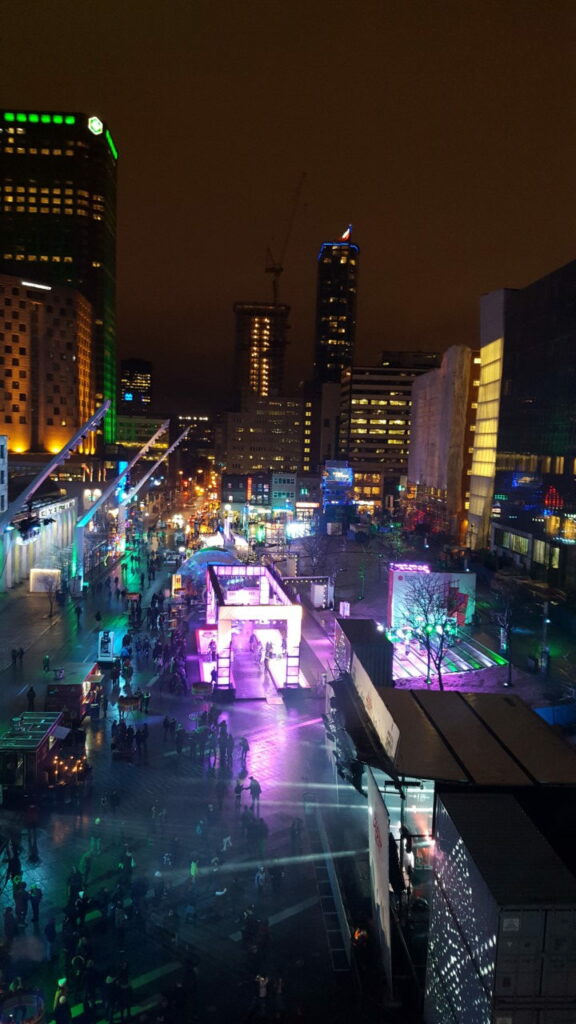 It's a great year to be studying abroad in Montréal! 2017 marks the city's 375th anniversary, which means there are celebrations everywhere! Montreal en Lumiere is a two week long festival that takes place all over Montreal each year, from live performances to a 3.6 kilometer route of illuminated artwork starting from the heart of the Quartier des Spectacles. Montreal does an amazing job incorporating interactive art with the city, and the best part is that you can experience the celebration barely a block away from Champlain's residences!
Some key facts about Montréal en Lumière, Nuit Blanche à Montréal:
Over 600 artists
300 activities and shows
13 countries represented
~1,000 projectors
2600 kg of cheese!!!!!
I decided to check out the festival on the first night it opened, and it was unbelievable. There was so much to do- as I walked down rue St. Catherine I saw an illuminated Ferris wheel, crowds dancing to a live DJ, curling, a zip line, a 110 meter ice slide, and way more to even count. All of these activities were free to do, so I was able to get a pretty great view of the city from the top of the Ferris wheel. From there I could see the city brighter than I've ever seen it- there was the biggest lit up red elephant, blown up human "sculptures" all in different poses, and and light shows projected onto nearby buildings. The sound of music and people having fun made me appreciate the city and how no matter what the weather is like, there's always time to go out and explore what Montreal has to offer.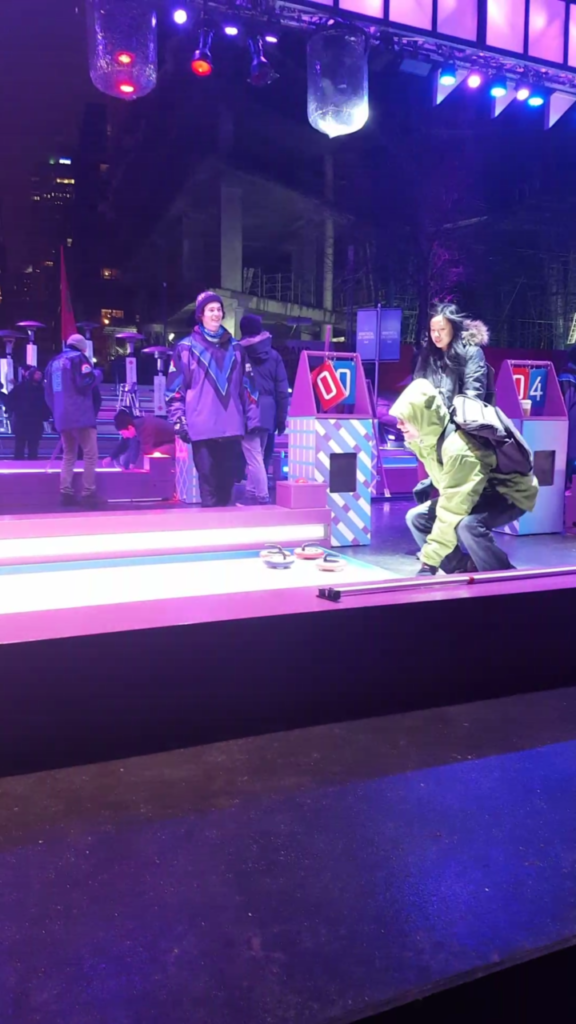 After the Ferris wheel, my friend Silas and I explored all of the different food trucks and decided on the chocolate covered waffle stand (I know what you're thinking: WHAT?! Chocolate covered waffles?!?? Yes.) There were benches surrounding fire pits scattered throughout the area for people to hang out and warm up our hands, and from there we could see people dancing to music. Something that I really liked that I don't normally see at festivals like this was the amount of people dancing by themselves- and having fun! Anyone could just jump into the crowd and they were accepted- and even joined by people they didn't know. It was an awesome place to be carefree and forget about any stress (I know I did).
Since there was so much to do and the festival lasts two weeks, we agreed that we would have to come back a few times to do all of the different activities. Free curling and a slide made out of ice would be insulting to pass up on, and the giant blown up igloo in the middle of the festival is a restaurant that one can only assume has amazing food. As well as the outdoor festival, there are also dozens of performances scheduled- from live music to dance to circus performances, there isn't a minute where something isn't going on. If you're into the more hands-on types of activities, Nuit Blanche offers workshops like creating stained glass art pieces, participating in flash mobs, or learning how to hula hoop or marionette! The list goes on to about 200 more exciting new things, so instead of naming them all I'll be going out and doing them myself!