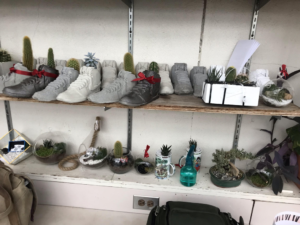 By Liam Werrmann (GPROG '20)
Last Wednesday, my Science class and I ended up making a trip to Concordia's rooftop greenhouse where we were able to see some of the practices that Concordia University has put into place to ensure a stable, green environment. It has a study area within one area of the greenhouse and a sustainable café on the first floor of the main building (both of which are sadly not pictured within this post- but I would recommend that you
definitely make the trip yourself to witness it all firsthand!).
Within the greenhouse itself were various plants that had various uses;
ranging from cacti to oregano to rosemary, the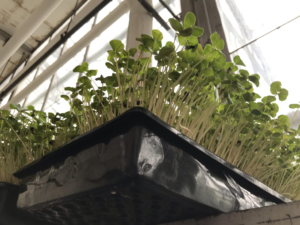 amount of plants gathered in such a small area was stunning to say the least, all topped off with a piece of the greenhouse dedicated to aquaponics (with two, cute koi… which are not pictured here (as I said, check it out yourself too, if you have time to spare)). For those not in the know, aquaponics is an interesting agriculture system that uses the ammonia that fish make and the nitrates that plants make, along with a few chemical conversions made by some small but important bacteria, to create a small scale Nitrogen cycle (one of three notable ones) to help cultivate better crops and raise fish. While the system that Concordia had within their greenhouse is somewhat small scale (picture a system about the size of the kitchen sink counter at the campus, and that would be the perimeter that the system had), the potency of aquaponics means that the system could have been even smaller. In fact, if you have some loose bins, some clay stones, a bit of sponge, two hose pieces, an air pump, and a decent amount of water, even you could create an aquaponics system- just be sure to add the plants and fish, since the bacteria will cultivate themselves naturally as the system develops.
Outside of aquaponics, there were a few other pieces that our tour of the greenhouse had, including a small promotion for an upcoming sale for Valentine's Day (which I would recommend, as long as you and your roommate don't have pollen allergies!), some information about how Concordia University allows third party companies to rent space in their greenhouse for their own greenhouse ideas (this is pictured down below, since this may change at the drop of a hat potentially), and was concluded with some tea crafted from plants grown within the greenhouse (which reminded me how glasses sometimes get in the way of a good, hot drink). The whole experience was relaxing and had a very peaceful vibe towards the conclusion of the tour, which was partially due to the fact that the greenhouse itself is not that large in size; I would recommend that if you only go to one place outside of class activities and restaurants that you make a trip to Concordia University's greenhouse.
P.S. The greenhouse is open to accepting volunteers to help manage their exhibits within the greenhouse; I would recommend this approach if you want a closer look at the plants and don't mind getting your hands dirty for doing so.
P.S.S. Although our tour of the greenhouse ended before this, there is a restaurant not too far from the greenhouse called LOV, which is a somewhat fancy restaurant that has a full vegan menu (with more vegetarian options for those that want things like animal cheeses for their burgers); I would recommend this place if you'd be interested in a meal a bit off the traditional beaten path, or if you need a place to finally convince your carnivorous friends to try the vegetarian lifestyle (the logo of LOV, displayed in a little area around the waiting area, is one of the images enclosed within this post).