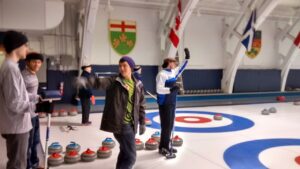 I've never watched curling before, let alone participated in a game of curling, but that's what a group of us did last week. When we got to the club we were met by two very enthusiastic staff members who walked us through the basic steps of a curling match, after which we went onto the rink and split up into our teams.
There was already one game being played out by some older women who, compared to how we were about to play, were basically Olympians. My group got paired with the multilingual staff member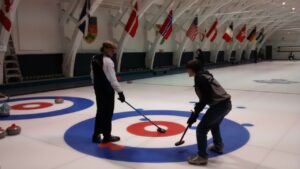 in our lane. I believe he said he spoke a total of 7 languages, which compared to my barely two, was insane. He was not short of energy even though he apparently only slept for a total of 3 hours the night before, yelling at us dramatically to "sweeeeep! Sweep as if your life depended on it! Sweep as if you were actually good at this sport!" He definitely provided us with some interesting dialogue as we went through our game to say the least.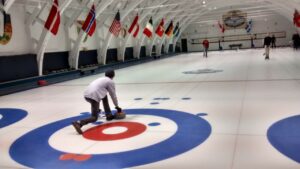 After playing through a few rounds, we concluded that curling was deceptively difficult. Our team had lost epically, but we were sure it was because our opponents had Lee on their team, their secret weapon, who had actually curled before. We then put our brooms and shoe-slips away, went back to the changing room for our jackets and left. Curling is strange, difficult and fun all at the same time. I think everyone left the trip with a newfound respect for the sport and a few with a new favorite sport. I'm definitely going to try it again sometime soon.