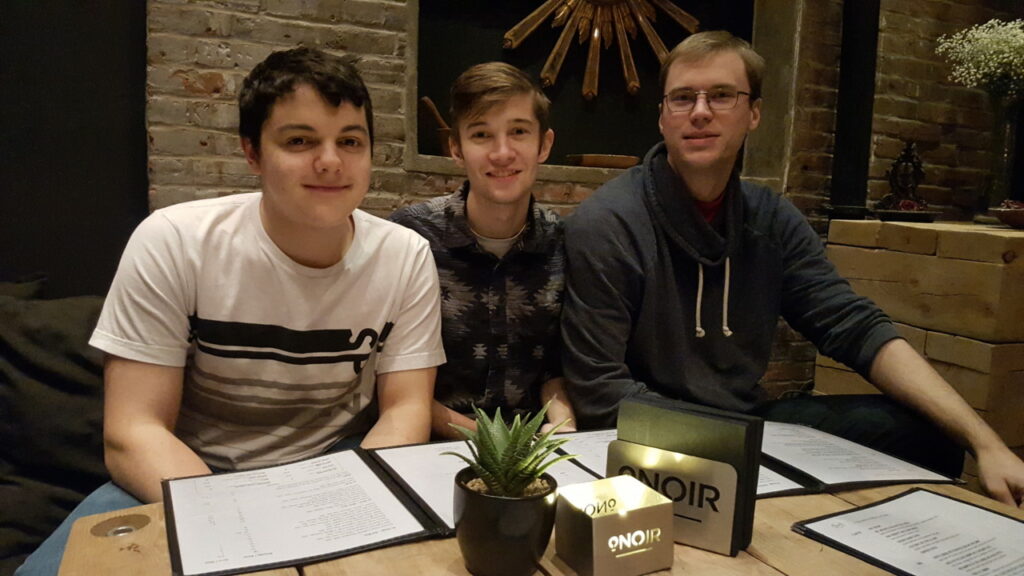 Montreal is well known for its food culture and exotic restaurants. Over the weekend my suitemates and I decided to check out O Noir, a restaurant ten minutes away from the residences. What's cool about O Noir is that the eating experience is completely in the dark where the wait staff are seeing impaired. If you've ever duct-taped shut your eyes and tried to eat dinner, you're almost halfway there!
You might be thinking, "how am I supposed to read the menu in the dark"? What happens when you arrive in the host/hostess gives you a locker where you're told to keep anything that produces light (phones, watches, etc.) so that your experience is completely pitch black. Next, you're seated at a table in the lounge where you can look over the menu and order food.
You can choose between a two-course meal (the main dish and either a starter or a dessert) or you could go for the full three-course. If you're feeling adventurous like my friends Charlie and David were, you can order a "surprise dish" for any of your meals. That means they'll serve you something that isn't on the menu at all, and you have to guess what it is while you eat it.
So after you order, your waiter/waitress introduces themselves and tells you to all link arms as they lead you into the black room. Walking to the table was so difficult because we had no gauge on how big the room actually was. We could have been eating in a closet, for all we knew! It took us a few minutes to finally sit down and feel out where all of our utensils and plates were, but it didn't take long to get used to the dark. Receiving drinks and plates was also pretty interesting, as the waiter would put the glass or plate on our shoulder and we'd have to feel around for space to put it on the table.
The hardest part, though, was actually eating the food. Being the wimpy picky eater I am, I didn't go for the surprise dish but instead ordered a beef shoulder fillet, which was a challenge itself to eat when you have no idea what you're even picking up with your fork. Expecting to be biting into the meat and actually eating a vegetable happened more times than you'd think, and we all laughed the entire time when we decided it might be easier to eat with our hands instead of our forks.
The food was great, the servers have unlimited jokes, and being able to spend time with friends without the distraction of our phones was something we all agreed was really nice. As my friend Charlie said on the way home, "Heaven is a lot darker than I thought". If you're looking for somewhere completely different than what you're used to, O Noir is worth checking out! I mean, just look at how much fun we're all having in this picture: