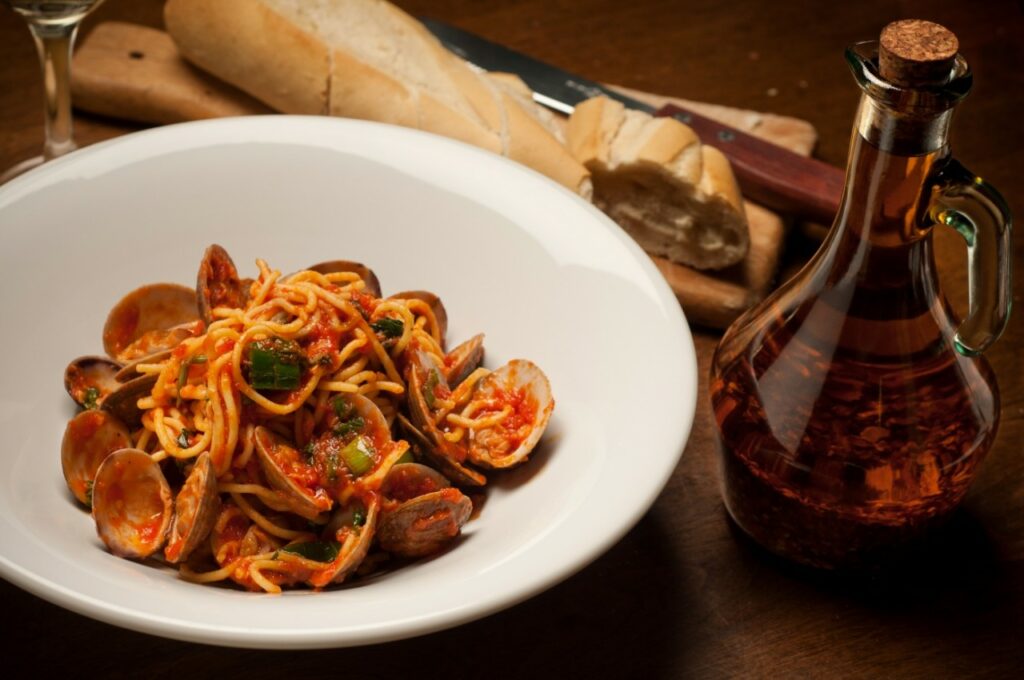 Montreal is an amazing city! Our very first weekend here, we went to Wienstein and Gavino, Pasta Bar Factory for dinner as part of orientation. They had some of the best food I've had in a while. Admittedly, their prices were high enough that if the school hadn't given us each a food allowance for the meal, I would not have been able to order the things I did, but as an occasional treat, the food is certainly worth the money.
Given the limited budget, I chose to skip appetizers, and went right into ordering the main course. I forget the name of the dish now, but I ended up with an amazingly tasty seafood pasta dish with lobster tail, shrimp, scallops, and assorted mussels in some sort of a light red sauce over angel hair pasta. I had not had mussels in quite some time, and I hadn't remembered liking them terribly much at the time, but I love other shellfish, so I figured I'd chance trying them again. This was definitely the right decision.
Though the lobster tail was ever so slightly tough, the meal overall was delicious – the pasta and the rest of the seafood was perfectly cooked, the mussels weren't sandy in the slightest (and I'd had a vague worry about improperly cleaned mussels, though not specifically linked to the restaurant; just in general) and the flavors came through quite well.

Perhaps the best addition to the evening: Genvieve Lord came down the tables showing us all a game screen capture, offering a free dessert to whoever could identify which expansion of what game the image was from. It turned out to be from pre-Wrath of the Lich King era World of Warcraft, which I was only able to determine due to a game-play quirk that they had eliminated with WotLK's release. I also only knew this information because my partner played during that time, and I had often partaken in system theory discussions with him and his brother. (Not that I didn't play WoW, I just only really played in Wrath and Cataclysm.)
So, with my new license to order dessert, I chose the house specialty (or so it seemed from the menu): tiramisu. Given that everyone else was more or less finished, I elected to get my dessert to go, so as not to hold up the group or require anyone to wait with me. The waiter brought my dessert in a bag with my leftovers and I thought nothing of it.
Upon arriving back home, I was pleasantly surprised to find that not only did I end up with a larger portion of tiramisu than I'd expected, but they sent it with me in a mason jar.  Yes.  A mason jar.  Complete with canning-style lid to keep it from ending up all over the place.  And oh my goodness was it the best tiramisu I've ever had!  Creamy, covered with a generous amount of cocoa powder, and with strong, but not overwhelming coffee flavors; it was definitely the best ending that meal could possibly have had. And I ended up with a cute mason jar to commemorate the occasion.
Wonderful food, commendable service (particularly considering the party of 30? or so that we had) – I highly recommend W&G and plan to return with my partner when manages to come visit. If you go, get the tiramisu. 😉
Wienstein & Gavino: Pasta Bar Factory
1434 Crescent Street, Montreal, QC