Adam van Sertima has been a professor at Champlain's Montreal campus for five years and is, in his own words, a "Dad, philosopher, art historian and Games Studies specialist." I sat down with him to talk about his expansive professional background, his passion for teaching, and his interests in film and video games.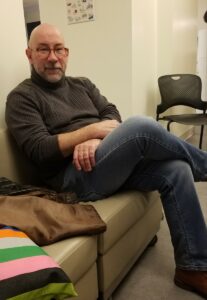 Megan Hoins: Where did you go to college and what was your major?
Adam van Sertima: I went to Concordia University here in Montreal and I double majored in Communication Studies with a focus on Film Production and Philosophy, so I graduated in 1994.
Megan: What was your background like before coming to Champlain?
Adam: Wow. All over the place! I'm a testament to no real career planning. After I graduated, I was in the Canadian military for a year and a half, in the Reserves. And then I worked for a publishing company as a writer/researcher, doing do-it-yourself books through the late 90s. But at the same time, I was playing kind of hard rock and punk rock in various bands here in Montreal. We traveled a bit and cut a few CDs.
Then in 2000, I started working as an English as a Second Language teacher at a private college around here. Then I went back to school to do my Master's degree in Art History, which I also did at Concordia. I wrote my thesis on the relationship between video games and performance art, and I looked specifically at the Iraqi-American artist Wafaa Bilal's Domestic Tension piece, where he lived in a gallery and let people shoot at him with a paintball gun or text him.
In some ways, it had some of the biggest audiences of any performance art piece ever. Six million individual people looked at him and interacted with him, some by shooting at him with the paintball, some by texting him, many doing both. It was a discussion about his own experiences of his family being trapped and feelings of powerlessness relative to the Iraqi War. His brother was killed in a rocket attack in Iraq in 2006, I believe. So I wrote about that and how it related to video games because, essentially, he became a live NPC in a shooter.
Megan: So then why did you choose to teach for Champlain?
Adam: I've known Geneviève for several years through the Technoculture, Art and Games research cluster at Concordia, which I got involved with during my Master's. In the second year of my Ph.D., she asked me if I knew somebody who could teach Canadian Culture Through Films and I said, "Yes! Me."
And she said, "But you're a philosopher who studies games." Yeah, but I also have an Art History degree including Canadian art and culture that I had just graduated from. And I had a history in film production because, during my undergrad, I actually worked as a film technician, camera operator, videographer, and lighting tech. I worked on rock videos, short films, and TV commercials.
Megan: Cool! So what's your professional life like now?
Adam: Well, mostly I've been teaching. I taught a couple of courses at Concordia, teaching communication to engineering peers and graduate engineering students. And since then I've been teaching here. I've been working on my Ph.D. since 2012, which is a full-time job unto itself. I teach at Champlain and I quite enjoy it.
Megan: What do you like about teaching at Champlain?
Adam: I like the energy of the students. I'm very impressed by their willingness to master a task. You set them something and they will really try and do their very best. And because I sometimes set things which are a little more unusual because of the nature of what we're doing and of the courses I teach, they go into that. They use their imagination and that really impresses me. Especially when a student says, "I'm not very creative," and they do something brilliant. So I find that in general, that energy and that creativity is one of the best parts about working with a student here.
Megan: Do you have any recommendations for film-related stuff to do around Montreal?
Adam: Go to films you enjoy. Make an evening of it. Do something fun! Montreal is very much a festival city. The FrancoFolies, Just for Laughs, the Nuits d'Afrique are all interesting events that are typically very focused. One coming up right now is the RIDM, which is an international documentary film festival.
But in terms of film, go out and make them. Go out and make little films; play with it. It's not like you have to spend $5,000 to get one minute of finished film. You've got a camera, you've got your phone, go out and shoot some. But I also encourage students to engage with the city and look for the very subtle differences and really get something out of it because you've come all this way. You come here to find out about yourself and to get a perspective on your own life by exploring the differences in language and culture here.