Champlain College's initiative to be inclusive and diverse in its curriculum continues at the Montreal Campus. SWK 230, new to Montreal as of fall 2018, taught by Jann Tomaro, focuses on the local LGBTQ community. The course brings students into the community to explore how an individual's identity affects how they interact with society. The class addresses various topics such as the history of the LGBTQ community in Montreal, the current obstacles the community faces, and LGBTQ empowerment.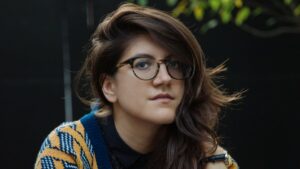 Jann Tomaro is a new professor at Champlain College this year. She received her Master's Degree in Counselling Psychology from McGill University and is currently working on her Ph.D. in the same field. She is also part of small psychotherapy practice with a specialized team for the LGBTQ community. When not working or teaching, she conducts research for her Ph.D. She is passionate about marginalized communities and educating others on how individuality and identity can form our relationships with society. This passion is what drew her to teaching the class at Champlain. She believes that teaching this class is one part advocacy and one part fun. Jann also adapts her teaching approach so that students of all learning styles will be comfortable in the class. She strives to meet the needs of her students and asks that they come to her and talk about what they need to learn in a class. While some of the topics can get deep and intense, Jann hopes that she can make the class fun and enjoyable for all students.
Jann makes sure to integrate the class into the city of Montreal and its LGBTQ community. The class has various projects and activities that focus on allowing students to be hands-on with the community. By making use of walking tours and trips to different organizations, students can see how the LGBTQ community interacts with society at large and vice versa. The class has quite a bit of presentation given by special guests. One such presentation allows the students to become pen pals with LGBTQ prisoners through the Prisoner Correspondence Project. The program was started in 2007 in Montreal by a team of volunteers. Every week the project mails LGBTQ prisoners 104 letters. As with this project, the class offers many connections to programs that students could volunteer for outside of class.
Another special guest this year is Kama La Mackerel. Kama was born in the Republic of Mauritius, immigrated to India as a young adult, and has been living in Montreal since 2011. She is an artist whose work focuses on anti-oppression and anti-systemic violence themes. One of her current projects is titled GENDER B(L)ENDER and is Montreal's only queer open stage. La Mackerel hosts the show and the audience is encouraged to be open and loving to every performer no matter their talent. LGBTQ in Montreal also takes advantage of the rich history of the city around it. Two walking tours are scheduled for this year. One of which is focused on the Plateau neighborhood and is led by Dr. Julie Podmore. Dr. Podmore is faculty at Concordia University and is a socio-cultural urban geographer, meaning she is interested in intersections of identity in public space. These few examples of what is going on in the class show the diversity of the content packed into this course.
Jann Tomaro believes classes like LGBTQ in Montreal are so crucial to include in education because silencing is a form of oppression. Gender and sexuality are large parts of everyone's life even if you do not identify with the LGBTQ community. Not including a curriculum that touches upon these topics, is detrimental for everyone. This class can be educational and fun for anyone regardless of identity.