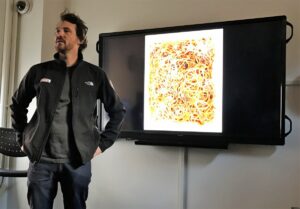 When I was given the opportunity to interview a member of our Montreal Campus faculty, I lept at the chance to interview Noé Sardet, our Emerging Media teacher. Our Emerging Media class, for those who don't know, is a class which teaching students how to interact and explore the new and upcoming media available in Montreal, and potentially create them in the future. It is a very hands on class which leaves a lot of creativity in the hands of the students, with each project focusing on a completely different element of media to explore.
Noé Sardet was born in South France, and was brought up with both an American mom and a French dad, so he would often go to the US for the summer. He distinctly remembers going to New York City as a child, but normally he lived in a small village in France. He said that he would often need to walk to his house when he entered the town, since his car could not fit in the path that led there. While growing up, he made it very clear that nature was abundant, and he remembers going out to pick mushrooms as a child. As a teen however, he would go hiking and trekking, in a group of many ages, from other teens like him to grownups. He went to an alternative school throughout his youth, which he believes to be responsible for making him as creative as he is now. After high school, he went to college for engineering, but didn't care for it so he switched over to new media and communication where he worked on things like early stage websites.
For his professional life, he started as a graphic and multimedia designer, but he didn't like how much time he was forced to just sit on the computer working, so he left that field. His mother is a videographer, so he gave video a shot. To do this, he created a film company with a friend called Parafilms. They started off doing nature and scientific documentaries, quite a few of which were done with the Tara foundation, working onboard the Tara expeditions ship. He also got to work alongside his father, who worked in biology. His company now does work for museums, and the projects could range from art to science, or a bit of both. The Tara foundation who he works so often with is important to him since they work on environmental issues both for publicity and politics. They take a serious scientific issue, push forward a dossier, and lobbies for regulation. Noé himself worked on a documentary about phytoplankton for them. Additionally, he is a part-time teacher at Champlain College where he teaches us.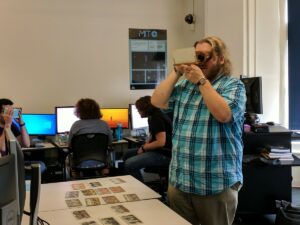 When asked why he chose to teach at Champlain, Noé was adamant that it was for mutual benefit. He believes that part time teaching helps him to connect to new media through the younger generation. He thinks that close contact with students helps both parties push the bounds of emergent media. Also that as he helps to inspire students to pursue new emergent media, he hopes that in turn he could be inspired by their passion.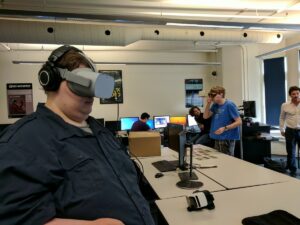 Noé hopes that students step out of his class with an increased curiosity and stimulations, and a wider grasp on technology as a whole. He wants to have us be inspired to create the next big tech piece. He hopes that we can be inspired to create the next big tech piece. That we can widen our perspective and stimulate creativity by creative studies and other methods. Outside of class, he hopes we will not rely on computers too much and take a moment to enjoy nature to its fullest.