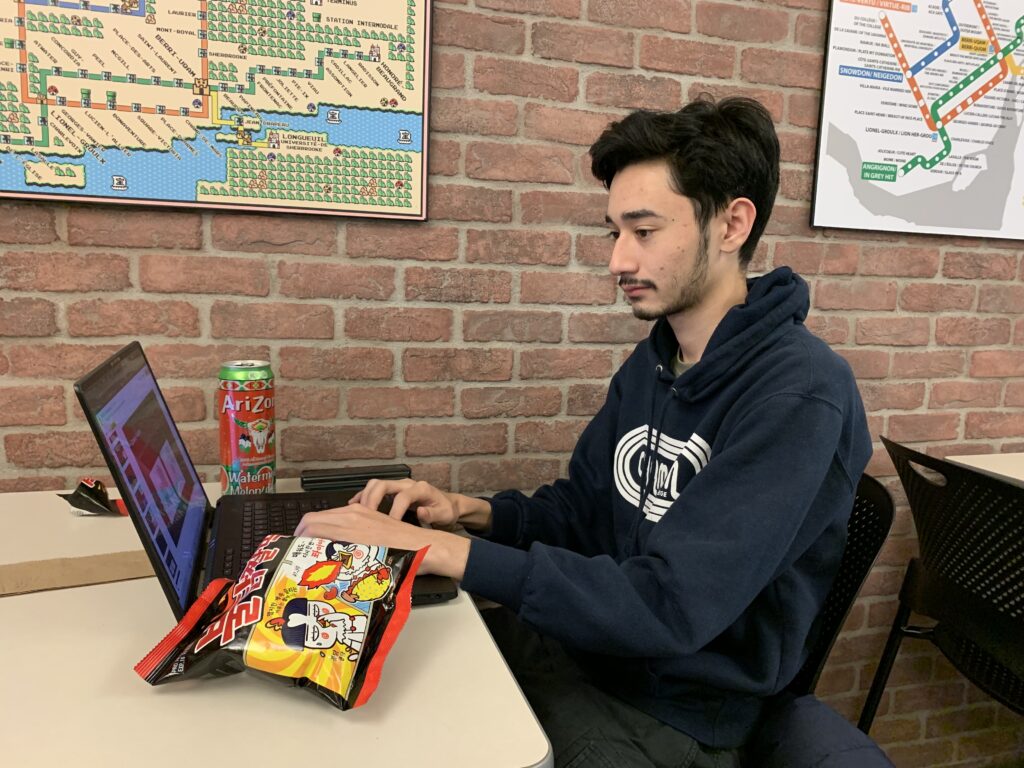 Are you a student who wants to study abroad in Montreal, Quebec but is worried about the academic, social, and financial challenges you might face? Well this blog post will cover all these topics through the lens of a student studying abroad right now. Neo Kattan, a Champlain College student shares through an interview his first impressions of Montreal as a city, a place to live, and a place to be educated.
Neo Kattan is a third year student studying for a bachelor's degree in Game Programming and a minor in Mathematics. Neo loves to play video games, board games, and tabletop role playing games. Neo has spent two weeks now exploring, learning, and growing as a student living in Montreal.
1 – Can you give me your first impression on living in the city of Montreal?
"I live in Los Angeles so I am used to city life. The things I love the most would have to be the metro system, the snow, and how easy it is to walk from place to place. Montreal also has a different feel to it compared to LA; it feels closer together and safer."
2 – What do you think about the underground city?
"The underground city really allows you to get anywhere you want to go without stepping a foot outside. When it comes to the metro, I am used to a train taking me from point A to point B and that's it. Here the metro is connected to so much. The underground is lively because the stops connect to malls, grocery stores, cafes, restaurants, markets, and more."
3 – What have you done around the city so far?
"I have walked around a lot and taken the metro. With some friends I went to the Biodome which is this kind of Zoo that was really cool. I also went to a few different restaurants, with friends too, like this dumpling place near campus on Sherbrooke and a Vietnamese sandwich shop."
4 – What is your favorite place you have visited so far in Montreal?
"I liked A&W. They make good burgers and when you eat there they sometimes offer a chilled frozen mug with an order of root beer. That is a whole experience of its own."
6 – Were you worried about anything before coming to Montreal?
"I was warned that living in Montreal would be a much more independent lifestyle. So I was kinda expecting that and I think it is nice honestly."
7 – What is the difference between living in Montreal, Quebec and living in Burlington, Vermont?
"In Burlington, I lived in on campus housing and off campus at 194. 194 feels pretty independent but living here is like a step up from that because there are no dedicated shuttles bringing you to campus. You either have to walk, find a bus, or take the metro. Thankfully, the metro stop is right next to campus."
8 – Is there anything that has been difficult to get used to while living in Montreal?
"I have had difficulty getting a lay of the land. Back in LA I knew where everything was so I need to get back to a point where I can say 'Oh there is a market here, and a restaurant here I can always go too.' I am slowly getting better using google maps as a guide."
9 – There is no meal plan offered abroad so how has that affected your day to day life?
"It is definitely something to consider. I remember the first week I would finish the day and get back to the dorm and realize I did not make anything for myself to eat and I had no food in the fridge. Luckily there is a mini mart downstairs and there are lots of places nearby. But this was definitely a reminder that I have to keep stuff stocked in the fridge. I started keeping a lot of frozen foods and stuff that stays good for a while in the fridge. Another great thing is the mini fridges in the rooms. The freezer works really well when it comes to keeping food frozen. Going to the market with a shopping list is also helpful."
10 – What do you think about living at the Evo residences?
"It is a lot bigger than any of the dorms in Burlington. It is cool to run into people who go to your school. The only thing that sucks is because they don't go to your school, the RA's have no control over them and you'll hear people around 1am being a little loud in the hallways. Not often or that big of a deal because it isn't super loud but it makes you realize you're living with other people."
"It is nice that the metro is in the building and you don't have to go outside to get to the nearest metro stop. There is a pool, a gym and a haircut place downstairs. It is nice having all those things readily accessible. The laundry situation is strange, seeing how this place used to be a normal hotel. You have to take the elevator to the 4th floor, then go down some stairs to the third floor and you can't take the service elevators. You also have to get a card form the front desk and fill money into your card and take that to the laundry room. It takes a bit of time to get used to it."
11 – How are your classes at the Academic Center?
"The classes are great and feel very educational. We have had a lot of guest speakers. It is also more interactive because two classes have taken us on walks around Montreal to discover the city. I also really like the three hour class schedule because it frees up a lot of time."
12 – Is there anything you like about the building itself?
"For the building itself, it is nice that we have a kitchenette that has a microwave, a coffee machine, and a kettle. As well there is a space to play console games and board games if you want."
Does studying abroad seem more feasible now? Did this interview help ease any concerns you might have had? Let us know! Feedback is always welcomed and appreciated! 🙂