Just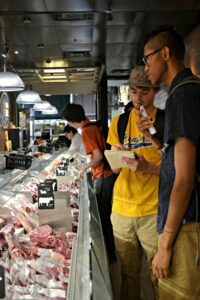 three weeks into this study abroad adventure, Champlain students have already experienced a ton of new things in Montreal, one of the most notable being the food. If you didn't know, Montreal is an extremely food-centric city. I've been told that it has one of the highest numbers of restauran
ts per capita in North America and you can pretty much find anything here. Unfortunately most of us can't really afford to be eating out every day. However, this doesn't mean we have to go without the fresh, local flavors of the city. So far we've been shown around two different food markets that are just a few Metro stops away from the Champlain campus and residence hall.
Having never actually lived within a city of this volume, it didn't even occur to me that there would be permanent markets selling fresh produce year round, but there are! You may be familiar with the Burlington farmer's market that operates on Saturday mornings, it's a great place to get some brunch and to support local agriculture. The markets that I've visited so far in Montreal have been similar to the one in Burlington, except on a much larger scale. First of all, they're open for most of the day, every day of the week. These markers are also huge. It's difficult to ge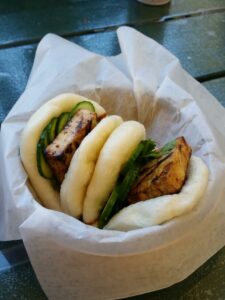 t through the whole market without buying more than you need with so many delicious-looking options.
So for the first market visit, a small group of us went to Atwater market. I am a huge fan of cooking with fresh vegetables so I was super excited to go check out what Montreal had to offer. All the students who went were pleasantly surprised by the seemingly endless rows of produce and just the huge variety of food that was all grown locally. Some of the highlights from this trip include the artisan cheeses that were a huge hit around our apartment, and a steamed bun from Satay Brothers, a very highly recommended location for a quick bite to eat. Seriously, every food loving person that I've talked to in Montreal has recommended Satay Brothers and it's clear why. They've got a humble looking stall where they offer authentic Southeast Asian cooking; for example, steamed buns filled with marinated tofu and slices of fresh cucumber. Probably the best thing I've eaten in this city so far.
The second market trip of the semester was a field
trip to Jean Talon market as part of our food writing class. Our teacher Susan Semenak told us a little about the history of this market and showed us some of her favorite places to buy produce. Jean Talon is one of the oldest and largest markets in Montreal and you can find so much history and culture her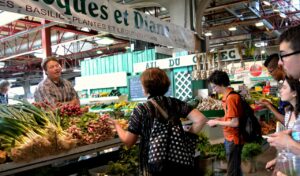 e. All of the vendors are more than willing to tell you exactly where their products are from and how they were produced. There are some seriously dedicated farmers here, I was again very impressed by the amount and quality of food that they're able to grow in the surrounding Quebec area.
At this market I purchased some green beans from a husband and wife duo who try to go beyond the traditional vegetables that you'd find in a supermarket, in order to get people in their community to try a more diverse array of fresh foods. They only sell the food that's in season, and their green beans get an A+ from me. I'm definitely interested in returning throughout the semester to see how their selection changes based on the season.
Also found on trip was some fresh pasta, a deal on handmade pies, and a super convenient place to get quick Mexican food. The trip was overall very successful.
So my advice is to actually make an effort to go to these markets, it really is worth it. If you care at all about having fresh and local food, Atwater and Jean Talon are great places to go. My advice for once you're there is that you're going to want to try something new, buy what's in season, and make an effort to talk to the people who are super passionate about their food, you'll definitely learn something new.
And just a final reminder
for visiting these markets, you're going to want to have cash on you. And if you're like me, you'll want to bring just a small amount so that you're not tempted to spend your entire study abroad budget on fancy cheese and macarons. Just something to consider.