Before I made my way across the pond, Netflix and I were attached at the hip. Seriously. I snuggled up next to my laptop after work and watched shows into the wee hours of the morning. If we're being honest, Netflix and I still make time for each other- somewhere nestled between classes, making dinner and going to Champlain Abroad Dublin events.
Like many students, Orange is the New Black is at the top of my 'Recently Watched' list and there's one episode in particular that still sticks in my mind. Without getting into too much detail, the show's main character, Piper, reminisces on a phrase her grandmother used to say to her growing up.
"Go out and eat the world, Piper"
I think I may have taken this ideal quite literally.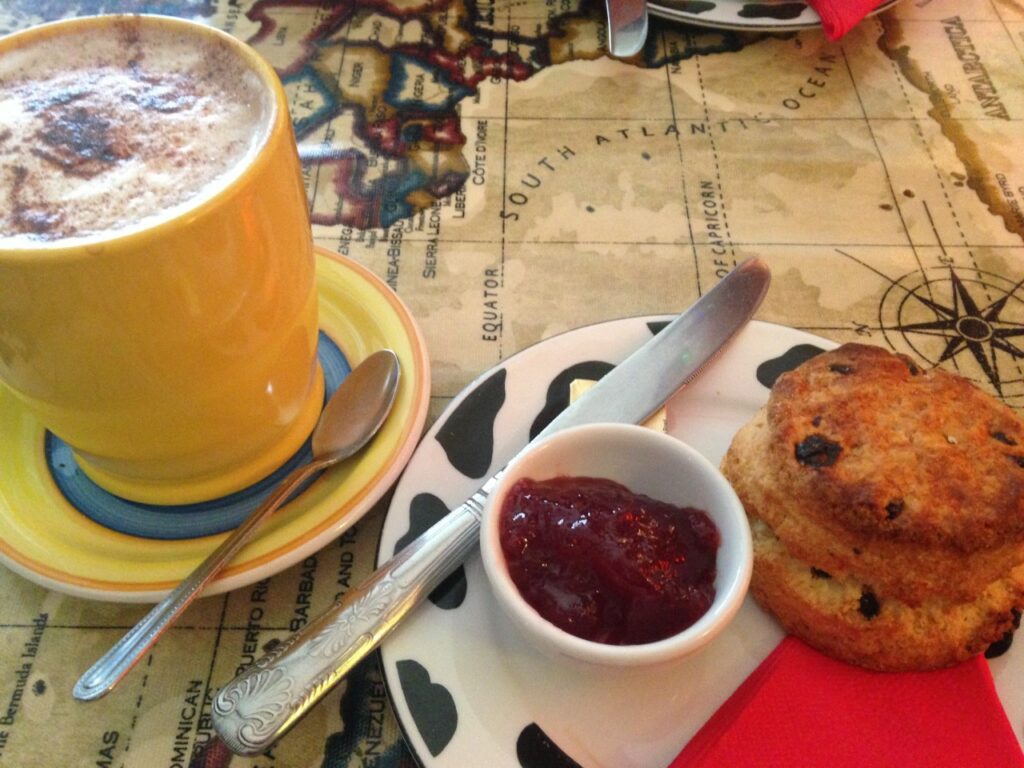 In the two months I've been abroad, I've learned that food and the stories that come along with them are irreplaceable! (Not to mention tasty) Our love for food is universal and enhances the experiences we have. I've been falling in love with different places sprinkled all across Ireland and in the digital age we live in… it all must be documented!
Champlain Abroad Dublin students taking the EHS course Community Advocacy and Inquiry Abroad with Dr. Darren Kelly took a class trip to a cafe called Foam. Word trickled back to me that it was the funkiest of all places so of course I had to check it out. Now not a day goes by where I don't think of the kitschy decor, mismatched cups and saucers and delicious treats. My Mondays are empty without it!
Our first big weekend trip of the semester was to the west of Ireland; Friday was filled with the most rain in recent memory, but Saturday was spectacular. We hopped on a boat and ventured out to the beautiful island of Inis Oirr (In-a-sheer). With damp shoes and chilled bones I set out to find the warmest thing I could consume; that thing just so happened to be the best seafood chowder I have ever had. It was almost as if I was transported back home and had just made soup with my mom. After I was finished, I raved to one of the waitresses about how delicious the chowder was and her smile warmed my heart almost as much as the meal. I know I'm cheesy, but it is 100% true and I would take the trip again just to have that homemade chowder!
On the way to Champlain College Dublin students pass Antoinette's Bakery which is located on Kevin Street. It's creative chalkboard sign makes you laugh; the delicious vegan and gluten free treats inside make you a believer. On the first day of classes, I was naturally stressed out. Coming to a new place and having to navigate the streets of Dublin for a 30 minute commute to school was daunting, but Antoinette's humor put me at ease on that otherwise anxiety filled day. This was the first time I ever talked to a Dubliner on my own. The barista and I talked about school, life across the pond and just how delicious brownies are and dare I say it- possibly the best confection ever created.
Although not a meal, Twirl bars and Kinder eggs cannot be missed. Kinder Bueno bars are also a hot commodity amongst Champlainers-it's a sad day when those run out of academic center's vending machine! Sometimes it's necessary to act like a kid and satisfy your sweet tooth regardless of how old you are.
It's fun to go out and explore all that Dublin's pubs, restaurants and coffee shops have to offer but don't you worry, I'm not blowing all my money on snacks and lattes. I'm now navigating the grocery store like a true Dub! I've also learned that the .89 pesto at Lidl is one of the best purchases you can make, McEnnedy peanut butter is just as delicious as Jif and that family dinner with your roommates is the best way to swap stories and remember how lucky you all are to be on this whirlwind of an adventure together!
APPLY NOW TO STUDY ABROAD!
READY TO GET THAT INTERNATIONAL EXPERIENCE AND GLOBAL PERSPECTIVE?