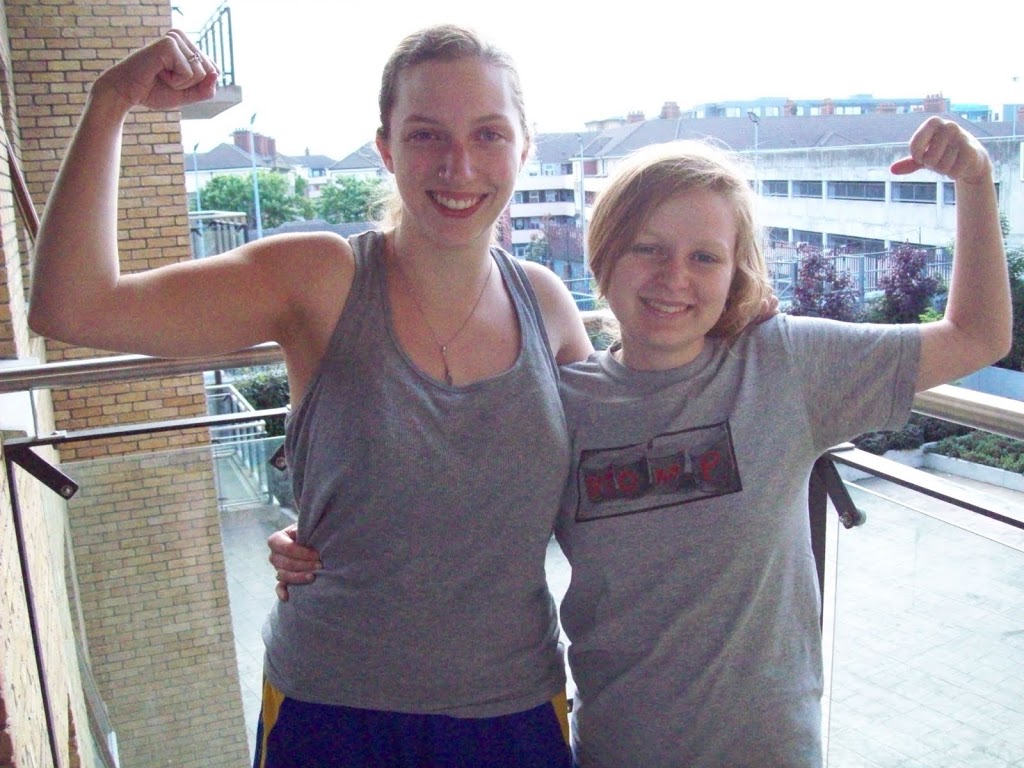 The Champlain Running Team in Dublin has gone on 14 group runs since we started practicing together in March. Not bad considering we are a hodgepodge bunch of 8 beginner to experienced runners, all just looking for a fun way to stay in shape while we're abroad.
We've gotten to explore new parts of the city that we never would have seen if we hadn't constantly been looking for new running routes. We've run at the beach in Howth, Merrion Square, Phoenix Park, the World War I Memorial Park (which is a gorgeous place that I had never heard of before I started looking for new parks to run to.) I've been amazed at how many new and interesting places I see, just within 5 kilometers of the St. Augustine Apartments. Two weeks ago, we ran past the Famine Memorial, which is on the north side of the Liffey towards the ocean. I might never have walked that far to see a memorial, but since we were running it only took us 15 minutes to get there.
One drawback to running in downtown Dublin is all of the traffic and crowded sidewalks. We had to get creative when planning our routes and choose some lesser-known roads in order to avoid stopping at busy intersections ever 3 minutes. Here are some successful running (or walking) routes that we planned:

The War Memorial route takes some quieter neighborhood streets out to the War Memorial Park, which is especially beautiful when the flowers in the sunken rose garden are in bloom. 

The Famine Memorial route follows the Liffey down to the Samuel Backett Bridge, which is the white bridge that looks like a harp. Once you get through the busy downtown pedestrian traffic, the sidewalks open up and it's a pleasant run, which also passes the Famine Memorial. 

We call this route the Guinness Run because you can smell beer brewing as you run past the Guinness factory. The furthest point of this run is Kilmainham Gaol (which once housed such infamous characters to Ireland's history as Robert Emmet and Charles Stewart Parnell.)
Aside from just having fun, our group runs also helped us make Dublin ours. We had a excuse to go out and explore the city, as well as get involved in something that we care about, racing in 5ks. I started training here to get in shape for the Burlington City Marathon back home, but I ended up also running in the St. Patrick's Day 5k here in Dublin. I realized that the easiest way to feel like a part of Dublin is through something I already love.
Even if you're not a runner, there are opportunities everywhere to get involved, even in small ways. It may be hard to spot them at first, but as you become more comfortable with the city, you'll see the places where you fit in best. If you're a chef, it may be the farmer's markets. If you're a social butterfly it may be the pubs. If you're a musician it may be the trad sessions. And if you're an artist it might be the cafes and art museums. Whatever it is that you love, take the first small step of finding a way to pursue it while you're studying abroad. Once you start to get involved, it's easy to find more and more connections to do what you love.