Johnny McDonagh, an Irish Traveller and Pavee Point Education Officer, gave a very heart-warming and honest description of the life of Travellers in Ireland when he and Hilary Harmon (coordinator of Education Advocacy Initiative) came to talk to the Intercultural Communications students last week. He described the traditions, life-style, difficulties and joys of Traveller life.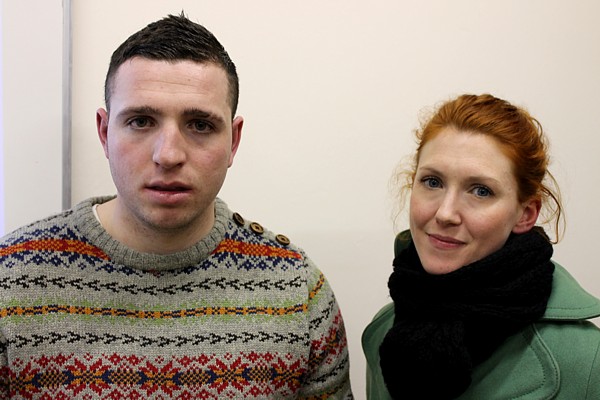 Hilary, who works for the centre and is not a Traveller herself, gave some very interesting, yet hard-hitting information, statistics and facts about the Travelling Community. For example, Travellers have a shorter average life-span than settled people and a much higher rate of suicide, as well as an 85% unemployment rate. On a cultural level, Travellers have their own language, called "cant" or "gammon" and are Roman Catholic in the main.
Johnny described the racism in school which led to many fights (which ended up with him being blamed for being aggressive), the difficulty of getting hotels for his wedding (Travellers often have to use the addresses of settled people to be able to book a room) and the ignominy of bouncers refusing him entrance to clubs (bouncers will ask questions to see if one is intoxicated or not, but if they hear a Traveller accent they will be refused entrance in most cases). And why all this negativity towards Travellers? Because some Travellers cause trouble and create problems (just like in the settled community there are some people who cause terrible stress for their neighbours). We do not all suffer rejection because of the deeds of a few. Yet this is generally the case for Travellers.
So what is being done to improve the situation for the Travelling community? 
According to https://paveepoint.ie/ : 'Pavee Point is a voluntary, or non-governmental, organisation committed to the attainment of human rights for Irish Travellers. The group is comprised of Travellers and members of the majority population working together in partnership to address the needs of Travellers as a minority group experiencing exclusion and marginalisation.'
The students, who in general would not know very much about Irish Travellers (due in part to the fact that there are very few Travellers in the United States – around 10,000 compared to the 40 million or so who can claim Irish heritage), asked many questions about the life and traditions of the Irish Travellers, which were enthusiastically discussed by Johnny and Hilary. All in all meeting both speakers was a great experience which gave the students a deeper understanding of Traveller life in particular and Irish society in general.