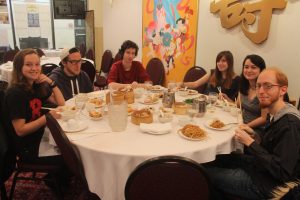 As the Assistant Director of Champlain Abroad Montreal, I take my job very seriously. I am on-call 24 hours a day, 7 days a week in order to make sure that our students remain safe, happy, but most importantly…well fed! It is in this spirit that, on a cloudy Tuesday morning after Canadian Thanksgiving, I found myself with the activities Coordinator and 12 of our students in an Asian shopping complex chomping down on delicious Eastern goodies at Kam Fung Restaurant.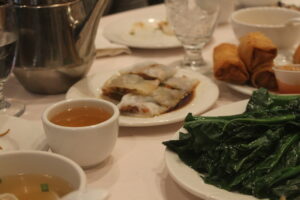 For those of you who are unacquainted with Dim Sum, think of it as kind of a Chinese brunch. It is generally served in the day only. But that's where the similarities end! Instead of North American morning fare like eggs, bacon, and flapjacks, Dim Sum awakens the taste buds with delicious treats like fried noodles, steamed broccoli, and dumplings; lots and lots of dumplings.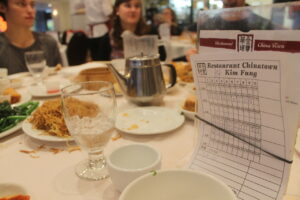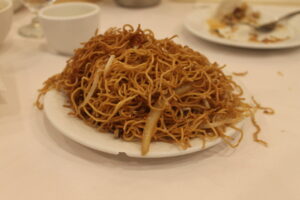 It's not just the food itself that's different, however. The way it's served is something quite unique to this amazing culinary experience. You see, Dim Sum is kind of like an all-you-can-eat buffet. But, instead of getting up and slopping food on your plate from a long hot table, the food comes to you! Servers pushing red carts piled high with different menu items weave around the tables yelling out their offerings. When you see something that interests you, you simply say "YES!" and like magic, it appears before you.
It's as simple as that. The goal is to share as many different
types of dishes as possible with your Dim Sum buddies. Each item you pick gets marked on a little card at your table, and at the end, the staff tallies it all up. Generally, it costs between $15-$20 CAD per person. That means you get A LOT of food for very little money. It's perfect for students and their Assistant Directors!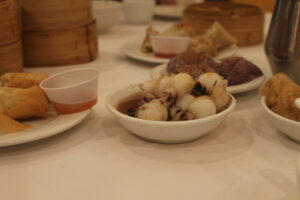 Back to last Tuesday. We were such a large group that we were seated at two tables. I was pleasantly surprised that the level of previous Dim Sum experience among the students was quite varied. Some had never heard of it in their lives, while a few others seemed like experienced veterans. Equally astonishing was their willingness to try some pretty out-there stuff such as marinated squid and sesame tripe. Even an adventurous eater like me isn't so into that!
Another thing that makes Dim Sum so great is the social aspect. We were seated at large, round tables that made it easy for the students to not only share food but to share conversation as well. Over steamy dumplings and bowls of won ton soup, our Champlainers chatted about school, life in Montreal, home, Burlington, and other topics. This is really something special about Dim Sum, as the communal way we eat lent itself easily to solidifying relationships. Food is often the best way to bring people together, and this was no exception!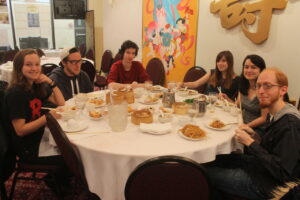 In conclusion: if you ever find yourself in Montreal, or in any other city with a Chinatown, seek out the best Dim Sum restaurant. I guarantee that you won't be disappointed! We'll be going back during American Thanksgiving. Hopefully, even more of our students will join us. And, I hope many will because I'm not allowed to eat all the dumplings!