A trip outside the classroom is always exciting, especially in a city like Dublin! Nicole Rourke's 9.00am Writing in the City class is no stranger to these little trips. Many of us had just gotten back from Spring Break and were in no mood to sit down and listen to a lecture. We still wanted to get up and explore, and of course, Writing in the City let us do that. Even though it wasn't a huge outing, it was still pretty cool.
We took a trip to the Little Museum of Dublin, about a ten minute walk from Champlain Abroad's Academic Center through St. Stephen's Green. The museum certainly was little. It used to be a Georgian house, but now, it is filled with artifacts donated by the people of Dublin. These artifacts included items from the 1916 Rising to U2 memorabilia.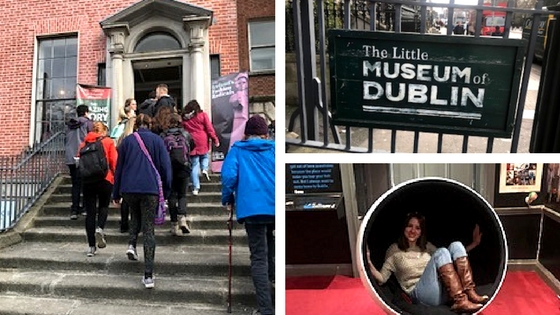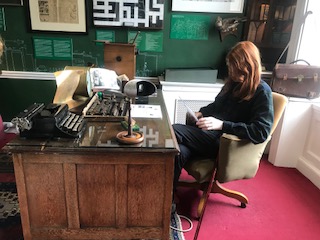 The great thing was, I could touch almost all of this, especially in the self-guided part of the tour. I'm one of those people who will touch things even if there is a big fat sign saying I shouldn't. I loved the fact that I could sit in a big spherical chair inside the U2 room or play with an old typewriter in a mock journalism office. You could even sit at a small student's desk and color if you wanted.
The first part of the tour had a guide, and you did the second part on your own (this would be the part with the big spherical chair and coloring). When we arrived, we wandered through this room full of some of the wildest fashion I had ever seen, all created by Irish designers. Some of us played a game of who would wear what (apparently, I would wear a skirt with pink and green patching) and others just read about the designers on the walls. I personally appreciated this part because I love fashion and I wondered why fashion history overlooked these designers. They were so talented!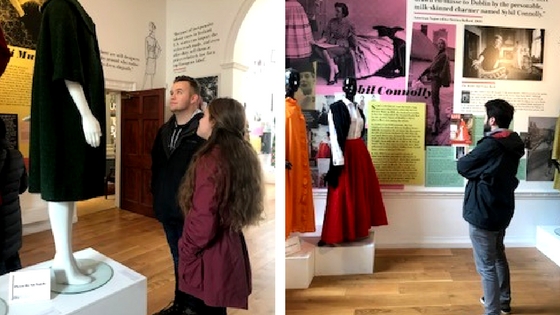 After admiring the clothes, our tour began. The guide took us on a visual journey of Dublin through the decades, from around the early 1900s until now. It didn't feel like a lecture or a history lesson. He was telling us about the saga of Dublin. Even the self-guided parts presented side stories in the overall epic that is Ireland. Dublin is basically on this one continuous journey that started all the way back in 1916, and its story isn't finished yet. In many ways, Ireland is a lot like the United States. We both had a fairly recent independence, we both have what we consider Founding Fathers and Mothers, and we are both proud of our national identities, down to the littlest detail.
VISIT CHAMPLAIN ABROAD TO START YOUR IRISH STUDY ABROAD JOURNEY!