Let's be honest for a minute: when it comes to the process of preparing for a semester in Dublin, our courses are likely not in the top ten things on our mind. Amidst all the charms of being in a new foreign city, meeting new friends, and figuring out all our travel adventures, it's easy to feel like our academics might end up taking the backburner. It can sometimes be rumored that study abroad is like a vacation: yes you're taking classes, but those are in the background compared to the rest of your experience. However, in my time here I have learned that this is definitely NOT the case!
When I was signing up for my Champlain Abroad Dublin classes all the course descriptions sounded interesting enough, a little plain, and besides filling credit requirements I didn't put a huge amount of thought into what I joined. The Cultural Immersion Through Music course, for example, sounded like a pretty calm lecture where we'd listen to a lot of Irish music recordings and do some readings. I thought, 'Well, I like music…,' checked off the box, and didn't think much more of it until I got the textbook requirements sheet for my classes, months later. Under this class it simply said: "No textbook required, but students must have 30 euro to purchase a tin whistle and hand drum." All I could think was, what have I gotten myself into!
Fast forward a handful of weeks and I'm stretching dried goat skin over a wooden frame I hand-painted to build my very own bodhrán, a traditional Irish hand drum. This class, like all my courses here in Dublin, has completely blown me away with how interesting and hands-on it is. I'm not just listening to music: I'm singing it, I'm playing it on a huge variety of instruments, I'm taking field trips to watch it be performed, I'm analyzing its lyrics both in English and in Irish- it truly lives up to the course title, cultural immersion through music.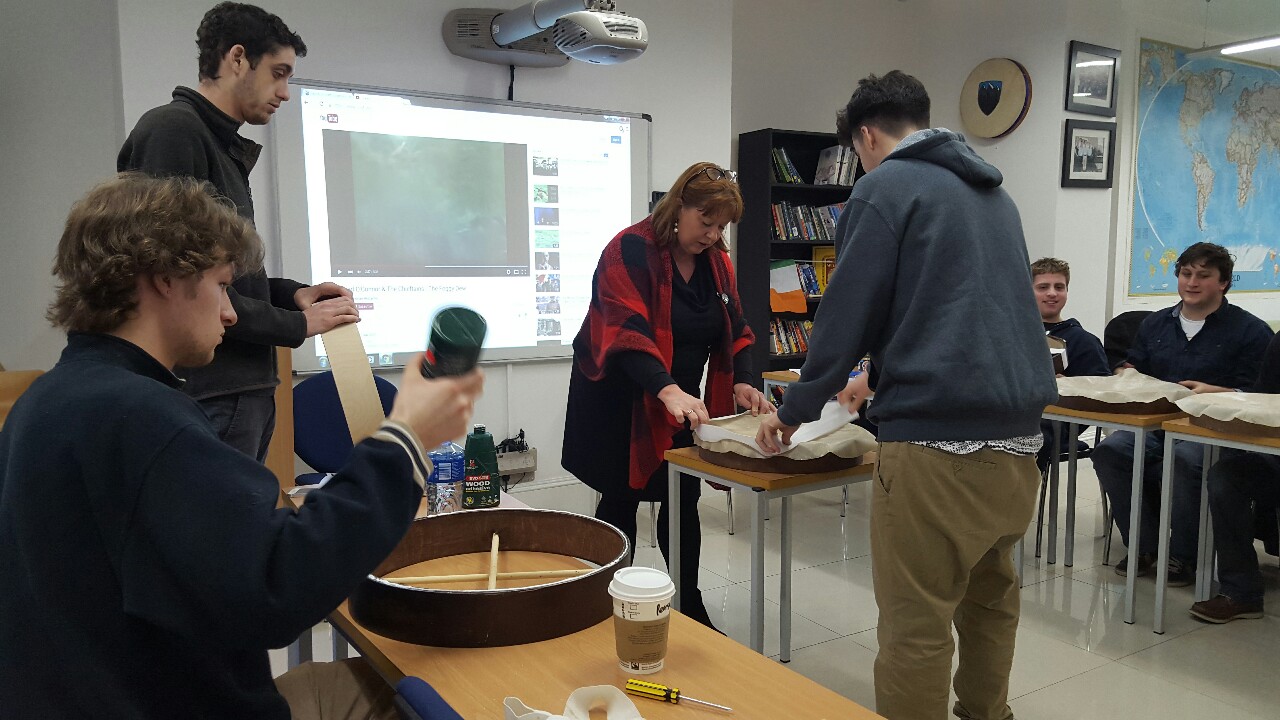 Many of the students in the class had no experience in music and were mixed in with people who'd studied music for years- I myself am the director of the campus acapella group back at Champlain College in Burlington and was on the more knowledgeable end of the group- and I was curious how the class would run with such a mix of people. However I've learned in class that the culture of Irish music is traditionally just passed along orally, by listening to someone more skilled than you- like our professor- and then trying it yourself, and skills like being able to read music or even sing or play particularly well are not necessary.
It definitely is a unique experience to start my week at 9 am on a Monday singing pub songs together as a class, none of us sounding very good, but also none of us able to be embarrassed because we're all in the same boat and just laughing at ourselves. The music we make (so far, at least!) isn't particularly pretty, but we make it ourselves and it feels authentic. I don't usually become so invested in classes like CORE that aren't specifically related to my major, but this one is just too interesting to resist!
What is really cool is that all the classes here have a focus on Ireland in some way, so I'm learning about where I'm living during my time here. During course selection the descriptions expressed that all classes had a focus on Ireland, and I remember thinking, 'we're really going to talk about Ireland in every class?' It seemed like it was going to be Ireland overload. Now that I'm nearing midterms, however, I see how seamlessly it has been worked into everything we're doing, through the field trips we take and even just the stories our Irish professors tell us in class.
I never expected my classes to make such a big impact on my time here in Dublin, but now I can easily say they're some of the best parts of my abroad experience so far (although I don't know if I can say the same for my roommates, who have to deal with me practicing my tin whistle every week!)
READY TO GET THAT INTERNATIONAL EXPERIENCE AND GLOBAL PERSPECTIVE?
APPLY NOW TO STUDY ABROAD WITH CHAMPLAIN COLLEGE!