Social Media Coordinator, Claire Yeash, spoke with the producers in Montreal during the Fall 2018 semester about the city, the study abroad process, internships, and what it is like to be a producer.
Montreal is one of the biggest gaming hubs in the world; it is the largest city in game development in Canada, a country that ranks third in the world for games.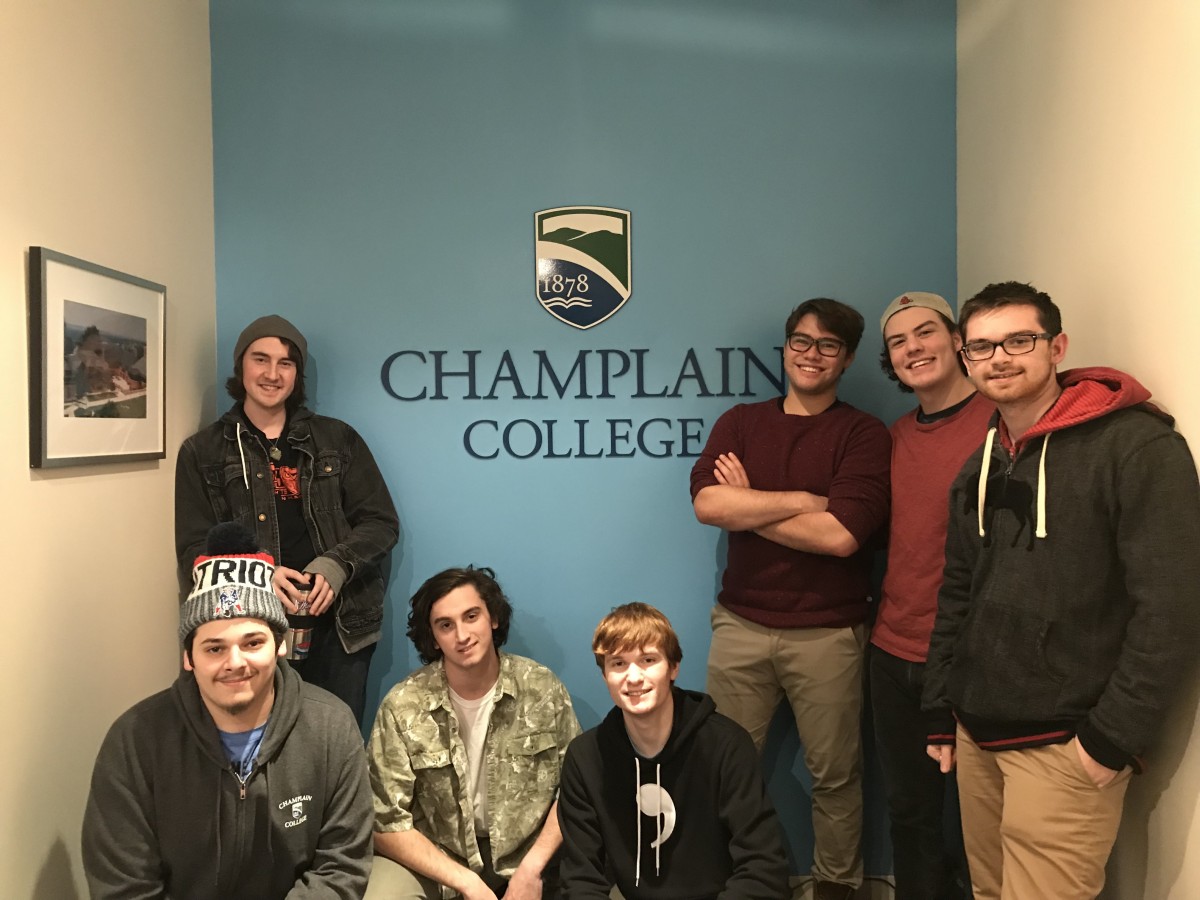 Developers from all over flock to this great city, and with over 150 indie companies and multiple AAA studios such as Ubisoft, Square Enix, and EA, there is a huge video game community. In addition to a great networking advantage, students who study in Montreal can gain valuable experience in a professional studio, attend interesting classes that improve students' skills tenfold, and dive into the culture of Montreal.
Montreal may only be 90 miles north of Champlain's Burlington campus (a mere 2-hour drive) but it feels like a completely different continent. Students gain a true feeling of freedom and independence. It is a large and diverse city, boasting a wide range of restaurants such as Vietnamese and British cuisine, cat cafés, a beautiful mixture of old and new buildings, and a constant list of events happening every night. Most surprising is the affordability of the city. Austin Roorda (GPMG '20) mused that "the food is cheap and delicious." Restaurants with $5CAD meals are scattered throughout the city. The student dorm is located in the heart of Old Port with scenic views and access to downtown just a short walk away. From concerts and festivals to playtesting and networking events, there is always something going on.
What is it like having an internship in Montreal?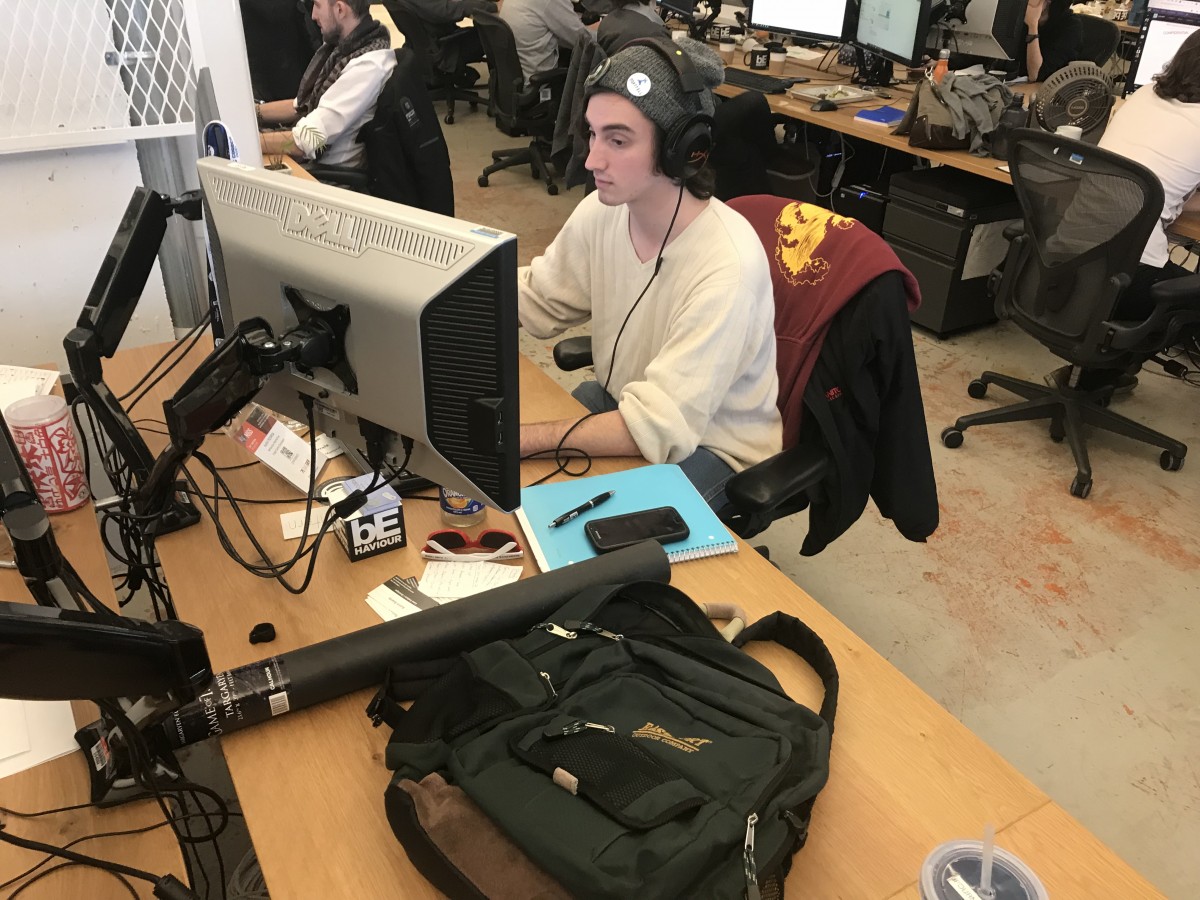 Montreal provides a great opportunity for real industry experience. With the multitude of indie, mid-sized, and AAA studios, there are many companies for students to research for potential internships. Real studio experience is critical for jobs in the industry and, if students are fortunate enough to procure an internship placement, will give them an invaluable experience.
Those interested in an internship begin the application process with the regular study abroad application. After selecting the internship class as one of their courses, students are contacted about applying for a Canadian work visa. The entire process is documented for students to easily understand what they have to do next. Brett Schwartz (GPMG '20) says "just followed the handbook they gave us, and then the instructions we were emailed." Students can contact a Visa agent at any time for questions or concerns they may have. Overall, the application process is "a lot of paperwork and deadlines, but if you stay on top of it, the process is easy" (Charlie Grabber GPMG '20). Once students are approved for a work visa, they can then begin to look for an internship position.
The Champlain Montreal staff are "really helpful" (Michael-Paul Ho-Kang-You GPMG '20) by sending out your resume to their company contacts in addition to your own efforts.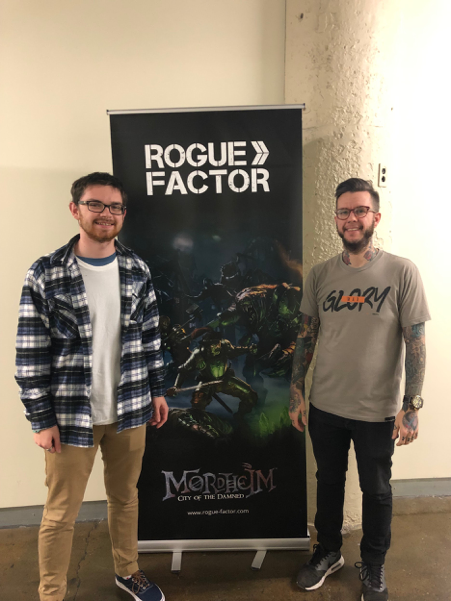 All of the Game Production Management majors studying in Montreal in Fall 2018 who applied for an internship were placed at a game studio in the city. This semester, the producers intern at Back to the Game, Rogue Factor, Behaviour Interactive, Casa Rara, Ironbelly Studios, and Minority Media Inc. However, internships are not guaranteed.
Students are ultimately responsible for finding their own placement, but the staff will do everything they can to assist.
At their internships, the producers do a variety of tasks that help them improve their production and management skills. Austin Roorda at Behaviour Interactive can be found "helping their producer delegate tasks to the team, taking notes during meetings and helping to re-organize their online task board" during his work time at the studio. Interning at Minority Media Inc., Brett Schwartz works in a handful of positions from "documentation handling related to project funding, market research on projects, Quality Assurance, and assist[ing] the management team with finalizing documents to make sure deliverables have been met." Michael-Paul Ho Kang You at IronBelly Studio helps to "revolve transferring tasks, creat[e] schedules for respective projects, budgeting, and communicat[ing] with our external team across the globe."
Every internship is different and varies based on what the student is hoping to gain from it and what they put into it.
If the internship is not working out, students are encouraged to speak with their mentors about their interests. With the variety of game companies in the city, students can find a studio that fits them.
What are the classes like?
Champlain Montreal follows the same structured curriculum as the main campus in Burlington. As Charlie Grabber puts it, they are still "small classes" with "really personable professors, interesting discussions." Unlike the main campus though, most classes are in 3-hour time blocks that meet once a week with the earliest class starting at 10 am and the latest class finishing at 9:15 pm. Also, this semester, no classes are offered on Fridays giving students a day off and providing "free time to experience the city, work at internships or relax" (Austin Roorda). Since only a handful of students come to Montreal each semester, the classes are catered to the majors that will be coming, but students "can request and discuss with Noah Goldblatt and try to find a solution" (Michael-Paul Ho Kang You).
The classes are taught by industry professionals, many of which who work in their respective industries during the day, allowing them to "understand current industry trends on a deeper level" (Max Blake).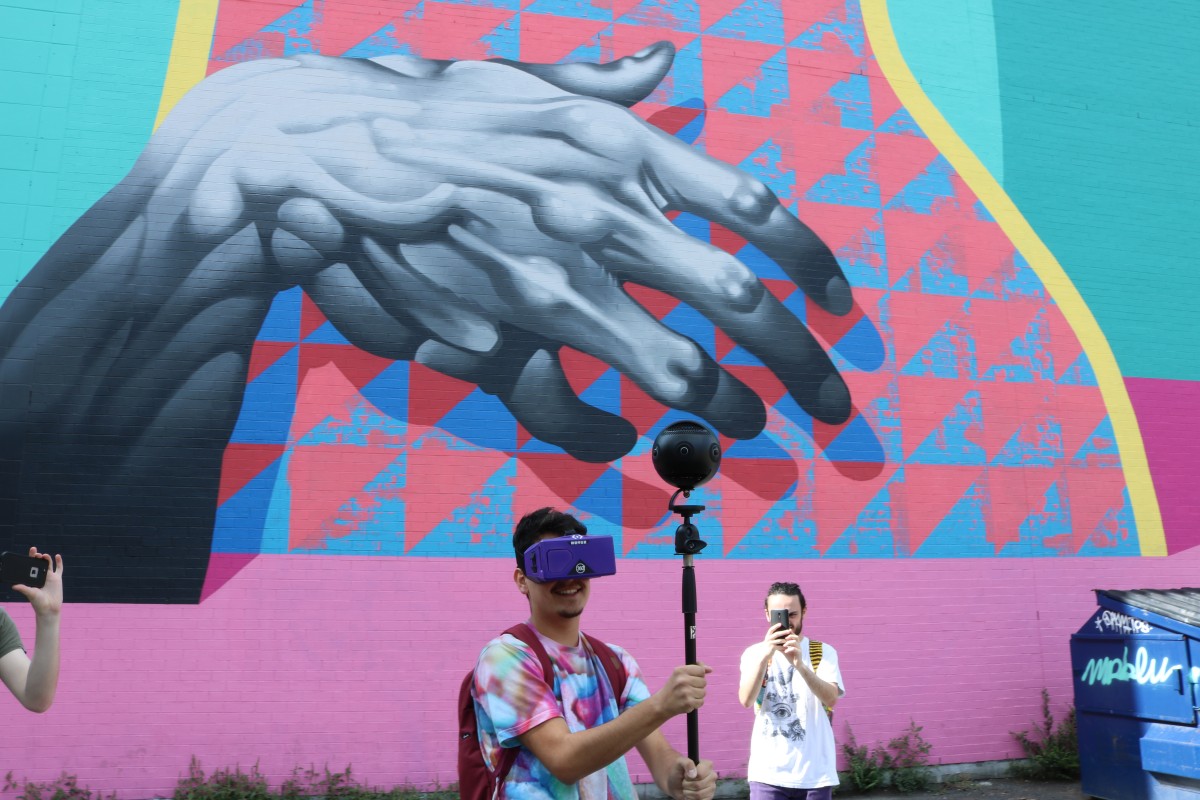 The core classes offer unique perspectives to students during their time abroad. Students can take classes such as Canadian Culture Through Film, Montreal Emerging Media, LGBTQ in Montreal, French, and Food Writing. The classes cover a variety of topics providing something for everyone. Students in the Canadian Culture Through Film course, for example, "look at films and pick apart aspects of them and their relationship to Canada, Canadian identity, and the geographic, cultural and societal values they portray" (Austin Roorda). In the Montreal Emerging Media class, students learn "about AR, VR and emerging media here in Montreal, as well as its significance in our lives" (Austin Roorda).
The classes for the Game Production Management majors focus more on gaining real studio experience and the business aspect of the major instead of the management. Working at an internship an average of 16 hours a week, students also attend a short internship class which "is basically a check-in for those of us participating in an internship" (Austin Roorda). This semester, students are also taking International Business and Macroeconomics. As usual for Champlain's curriculum, students develop a global mindset while learning about their field.
What is it like living in Montreal?
Montreal may not be far from Vermont, but it has a completely different vibe that lends itself to the study abroad experience.
The official language of Quebec is French so there is "definitely a language barrier (which I was anticipating), but the majority of places you'll go have bilingual staff and options on machines to switch from French to English (MetroCard station, self-checkout counters, credit card readers, etc.)" (Charlie Grabber). Despite the language barrier, Austin Roorda praises that "the city has really embraced me and made me feel as though I'm a part of it." All of the students have expressed that the city is an exciting new adventure that opens their minds to the world.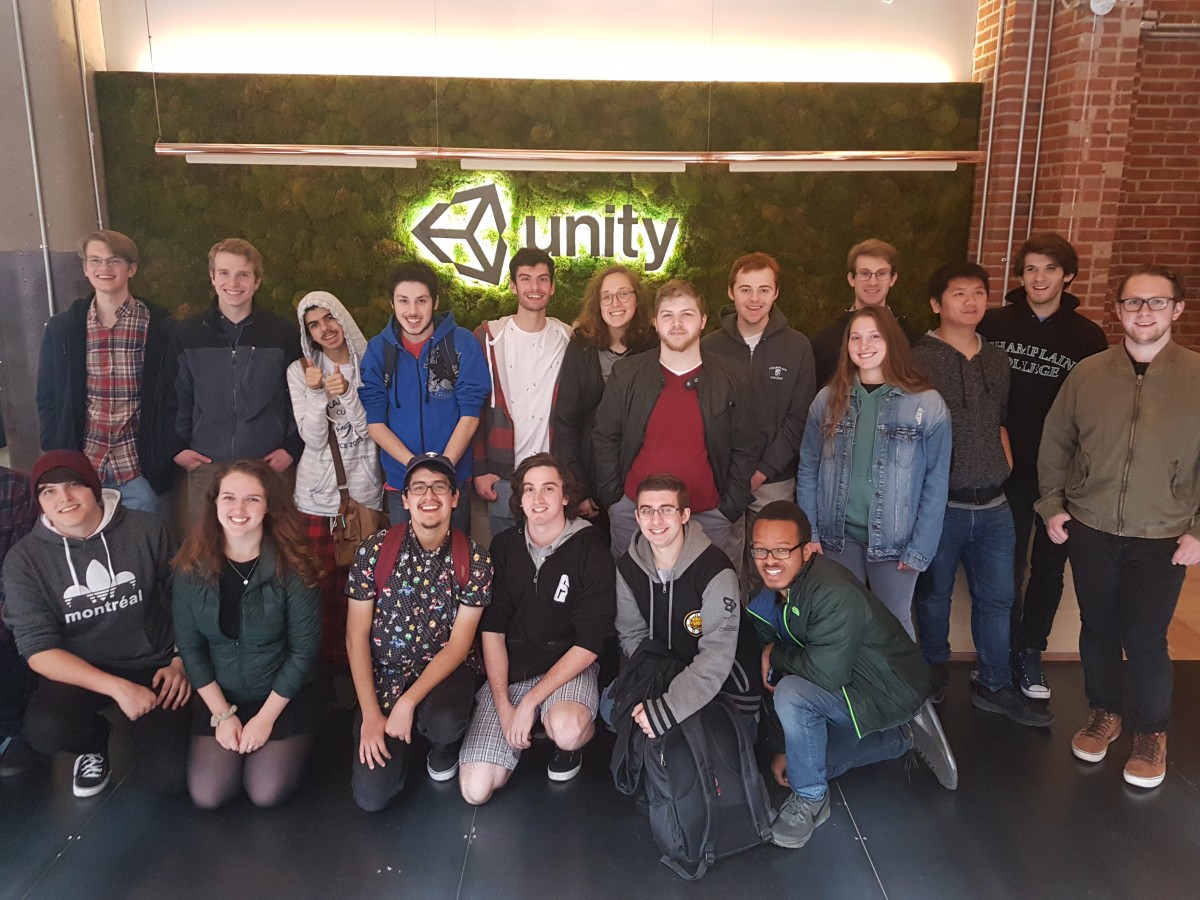 Since there is such a big presence in the game industry in Montreal, students have many tools and opportunities to help their future. With all of the events and meetups, there is a multitude of chances for "networking and mak[ing] connections for the future" (Max Blake). Most weeks throughout the semester, Champlain leads company visits to local studios around Montreal, offering a chance to see what it is like in various professional studios and to speak with current developers. Additionally, every fall, Montreal hosts the Montreal International Games Summit–MIGS for short–which is a large conference that provides a great networking experience as well as a chance to learn about new tricks and development concepts. As Charlie Grabber says, "any experience is a good experience when it comes to the game industry."
Through their internships and shadowing industry professionals, students can "learn things that can't really be taught in a classroom and just have to be exposed to in the environment where they happen naturally" (Austin Roorda).
"Working here has helped me better focus on where I want to go following graduation and the classes are helping me become a more educated person in general" (Brett Schwartz). Montreal is an invaluable opportunity that prepares students for their future.
How has your time in Montreal helped you to gain new skills?
Champlain College gives students valuable production experience through the Production and other game development courses. In classes, producers are exposed to business and managerial work.
However, some knowledge cannot be taught in a classroom and has to be gained through experience.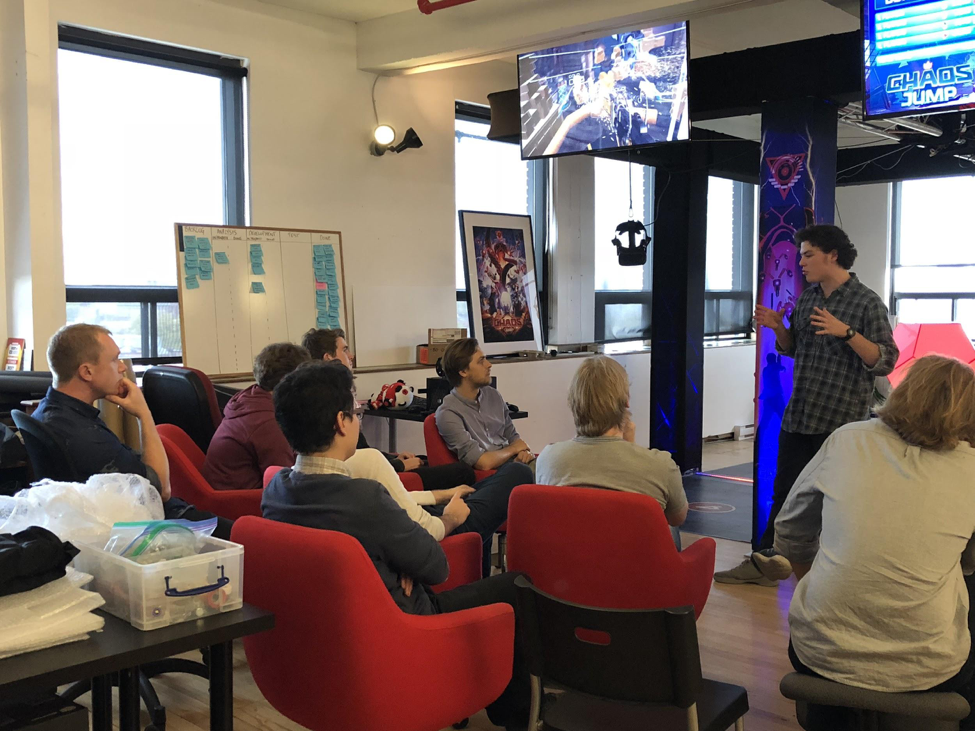 Brett Schwartz says that "getting into the workplace is a great way to develop these skills." Learning by doing helps to establish and expand skills necessary to be successful in the game industry.
While in Montreal, production majors may be able to take some of the other game majors' classes. If interested, see Noah and your academic advisor to make it happen. Max wanted "to learn more about game design so that [he] can be more of a help to the team beyond the duties of a producer" and was able to register for Interactive Storytelling with the Design majors that came to Montreal.
Through their internships, students have been getting a lot of hands-on experience which will allow them to help their future teams in many ways.
Charlie's internship often "requires [him] to really dive into thousands of lines of code in Unity" which will allow him to be "able to offer help or at least a fresh set of eyes to my future programmers, should they need/want it." Developing skills to be able to work on the project and help the team makes a producer far more valuable in the industry.
What advice do you have for future producers?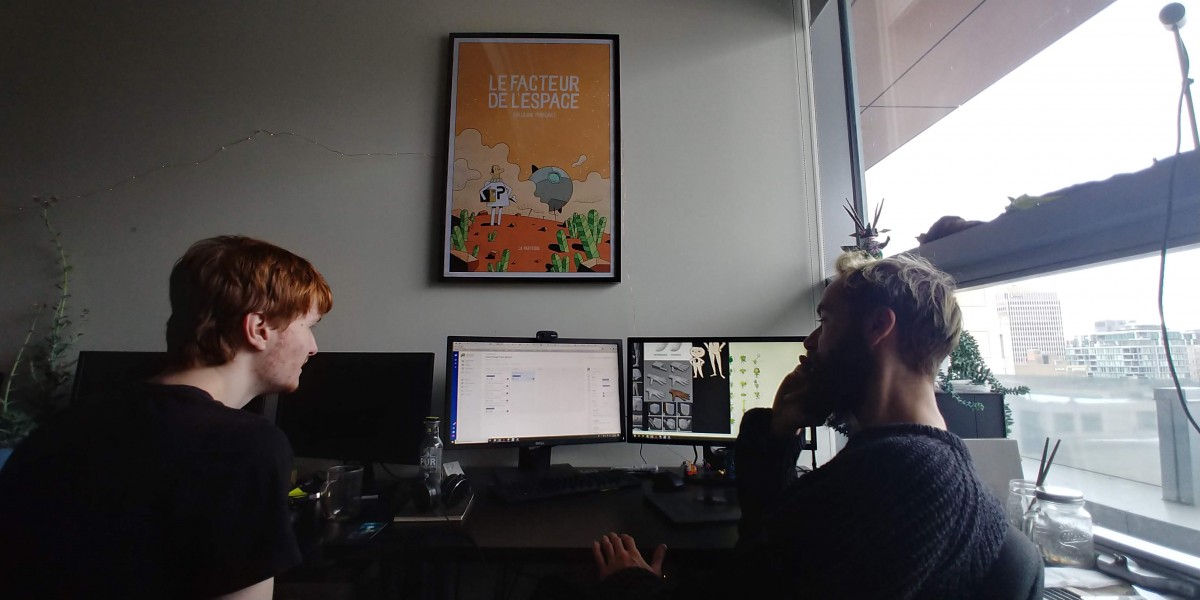 Studying abroad is a nerve-wracking prospect–living in a new city in a new country. As scary as it can be, students who come say that it was one of their best decisions. The producers of Fall 2018 had many concerns before coming but have had a great time throughout the semester. Read their advice about studying in Montreal below.
"My advice to producers considering study abroad in Montreal? Just do it, you will not regret it.
There are so many opportunities here to take advantage of that you simply cannot get in Burlington.
Montreal is one of the gaming capitals of the world and the chance to live here should be a no-brainer." (Max Blake)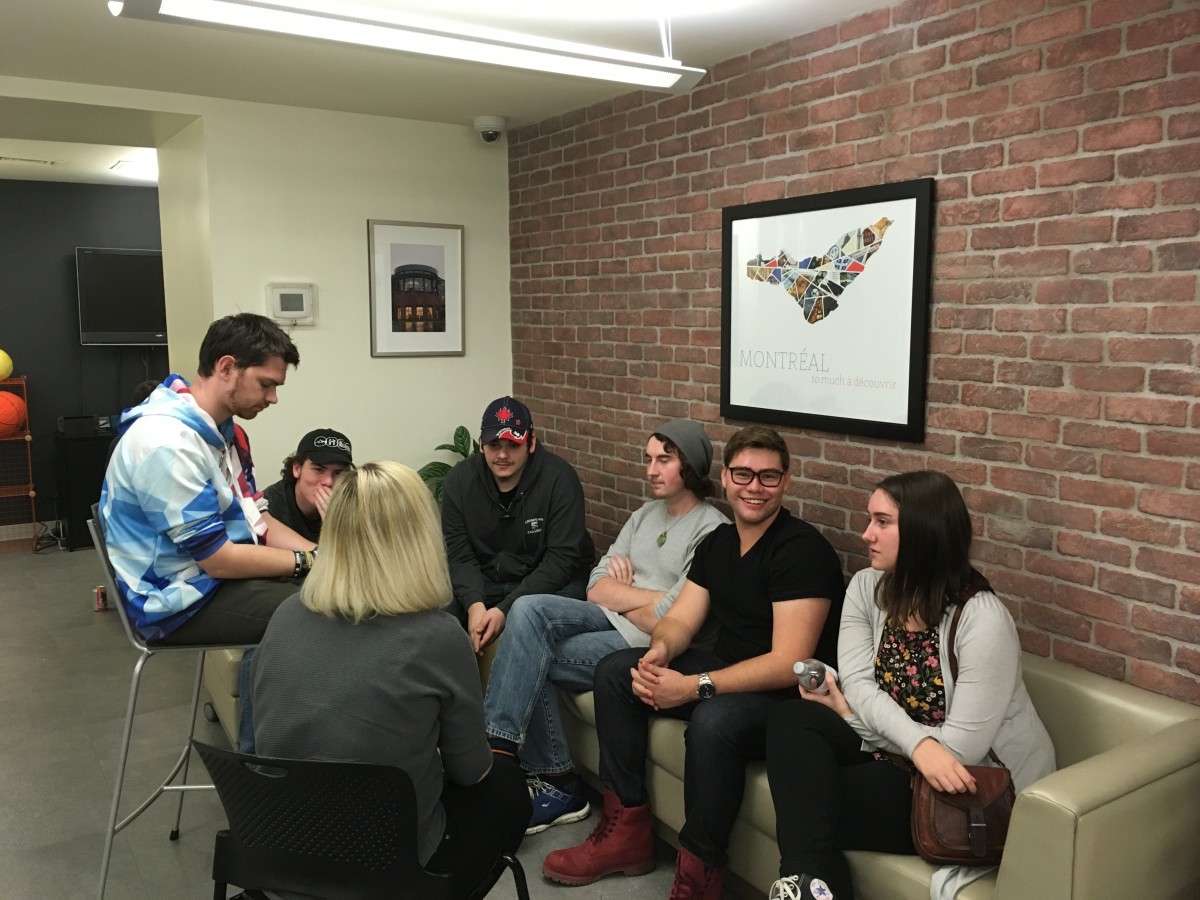 "I would say that if you're interested in getting an internship, do it. It'll make your time here so much more fulfilling, and there's no reason not to. Seeing as there's not a huge incentive class-wise to come as a producer, I feel like the internship is what people should come for. If you aren't getting an internship, it's still worth coming just for the study-abroad experience Additionally, get yourself a weekly or monthly Opus card while you're here, it gives you unlimited access to the metro and bus system and makes traveling around the city a breeze." (Charlie Grabber)
"Come in the program with an open mind. Do not be scared of exploring the city and get out of your comfort level. Most people only study abroad once, so please go ahead and take full advantage of them." (Michael Paul Ho-Kang-You)
"Well first off I have to recommend the experience to anyone who is able to take advantage of it.
Montreal is one of the most incredible cities I've been in, and after working at Behaviour and assisting the Producer for the project I'm working on I have learned more about what a producer does here than I ever did in Game History.
If internship opportunities are available to you, take advantage of them! That's a huge reason why people come to Montreal. Keep an open mind, and remember that not everything you learned in your classes will help you. Sometimes, you just have to wing it!" (Austin Roorda)
"Do it, it's not something I would force someone to do but if it's something you're legitimately considering doing, I say do everything in your power to do it. It's a great time honestly, really lets you get out there. Plus when better to travel when your only real commitments are school." (Brett Schwartz)