By the second week of being in Montreal, I can say I felt perfectly comfortable living here. I've gone to the cat cafe with friends (a must see by the way), I've completely fallen in love with Dagwoods sandwiches, and I've taken the metro (subway) a solid amount of times, both to go out and see the sights and to go back to the residence. The metro, if you're like me and don't come from a city, is probably one of the larger aspects to get used to here. I'll admit that I have yet to take the metro alone, though that may be a good thing, as it's never a bad idea to travel with friends (though as the staff will tell you, Montreal is an incredibly safe city).
There are 4 lines (though the 4th, being the yellow line, is incredibly short), and the direction you want to go in is based on what is on the end of that line. So really, even if you happen to take the metro in the wrong direction, you really have only two choices. Just cross over to the other side of the station and take the correct direction. All of the signs are color coated as well, so you'll never have to question what line you're on. And when you're riding the metro, outside the windows you can clearly see the station name plastered over and over again on the wall on a big black line at each stop. I suppose what I'm saying is, you really CAN'T get lost in the metro. Even if you don't know where you are, the common metro map is placed everywhere. So there's really no downside to just going ahead and taking the metro to see where you end up.
If you're like I was and still a bit nervous about public transportation and winding up somewhere you didn't want to be, then you're in luck. Because the second weekend was used to give us a full tour of the metro system and inform us about the landmarks that are scattered about this underground complex. I highly advise you go on this tour.
Not only is it quite interesting, but you will get plenty of metro riding experience while getting to see some pretty incredible history rich pieces. Now back to that map that I mentioned earlier, this is what it looks like: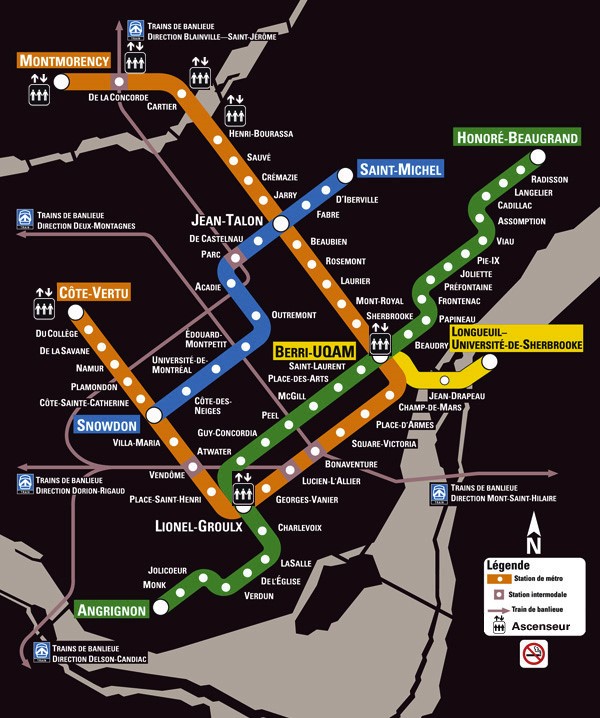 While we're looking at this, if you look right in the middle you will see the Berri-UQAM station, and on the orange line to the upper left of that spot you'll see Sherbrooke, and to the lower left of Berri-UQAM station on the green line you'll see Saint-Laurent and Place-Des-Arts. That tiny L shape is your to-and-from route between the res hall and the academic building. You'll be taking this a lot if you don't feel like walking, especially when it's particularly cold outside. That being said, please don't stay in that tiny L. Just look at it compared to the rest of the metro. There's so much to explore, and trust me, you're going to want to explore.
The two lines we rode the most during the tour was the green line and the orange line. We stopped at the stations of Verdun, Lasalle, Place Des Arts, Vendome, Snowdon, Monk, Lionel-Groulx, De La Savane, Place Saint Henri, Namur, and Plamondon. Each station was exceptionally different from one another, with all of them having their own unique style. If you pay attention here, there will rarely be the question of what station you're in.
That being said, here are some of the amazing things that we saw along our trip: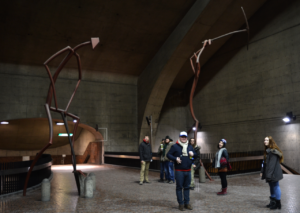 These are the figures that were there to greet us at Monk Station, expressing the working man that helped make these stations, and which are a part of Canadian culture.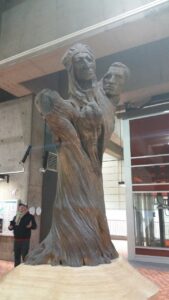 The tree men of Lionel-Groulx was probably one of my favorite sights. I loved the quality and care of which the carving was created, and the twisting of the tree only adds to the effect. Here we have one of our many musicians in the Lionel-Groulx station, a fantastic violinist. The space station-like structure was the style of the De La Savane station, sporting moon shape lights everywhere.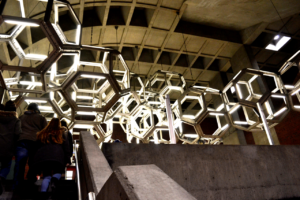 And here we have what Assistant Director Ryan Hipgrave calls the "'70s nightmare" that is the Namur station. These hexagonal shapes covered the ceiling above.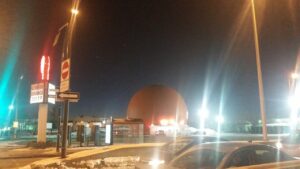 And lastly we have the famous Giant Orange or Gibeau Orange Julep, a restaurant which in the summer sports a festival of vintage cars around it. This giant orange is a major landmark here in Montreal.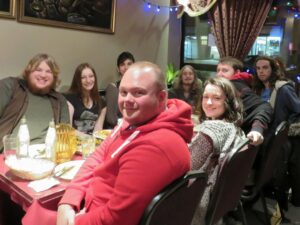 After all of this sightseeing we finally went to an amazing Indian restaurant called Didar; a place I can just about guarantee you'll fall in love with. With a smorgasbord of amazing dishes, it definitely made me realize how much I love Indian food. And with our stomachs full and even some left overs to go, it was finally time to head home. No matter what I highly suggest going on this tour. Even if architecture isn't necessarily your thing, the trip will absolutely help get you comfortable with the metro and give you a chance to see some really amazing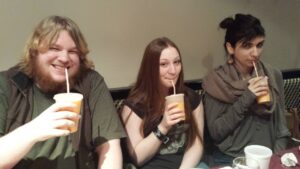 things. There's so much to explore, and trust me, you're going to want to explore.