Everyone has their favorite hobby, and I think hobbies can often tell us about a place, whether it is poking around thrift stores, skateboarding, or something else entirely. For me, concerts are simultaneously my favorite thing to do in my spare time and my own way of getting to know a city.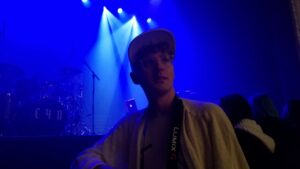 It's funny to me that I like them so much, too, as I'm a clear introvert who doesn't seem like she'd enjoy being in the middle of a huge crowd of people. But there's something about being in a room full of people singing to your favorite songs with an artist you love that makes everything seem worth it. Concerts are the places where I feel most happy, so it only makes sense that I would try to attend as many as possible when I came to Montreal.
Luckily, Montreal has a huge music scene that's easy to get involved in. During our first week, OUMF—a "back-to-school" music festival—was on. It was free to wander down Rue St. Denis and listen to a different live artist at almost any time of day during the festival. I went down a few times during class to grab lunch at a local cafe and ended up listening to a live band I'd never heard of before.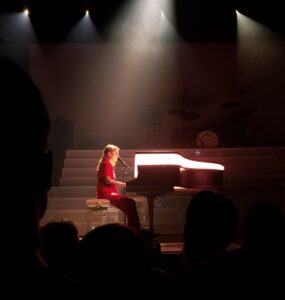 Seeing specific artists is easy (and cheap!) too. I went to see Cœur de Pirate, a francophone singer-songwriter from Montreal, and Years & Years, a British synth-pop band, for about $40 each. Compared to some of the hundred-dollar shows back in the U.S., these tickets were steals, especially considering Cœur de Pirate is very popular in her hometown.
Either way, there's something for every budget, whether it's attending a bigger concert at the Bell Center—where, just a few weeks ago, Gorillaz was performing—or finding a free show in a local pub. It's easy to be spontaneous about it, too, as I bought my tickets relatively last-minute and still got right up front during both shows.
The music scene isn't limited to concerts, though—musicals are just as popular and easy to attend. I recently went to a performance of The Rocky Horror Show with my fellow Champlain students as part of student activity. The show was performed "in the round," or with the audience surrounding the stage, so the actors were constantly interacting with the audience. We were encouraged to yell callouts—as is traditional at Rocky Horror—and the actors would often yell right back. This was a free event for us, so even Champlain does its part to get students involved in the Montreal music scene.
Live music is also a great way to get a sense of Montreal's culture, especially the bilingual aspect. Cœur de Pirate sings primarily in French, but she has a few songs in English, and during breaks between songs at the concert, she would speak in French and English to the audience. I myself don't speak French, but it was still really cool to attend a concert that was entirely bilingual. It also meant I understood a few words, so that was neat.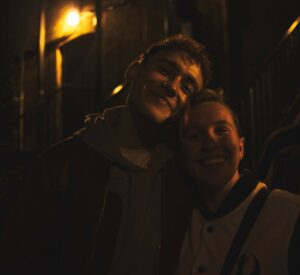 Years & Years was a primarily English concert since the band is from London, but Olly Alexander, the lead singer, still did his best to speak a bit of French between songs. My friend Jonathan and I also stage-doored after the concert, which consisted of standing outside the backstage door and waiting for the band members to appear. Olly himself came out and we got the chance to talk to him and snap a few pictures. That meeting made our whole night, and it was free to do.
For me, music events aren't just ways to see my favorite artist or hear live music—they're also great ways to connect with people I barely know. That's not to say I came out of all of these events with new best friends for life, but the feeling of camaraderie in the room during a live performance is something I've never found anywhere else. I feel connected to the people around me through the music and the simple act of being in each other's presence, and I think that's something unique to the music itself. It's a way of expressing emotion, and being together with a bunch of people to experience that together is nothing short of magic.
I encourage you to experience that connection if you never have—you might just find you love it, too.