The increasingly popular Study Abroad Internship experience course (SAP 390) offered by Champlain Abroad Dublin continues to grow from strength to strength with a record number of professional placements this semester.   Apart from offering myriad opportunities to expand your networks and gain actual work experience in your professional field, students are also empowered in terms of intercultural competency through their professional engagement – a vital and much-sought-after skill by employers in an increasingly globalized world – and one which sets you apart from others.  Our host organizations in Dublin are consistent in their evaluations and praise of our student interns whose 'Can Do' attitude and professional commitment remains exemplary.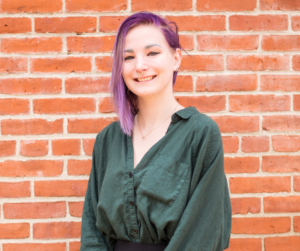 Rose Marshall is currently interning with 'Shout Out', an education-based charity that focuses on LGBTQ+ advocacy, understanding, and acceptance.  Rose explains how they: "mainly put on workshops for schools around the country together with workshops for teachers, social workers, and parents, mostly individuals who work with kids, though, they will sometimes be invited to work with different companies and their workers. 
So what happens at these workshops?
"These workshops go over the different identities in the LGBTQIA+ acronym, talk about how the students feel about their school's level of acceptance of the community, and go over possible scenarios that can occur when it comes to people coming out or being LGBTQIA+".
As well as facilitating workshops with 'Shout Out', Rose – a professional writing major – is also overseeing much of the organization's social media platforms and using her writing skills to communicate via Facebook and Twitter posts, writing press releases, and following up with schools after workshops.  In terms of professional development, Rose states that:
"Being in a new country and having to write for an organization that works closely with schools has really tested my ability to create pieces that will come across to those who receive it in the correct way."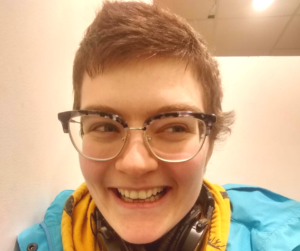 Similarly, the importance of effective communication and writing skills plays no small part at 'Fighting Words' where Alex Herter's skills are being put to full use. Established by renowned Irish author, Roddy Doyle, 'Fighting Words' is a creative writing center that works to foster the power of storytelling and creativity with children, teens, and adults alike.
 Alex explains: "When I take on the role of Writing Tutor during primary school workshops, I work with a group of secondary schoolboys on the "Book Project, helping them prepare an anthology of their own short stories, and I work with a volunteer to lead a Saturday session of Write Club that melds the game of Dungeons and Dragons with exercises that focus on the craft of storytelling."
While 'Fighting Words' provided some initial training, according to Alex "I have learned through doing at Fighting Words".
On the subject of cultural differences between the Irish and American workplace, Alex states "I feel that in an American setting, I might not have been given this much responsibility this quickly. While I appreciate that the American work culture provides tremendous support to its workers, I feel that my independence and the trust that my supervisors have in me allows me to grow in confidence, skills, and abilities." – an exemplary reflection of an organization who tirelessly promote 'The Write to Right'.
VISIT CHAMPLAIN ABROAD TO START YOUR STUDY ABROAD JOURNEY!