At the dark and chilly hour of nine a.m., a small but strong group of Professional Writing program students, led by the estimable program director, Tim Brookes, boarded a yellow school bus, and set off for Canada.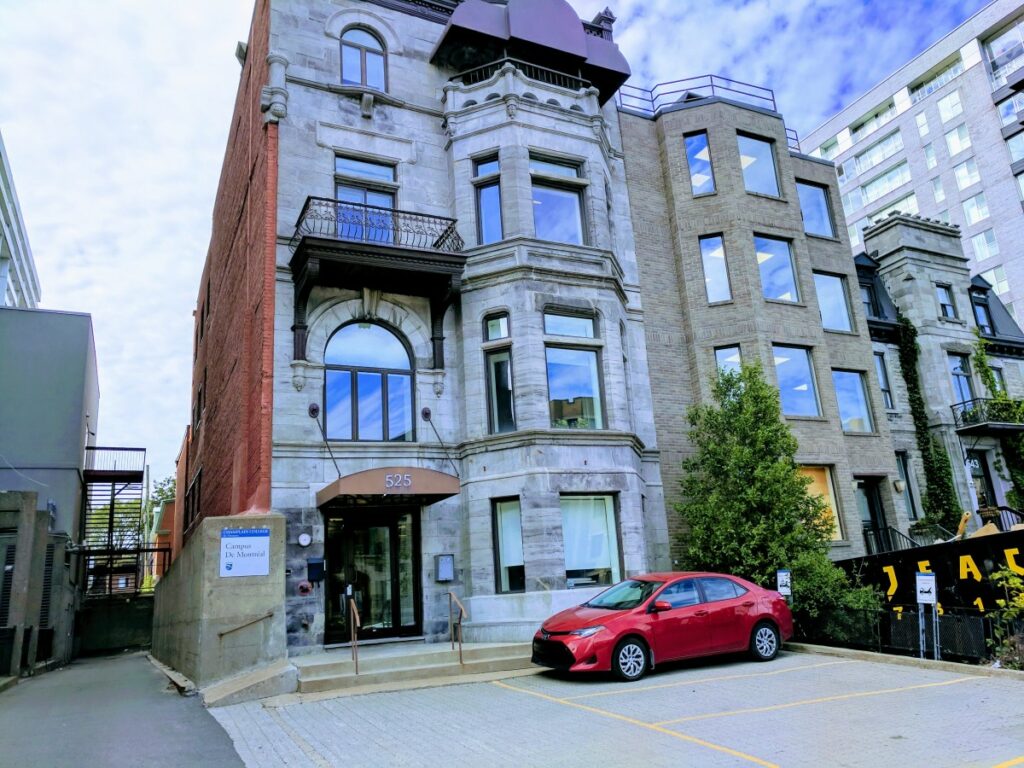 We arrived in Montreal around 11:30 in the morning, at the Champlain Campus on Rue Riverside. Accompanied by a group of Champlain business students, we made our way to a second-floor classroom, and were introduced to Geneviève Lord, the program director, Wesnide Labissiere, the operations manager and head resident, Shona Watt, the student activities director, and George Kalogerakis, the writing professor at the Montreal campus.
The business students went off to take a tour of the academic center, while Kayleigh Blanchette, program Junior and current student and RA at the Montreal campus, stuck around to give us some more information on all that the Montreal campus has to offer. She was quick to stress, and continued to stress throughout our day together, that Montreal is a foreign country and that it is a completely different experience than a semester in Burlington.
After our tour of the small but impressive academic center, we walked back along Rue Sherbrooke to the student apartments, housed in a large complex that also serves as the international dorms for the students at UQAM (University of Quebec at Montreal). Kayleigh showed off her apartment, and explained the many amenities offered at the apartments, including furniture, pots and pans, and storage.
After our tour of the various facilities, Kayleigh led the gang down Rue Saint-Laurent to China town, where we met up with Professor Kalogerakis for lunch. We ordered way too much food, which was served on a Lazy Susan and made for a few funny I'm-still-trying-to-sample-the-lo-mein-and-don't-quite-have-awesome-chopstick-skills-and-now-you're-spinning-the-food-away-from-me moments. During our meal we had lots of time to discuss travel, France vs. Montreal vs. Burlington, and hear more about Professor Kalogerakis.
Once we'd had our fill, we split off to do some exploring for a few hours. Though the day was overcast and cool the rain held off, giving everyone ample time to check out the shops of Old Montreal, the waterfront, and the underground city.
At supper time the gang reconvened at L'usine de Spaghetti Parisienne L'usine de Spaghetti Parisienne for dinner in the heart of Old Montreal. We sampled delicious Italian dishes in the restaurant's cozy back room, the same room where Charles Dickens is rumored to have penned some of A Tale of Two Cities.