I interviewed Raymond Zheng, a third year CSI major at Champlain College who is studying abroad in Montreal in the spring semester of 2022. I asked him about his experiences in the city so far, why he chose to study abroad, and what he hopes to learn from it.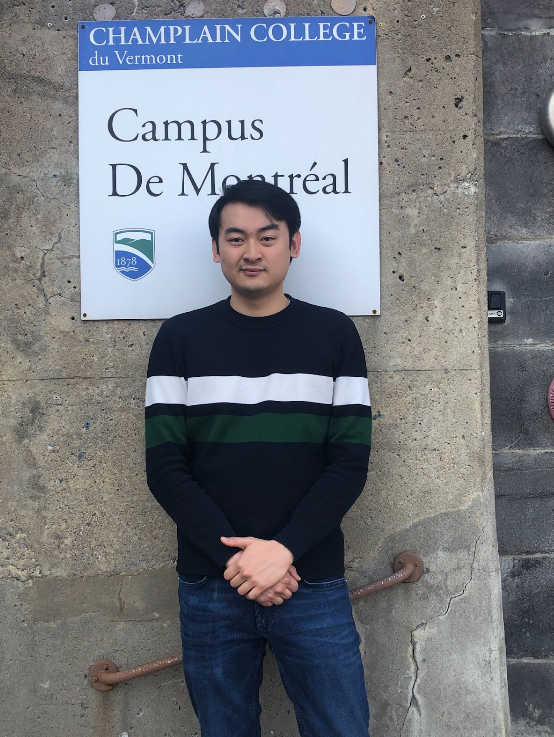 Why did you want to come to Montreal?
I wanted to come to Montreal to experience the city and finish my game programming minor.
What do you want to learn here?
I want to learn more about how the games industry functions and their practices. The professor that I have in person is an industry professional in Montreal and his insights are really important to me.
What do you hope to get out of this experience?
I hope to learn how to adapt (to) living in different environments, because I would like to live a life where I can travel and work remotely if possible.
What have you learned so far?
I have learned the basics of how to program in game engines like Unity and Unreal while navigating a new city using their public transit.
Do you think this experience will make a significant difference in your life?
I think so. I think that every new experience that is not too stressful will offer me a chance to grow as a person. Being in the city there are so many things to experience that are just not there in Vermont.
How have you grown so far/how will this help your growth as a student?
I have started cooking a lot more and taking control over what I eat and how to manage a budget a lot like how I will behave after graduation. This balance is important as a student because typically people say that cooking is a big time investment, but as I have cooked more I realized that it fulfills not just my hunger but also my recreation.
Champlain Abroad is an important step for those looking to shape their future careers, it also teaches students useful skills for living on their own. Having the opportunity to have these experiences is unique and can be exciting and challenging, providing many memories.