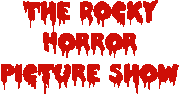 The essence of this event is hard to explain but, in short, it is the greatest way to spend Halloween.  The Champlain Montreal Bad Movie Club warmed up to this a event by watching the film a few weeks prior to Halloween; however I went in there blind, with no background info on the movie; completely ignorant of what to expect.  The Rocky Horror Picture Show is a 1975 British comedy/musical that satires science fiction, B-horror movies, and contemporary notions of sex, gender, and politics.  Soon after its release, it became a midnight movie, cult classic with the longest-running theatrical release in film history.  To this day, it is performed all over the world in unique fashion; while the film plays on screen, actors perform in front of it. But that's not all, The Rocky Horror Picture show is all about audience participation, so whether you're shouting at the screen or dancing The Time Warp, you are certainly never bored and you instantly feel welcome amongst a group of total strangers. 
Our evening began at the tail end of a long line up of outlandish-looking characters outside of the charming Imperial Theatre.  We chose to attend the late show which made a very lively and energetic crowd.  Our early arrival guaranteed us good seating (first row balcony seats!) and added to the build-up for what awaited us inside.  The Rocky Horror Picture Show at the Imperial Theatre is an annual event put on entirely by enthusiastic volunteers, twice a night over the course of three evenings.  Proceeds go to charity and a great time is had by all; cast and audience. 
Once the MC had warmed up the crowd with a costume competition between some well-merited candidates from the audience, we finally got to meet our cast as they kicked of their stage performance with a group dance performance to Michael Jackson's Thriller.  Without further ado, the Rocky Horror Picture Show was rolling along and the sharp anticipated reactions by both the audience and cast made it seem like they had lived this moment a hundred times before as they revelled in every coming line.  The stage performance alone generates an enormous entertainment value to what is already a great movie but it was the euphoric and synchronized screams; shouts and laughter of the crowd that left me wondering how soon would I be able to buy my ticket for next year. 
If you are ever in the Montreal area during Halloween be absolutely sure to check out Montreal's Rocky Horror Picture Show website for ticket availability and hours.  It is undoubtedly the best way to spend the evening.