Champlain's study abroad program offers a course on Montreal's graffiti and art. Going on class outings and seeing the art around the city is just a typical day for the class. It's one of the best ways to connect to the culture and better understand the city. On our walks around the city we have a guide describing each piece we see in detail and I end up leaving each class session for a great appreciation for Montreal, and its local artists. Our class had the pleasure of having two local Montreal graffiti artists speak to us and we got a glimpse into the life of a graffiti artist.
Meet Haks 180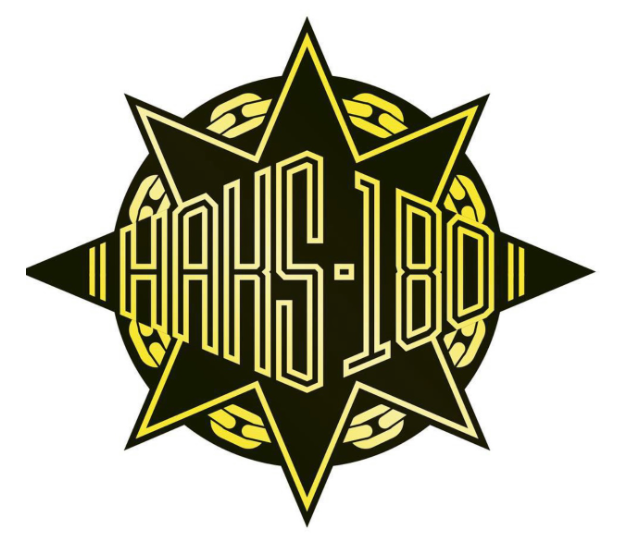 I was amazed when I saw a logo of the 90's rap group Gang Starr, but it was morphed into HAKS 180's signature name logo. I asked him about it and he was taken back that I knew of the rap group. For the next 5 minutes we were just talking about some of our favorite 90's hip-hop groups. Going back and forth. He was telling me the shows he's seen and the rappers he's met, and I just sat there in awe the entire time. HAKS 180 is originally from Middlebury, Vermont. A fan of the culture at the time, he'd tried taking up rapping and breakdancing, but eventually those two concepts led him to graffiti. Growing up in Vermont, there was little opportunity for a graffiti artist. "Through hip-hop I was drawn to graffiti. The visual aspect of hip-hop was so cool", he said. HAKS 180 ultimately decided there was more opportunity for him as a graffiti artist if he moved to New York City, so he did. New York City is where he would make the change from graffiti admirer to graffiti artist.
A place where he and many other aspiring graffiti artists would showcase their work was the trainyard. "The trainyards were basically walking into the worst neighborhood. The Graffiti crew is basically like organizing yourself into your own militia to handle your affair. I would always carry a bat or knife". Luckily, he never had to use a weapon, but it showcases how dangerous a normal day for a graffiti artist was like. In a lot of his older work you'll tend to see a lot of 3-D style. That concept was very new to graffiti in the 90's and it was created by a Netherlands and German artist who had moved to NYC as well. He went into depth on what it was like to be inspired by other graffiti artists and their styles. "All throughout my career as a graffiti writer, I've tried to pick out pieces from a graffiti writer and put some of that into my stoupe", Haks said. He takes inspiration from a lot of other pieces, then creates what is uniquely his own.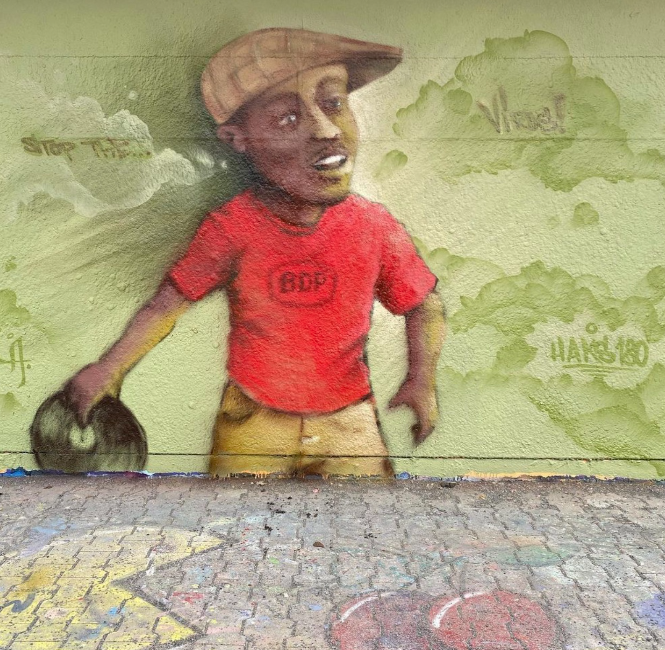 Haks told a story of a visit he took to India. At the time he was doing more graphic design and still doing graffiti, but not consistently. It was a thing he would do every now and then, but the original passion he had for graffiti was fading. It was at this time, around 2010, when hip-hop was starting to hit big in India. A generous family over there took him in, fed him, and showed him around. This trip made him take a step back, really start to appreciate his gift, and passion for graffiti art. That's because of the daughter and son of the family. They were fascinated by his graffiti murals and skills. That little event is what gave him a resurgence to get back into graffiti full time, and let it not be just a side hobby. It was the flame that re-lit the fire. One of his murals was a direct reference to a peaceful protest movement that took place in the late 80's. KRS ONE (Knowledge Reigns Supreme Over Nearly Everyone), a rapper, started the stop the violence movement after one of his fans was killed at his show. The movement gained lots of traction, raising over $100,000, it all being donated to the National Urban League. He created a mural titled "Stop the Virus", a clever little homage to the rapper's movement, but was also a response to Covid-19. For Haks, one of the most enjoyable things is seeing a finished mural. Haks said, "When you finish a wall, like 75 feet in the air, sitting back, it's a pretty amazing feeling."
A Conversation with Hoar
A single moment is what led Hoar to have a great appreciation for art and cartoon characters. When he was a kid, he met an animator for Disney. The man drew him a picture of Goofy that he still has to this day. There was another moment that he still vividly remembers when he was younger. He was an avid skater and would go to this place called "The Redpath" to skate. "I would spend more time looking at it than skating. I saw a Timer piece which I took a picture of and still have that picture. I knew immediately at that moment I wanted to do graffiti", Hoar said. A lot of Hoar's inspiration for his art comes from comics, cartoons, and random ideas.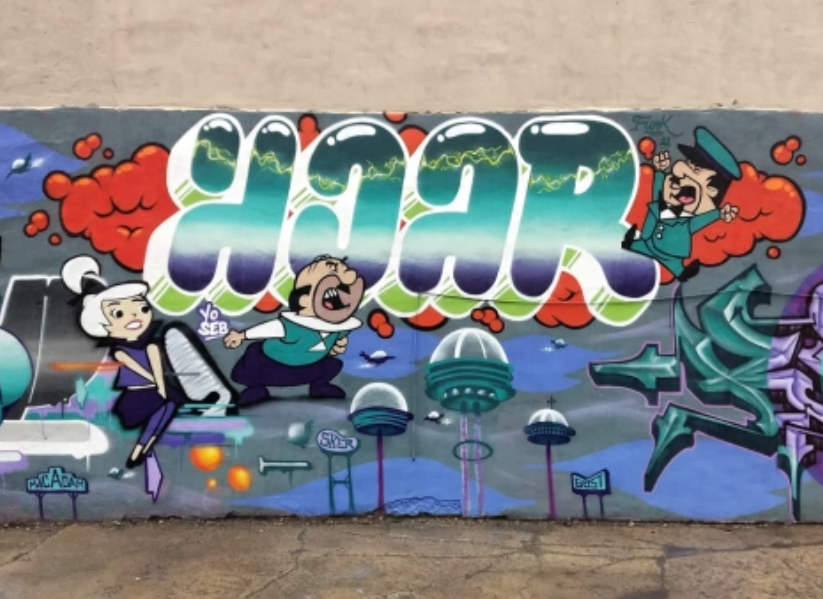 When asked about why comics inspire him, he replied "One of the things I like from comics is the flat-coloring. I think that's what initially stuck out to me. I love line work too. I find cartooning to do that. It can be just five lines to make a face. But one of those lines is going to make the face and be the most meaningful." To give the reader an idea of how long a graffiti mural might take, Hoar gave us an inside look into that. "When you reproduce a character, linework is very important. The colors are very simple. I can paint a character in 10-15 minutes, but it's the linework that generally takes an hour." There's a lot of prestige in the graffiti business. Meaning it's a lot of trial, error, and having to prove yourself that you're a legit artist. Hoar talked about that competitive nature that's found in trying to make it as a graffiti artist. "Graffiti is one of those things. Where you start off, you got to prove yourself, move up in the ranks. I waited 'til I knew when I was ready, in regards to Under Pressure". Under Pressure is one of the only graffiti festivals that was founded in 1996 and is still operational. Its goal is to recreate a lot of the New York City block parties from the 70's. With artists doing their work, street artists, dj's, emcees, and street dancers all performing their craft. This event is a prestigious honor for all graffiti artists taking part. Some people are born with that talent and others it takes a bit of time to cultivate. "A guy in my crew has been doing it for 3 years and is just as good as me", said Hoar. A lot of the murals he decides to paint happen to be completed by improvising or what he's feeling in the moment. He has a sketchbook of characters, ideas, and he'll typically call up his friends to see what color schemes they want for a mural. Then he'll match that up with one of his characters and they'll get to painting. He told us the amount of precision, repetition, and practice it took to get the characters down in his murals was immense. At first he wasn't great at it, to his standard, but after years of practice his art speaks for itself.
A popular concept in graffiti is the art of tagging. It's the artist's signature that is put over their work, or someone else's. It's one of the major elements of graffiti and Hoar showed a lot of humility when asked about it. "Once I put something up, it no longer belongs to me. It belongs to the public. It belongs to Mother Nature. It belongs to whomever wants to do anything to it. I've never fought with anybody. Started wars. Because it's just paint on a wall. I just like to get my art up and see it on the wall."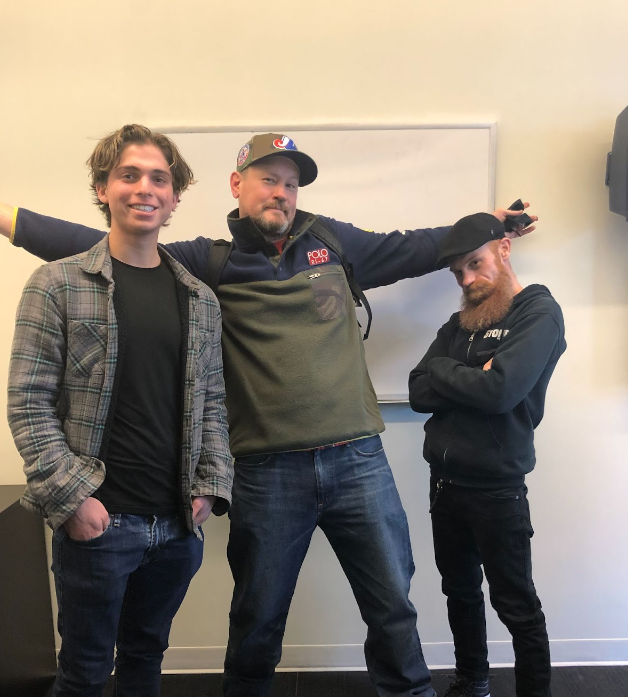 I wasn't sure what to expect when I was told that two Montreal-based graffiti writers would be speaking in our class. Both graffiti artists have totally different personalities, and were both so captivating to listen to. I don't know a lot about graffiti art, but I would have listened to their stories all day if they didn't have to leave. It's one thing to see a piece of art on a wall, but to meet the person who came up with the art is another level that I hope anyone interested or not interested in art gets to experience. Connecting to Hak's through hip-hop was something that I wasn't expecting and it was a lot of fun to just casually talk about something that he's experienced. Going to hip-hop shows that I wished I could've been alive for. Then hearing how Hoar chose to pursue his own career path after getting inspired was something that was inspiring for myself, and should inspire my classmates as well to pursue their passion. Haks and Hoar didn't disappoint by sharing their lived experiences with our class.