Sadie MacKinnon together with student Jitesh Amin and Ellen Schoenfelder, International Coordinator of National College of Ireland.
For my internship in Dublin, I was placed with the National College of Ireland's International Office. About one-third of the student population at NCI are international students. The office dealt with recruiting students from all over the world, helping them get to Ireland (visa acquisition, airport pickup, general resources), and supporting them once they arrive at the college. I want to go into international education, so this was an ideal internship. My tasks as an intern mainly focused on the support aspect, which included tracking the students' attendance and participation, researching and organizing day trips that explored other parts of Ireland, and creating posters and tickets for the International office's events.
The experiences I was gaining while being in Dublin on my own study abroad directly assisted in my suggestions for how NCI's international program could improve. Other projects that I was assigned to spread across a variety of areas, from updating their website, creating and posting on their social media platforms, to reviewing International Office student guides for gaps or possible additions.
Interning Abroad from Home
After Champlain College was forced to close the Dublin campus due to the Covid-19 pandemic and I returned home, I was already prepared to continue my internship with NCI through a remote setting. Because I was working at a college, they were preparing to go remote for a couple of weeks before we had to leave. I collaborated with my bosses, Ellen and Sheila, to come up with a list of projects that I could work on from home. For the second half of the semester, I was tasked with researching culturally relevant topics for international students and creating powerpoints to outline them (topics: business culture, academic culture, and Ireland overview), as well as developing ideas for tailored Instagram content and a complementary posting schedule.
The challenges that accompanied working remotely, with the inclusion of a 5-hour time difference, ultimately helped me develop skills in time management and remote communication. There was no longer a "9-to-5" workday, as my days began later than the Dublin office. I had to plan my responsibilities in a way that coincided with their schedule, with the addition of calls via Teams twice a week to go over projects and give feedback to my boss. I definitely strengthened my skills in Microsoft products as I was on Outlook, SharePoint, and Teams quite frequently.
Attaining Real Life Skills
The event/trip planning, backend email and event communication (on CRM), and office management skills that I developed and strengthened during this opportunity will help me greatly in my future career. Event planning and backend communication were skills I needed to learn in order to actively take part in planning large-group trips and events as if I was a regular full-time member of the team. Office management was not so much a skill I developed as it was a lesson in leadership. My bosses and coworkers went out of their way to foster connection with other departments, take part in fundraising and professional development workshops, and truly cared about the team as a whole. This showed me a way to run an office with passion and create a great working environment that will stick with me no matter where my career takes me.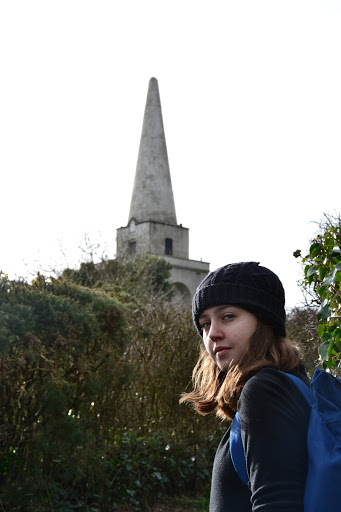 Through interning abroad, I attained real-life skills and gained connections that I would never have otherwise. I learned how to ask questions and take initiative, although this could be said for any internship, not just ones abroad. Working in another country, however, makes you more aware of other cultures and how you exist in those places. I had the opportunity to meet people from Ireland, Nigeria, China, Germany, Sri Lanka, and so many other places and those relationships will last longer than this singular semester.
Final Thoughts
I would HIGHLY recommend interning abroad to students of any major. Yes, you've heard it before: it looks great on your resume, you can broaden your network, you get to travel. Those are all great reasons, and they open so many doors. What makes interning abroad unique, though, is that it adds a "level-up" to your abroad experience. You're not just going to school somewhere new. You're working, you're living, you have to become a local and integrate with the people around you — and you want to because when it comes down to it, you're doing a real job. Only being a student doesn't provide the same city secrets, inside jokes/complaints, or cultural knowledge that you experience when you intern. It's not always easy, and it might not be your dream internship, but you learn what works or doesn't work for you and at the end of the day it is truly special and adds your mark on a city (and the city leaves its mark on you).