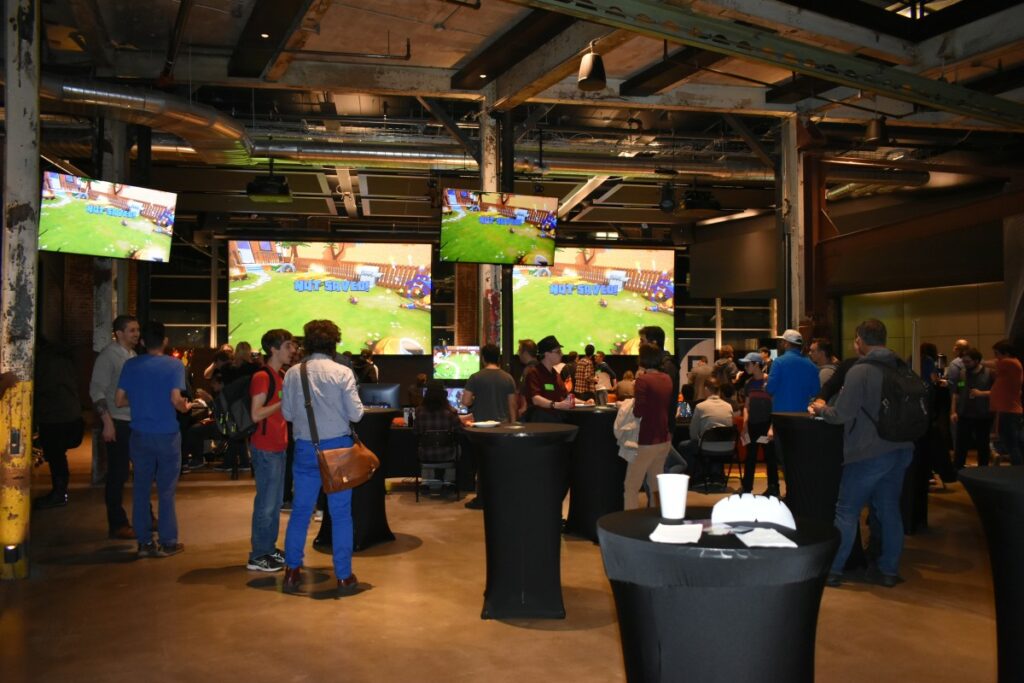 Champlain College does a great job of giving us opportunities on campus that allow us to make connections and spread our wings a bit. They give knowledge about real life experiences and examples from industry professionals and I've always been thankful for that. In the game industry, we've been taught connections can make or break your career. Knowing someone, even just connecting with them on a very basic level, helps your opportunities in the long run.
There is- in my opinion- no better feeling than creating a new relationship that can bring you further in life. So when I had the opportunity to go to multiple conventions and events in Montreal, I took it. While Champlain has events for you to meet many of the game industry's professionals, it's a different experience entirely meeting them in a more casual setting.
(Pictures provided on Dreamhack website and Twitter account)
A game developers first massive convention of game-enthusiasts is an important step in one's career. It will help build confidence, as well as tear it down. It will show you what's possible in the industry, both the prospering and the failing. Dreamhack was my first video-game focused convention, and it has changed my perspective on networking as a whole drastically. From smaller indie developers to triple A studios, there was no lack of contacts to be made.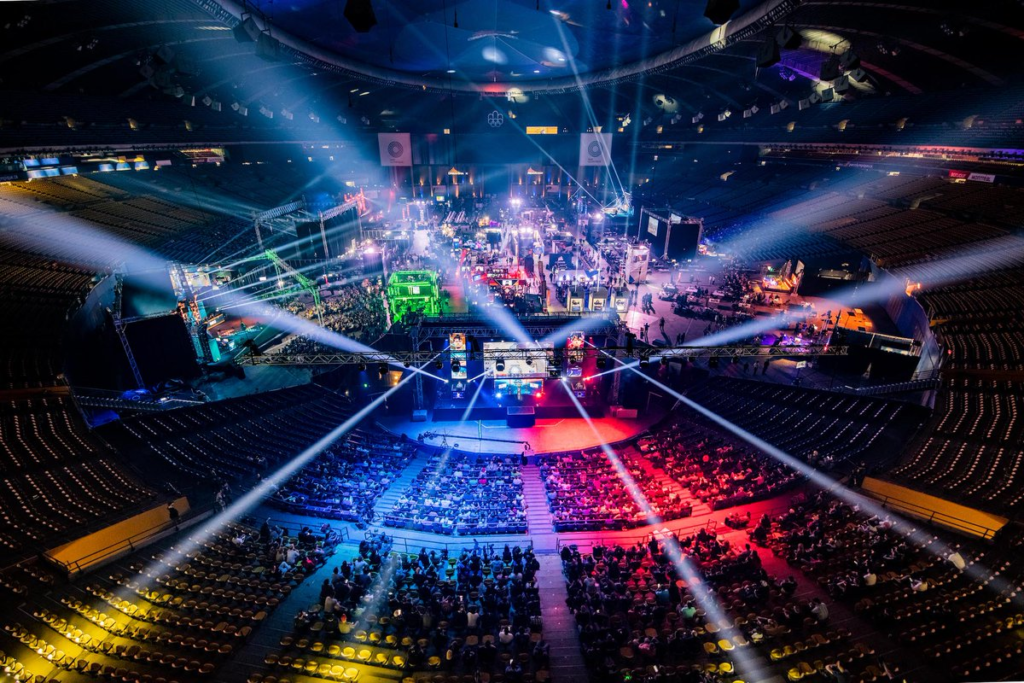 Before we arrive to Dreamhack, we must first talk about our first Company Visit, GamePlay Space. Here, Jason, the head director of GamePlay Space gave us a talk about how to market not only games, but ourselves. How to sell ourselves to the game studios looking to hire, how to present our minds to them and show what we have to offer in a professional way. The thing is, none of it was what I expected. Jason talked about the normalities, sure, making sure you give your name, your major/job, etc, but he also added to talk about topics you don't typically relate to networking. "What's their favorite game?" he said. "Don't be afraid to learn more about the person you're talking to, it's not all about the company."
I used this piece of advice in every conversation at Dreamhack, and followed up every email with a line or two about a more personal piece, whether that was about the game's inspiration, their favorite game genre to play or work on, etc. These are things you tend to forget offhandedly, or atleast I do. Conversation that comes normal to us doesn't tend to stick around. After each conversation then, I made a note about who I met, what we talked about in as much detail as possible, and made sure to connect that note to the business card they gave. This way when I later contact each person about our meeting at Dreamhack, I could make an impression. Impressions, whether good or bad, tend to stick to people better when they're personalized. This was enforced in my Momentum experience.
GamePlay Space QA.

(Pictures provided on Google and GamePlay Space Facebook page)
I've always assumed open offices were becoming more of a norm. Better for workers mental health, work ethic, work environment, etc. Showing up to GPS came with a major surprise, however; Barely any rooms are involved at all. Walking into an office space typically starts out with a closed in space for the front desk, a few chairs for waiting and a water bubbler. In GPS, there is no walls, besides the four to the outside world and one that separates the raised shared kitchen area from the rest of the floor. Different companies, different people with different languages, all on one solid ground sharing an open office. One room is shared as a 'meeting room' that is only segmented off by glass, leaving it seem open still.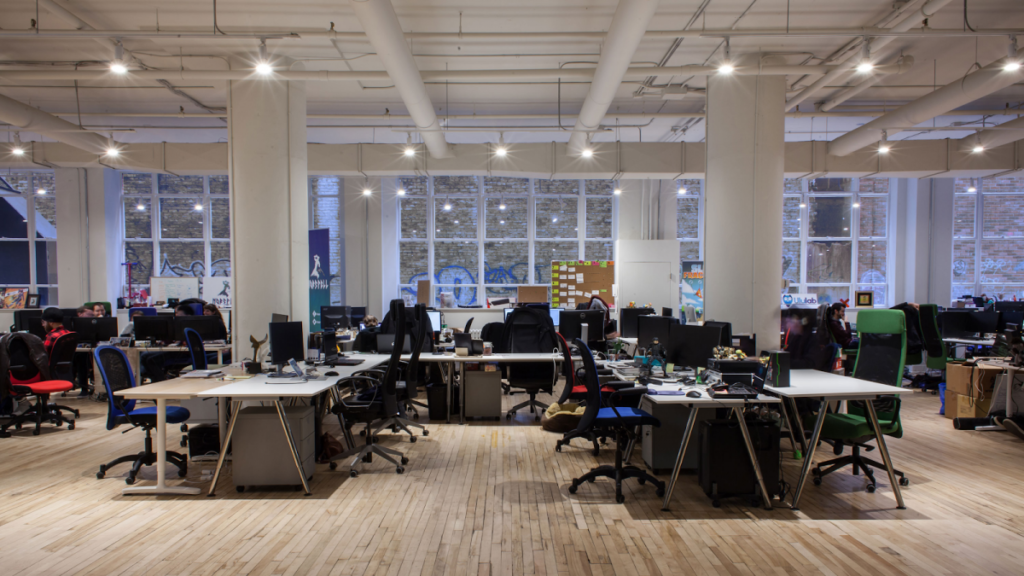 I want to work in an office like this one, if not this one exactly. Cubicles or closed off rooms have always been a necessary detriment to being a production management major. I'm the boring one creating spreadsheets and organizing meeting notes while co-workers are showing off their art and programming skills. GPS dictates everyone is equal. Everyone gets the same sized desk, in a shared environment with everyone else, making even someone as 'boring' as me part of this inclusive environment. I felt welcomed, just from walking into the room and feeling the atmosphere it thrives off of.
Creating an environment of inclusivity develops into something else. People seem happier than a desk job should make you. My experience for just a few days showed me how easy it was to start a conversation with a complete stranger. A shared kitchen can bring up far more opportunities to connect than you would expect, especially if that's a goal of yours during an internship or any opportunity while at GPS. This all culminates into a great work culture. Companies know each other, and while maybe don't collaborate on the level of working together, obviously put effort into knowing each other. This was noticed very easily come GamePlay Space's monthly QA. Developers not only talked to and supported their team members, but other games and devs as well.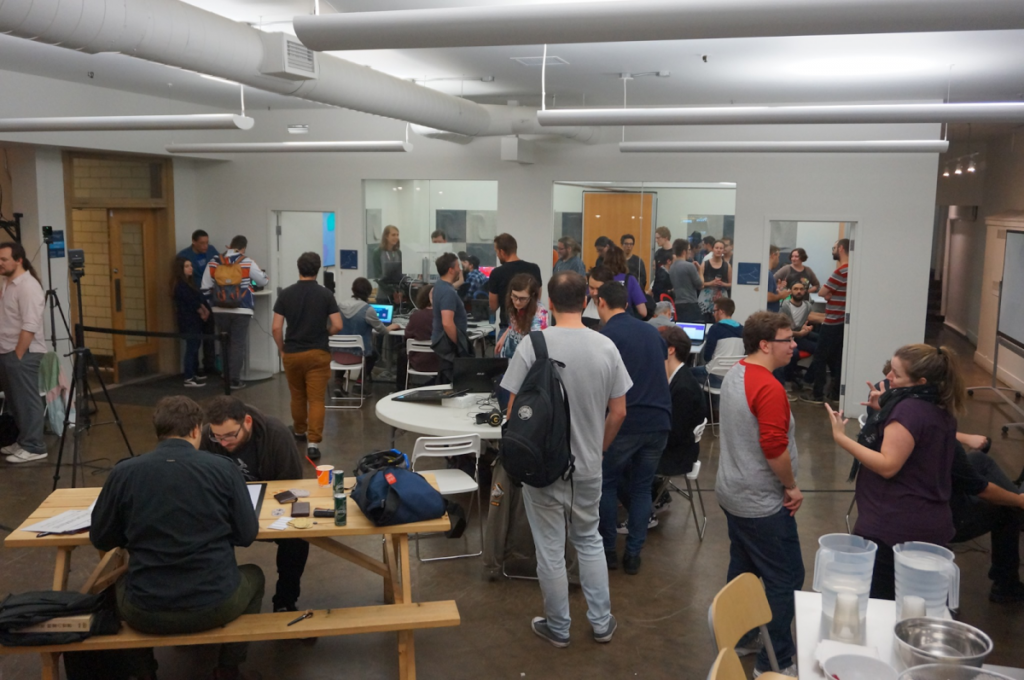 When GPS held its monthly QA session, you can be sure I was very excited! I arrived at 6:30PM for the event, ready to play some games and meet other developers. Walking around at first was an interesting experience. There were lines for the more interesting seeming games- a first person shooter, another a VR experience, whatever caught more people's eyes got more of a line. I had only ever experienced private QA sessions, inside Champlain's Lab. We're made to play every game, without choice, before leaving, which is fair in the sense that every developer should get your time. This wasn't enforced here. It was free reign on peoples times, leaving and coming whenever they like seeing at is was a public event.
I started with the smaller games then, the ones that seemed less crowded in order to play the games quicker, and meet as many developers I could before the session ended.
Momentum.
(Pictures provided by GamePlay Space, Montreal QC, CA)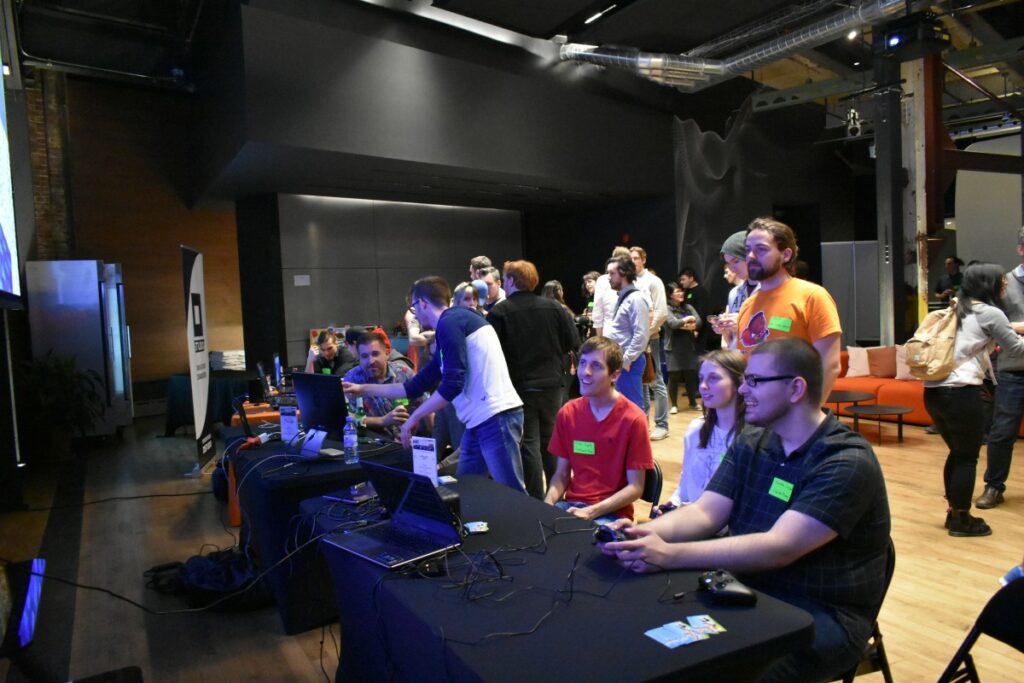 A dream a lot of developers have is to be surrounded by those who understand your work ethic and knowledge. To be able to talk to others in a casual setting where you can not only connect about games but other interests- education, social media, human behavior and other ways we as developers can interact with the world in a bigger way.
Momentum makes this dream come true, if only for a night. The energy of enthusiastic developers seeps in as soon as you walk through the doors- gameplay on the walls, soft drinks and alcohol to the side and six to eight games being played on the floor, surrounded by their developers excited to see the faces of people playing their game for the first time. It's an experience like no other, connecting developers to one another in a comfortable, casual way that allows each to show off their games and talk about whatever industry topics they like.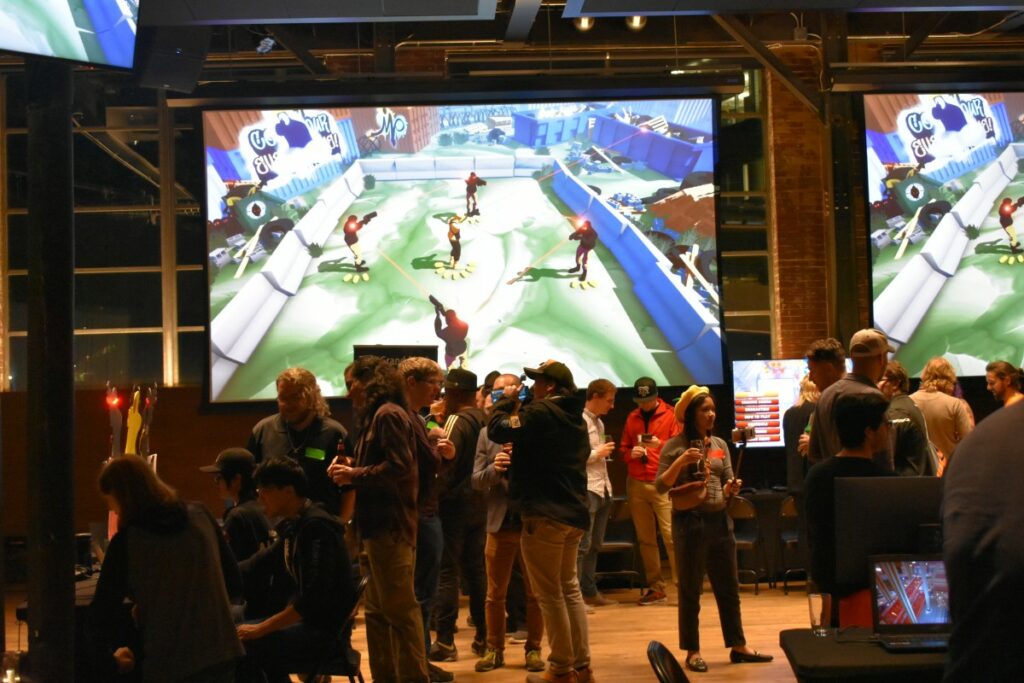 Momentum for me wasn't a place to show off my work, but to make new connections to industry professionals. I also unexpectedly went to follow up with a few companies I met from Dreamhack.
I initially started by talking to as many people as I could- using my known tactics from Dreamhack and Gameplay Space to shake hands and pass out my business card. That very quickly became a secondary objective as a developer and I started talking about different movement styles in video games and how they compare, based on the games dimensions, style, programming capabilities, etc. We talked about how games did it well and didn't and ultimately had a great conversation that lasted almost half an hour. This felt odd to me. We didn't talk about the college I was interning for, and I didn't worry about getting their contact by the end of the conversation. I still did, but it wasn't at the forefront of my mind.
The pace continued throughout the rest of the night, meeting only a few developers but making strong connections with them after an hour or more of conversation. Slowing down, I recognized a game I saw at Dreamhack. I didn't really know what to do, seeing as following up was primarily an online skill up to this point. I walked up, awkwardly re-introduced myself to the developer, and they recognized me immediately. I was somewhat startled, but we started having a conversation, something I wasn't able to do much with them at Dreamhack. My follow up email made a really good impression- they could really tell how excited I was for their project, and that was reflected in their remembrance of me.
Overall, Momentum was a learning experience for me. Following up in email is important for future communication with a contact, especially in person. And creating a personal connection rather than a large number of them can really give you good insight into the minds of others who you can relate to.
This entry was posted in Business, Conferences, Extra Curricular Activities, Gaming Industry, Montreal Companies and tagged burlington, canada, champlain abroad, champlain college, Champlain Montreal, discover, explore, gaming, gaming industry, international education, International internship, montreal, quebec, Study abroad, study in canada, study in montreal on by montrealcampus.