For 23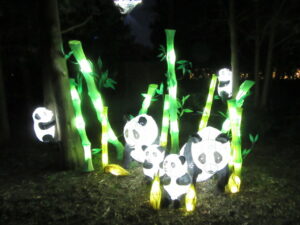 years, Montreal's Botanical Gardens have put on an annual light show during the months of September and October. The preparations for this highly anticipated event last all year round; once the team has decided on a theme they send their designs to China where, from December onwards, hundreds of lanterns are carefully handmade. When the lanterns start to arrive in July, they are fitted with lights and covered with a protective spray in preparation for the installations in August.
This year's theme was 'light', which was inspired by 2015 being the International Year of Light. The team decided to go back to the roots and look at why lanterns are used in China. According to legend, there was a monster called Nian who would come out of the water to terrorize villagers every night before the New Year. Finally, after years of living in fear, a villager came up with an idea to scare the monster with the use of lights, noise and the colour red. The team used this story as a basis for their display.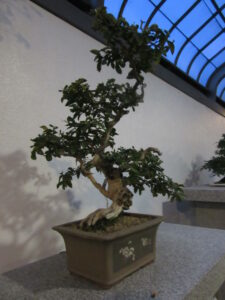 One rather chilly October evening, we decided to take a group of students up to the Botanical Gardens to enjoy the Chinese and Japanese Gardens. We arrived at Station Pie-IX and slowly made our way there. Before entering the gardens, we visited a small greenhouse with a Halloween exposition at the end. At first, we were unsure that we weren't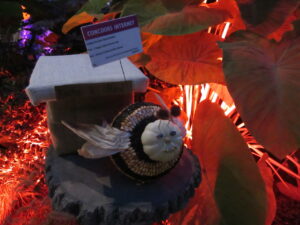 missing out on the Gardens of Light, until we fell upon a collection of bonsai trees, some of them up to 80 years old. Soon after, we found ourselves surrounded by hundreds of originally decorated pumpkins which had been entered through a school internet competition.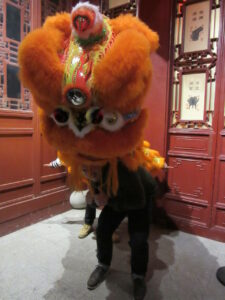 After we got our fill of Halloween decorations, we made our way over to the gardens to see the main event, and it was definitely worth the wait. The Chinese garden was beautiful! After seeing the pandas, we stopped off for some jasmine tea and moon cakes before following the path around the lake to see the rest of the display. We ventured into one of the buildings and needless to say the students ran straight towards the huge
dragon and climbed inside as soon as they saw it.
We continued on round and enjoyed some more snacks
in the Japanese gardens and then headed over to the insectarium. After a few panic-stricken moments when we thought it was shut, we found the entrance and spent the next half hour or so wandering around looking at the various different insects on display. We had heard rumours that you can taste chocolate covered grasshoppers, amongst other delicious treats, although we did not come across them…. Maybe next time?