My first two weeks studying abroad in Montreal have been a wild ride. After spending what felt like ages to unpack everything I've taken these first two weeks to familiarize myself with the metro, our small campus, and explore as much as I can of the city and restaurants visiting places such as the Hinnawi Bros a small yet cozy bagel shop right off of campus, or Takumi Sushi an all you can eat sushi restaurant. Or small more homey places like Brit and Chips which are a nearly five-minute walk from the Evo building. These past two weeks have felt long while adapting to the constant horns and lights of the city, but I already feel at home living in the Evo residence surrounded by friends and hard-working individuals. While I miss my friends in Burlington, I know I will develop a strong connection with my peers in Montreal.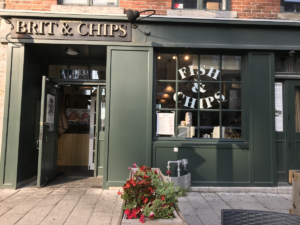 By hearing my stories of exploration and diverse food it would seem that I had always planned on venturing out and studying abroad through Champlain College. However, this was not the case. I was extremely hesitant on whether or not I wanted to study abroad as I didn't know that many people going, and was worried about moving to a new much larger, and faster city which I would have to conform to while also working an internship.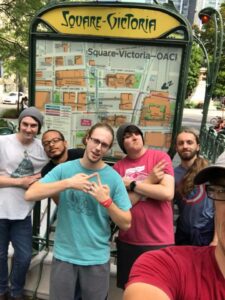 What I found is that the people that are here are some of the most outgoing and friendly people/students and staff I have met. They all have worked very hard to make it to their third year at Champlain and seem to be making the most of their time here in Montreal. I already find myself joining many students going out into Montreal just to find somewhere new or interesting whether it be a festival, a hidden gem of a restaurant, or a statue of Canadian history.
The group of around 50 students studying abroad in Montreal mirrors Burlington's small community vibe on a very reduced scale. But instead of downtown Burlington to explore, we have the vast media, and language-rich city of Montreal, Canada. While I have been living away from home for almost three years now I feel significantly more like an adult in Montreal. There is no hand-holding, you are expected to learn the metro and have the ability to navigate on your own, along with class expectations similar to Burlington's. This allows me to be more independent and learn to manage the craziness of both schools and outside life.
I had a lot of doubts about studying abroad, I was worried about not having enough friends, being trapped in a large and crazy city, and about the cost and food. But what I have found is that I have come to appreciate the craziness. I have made so many great friends and connections throughout my very short time here, and am loving the freedom the city provides for us. If I had a second chance and had to decide on whether or not I would study abroad in Montreal for my fall semester I would most definitely come back.