I'm currently taking a class here in Montreal that was highly recommended by many students that were here before me: Montreal Food Writing. One of the trips that was most talked about by past students in this class was the one to Jean Talon Market. They all had their story to tell about the place, so I was very enthusiastic about going this week. And even though we went in the winter and the outdoor part of the farmer's market was presently a parking lot, it was still well worth the trip. I can only imagine what this place is like in the summer, because even in the winter it still lived up to its reputation.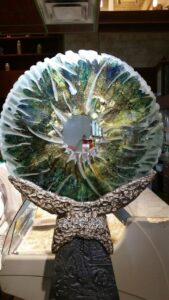 As soon as we went inside it was obvious that we were in the presence of some high quality vendors. Practically everything seemed like a specialty shop; best of it's kind. We explored a pasta shop, cheese shop, a booth that was just different kinds of olives, a smoothie shop, ice cream shop, an Indian themed spice shop, and the produce section? It must have made up at least a third of the complex. And let me tell you, these fruits and vegetables looked utopian. I'm talking absolutely flawless. Most were massive in size, without a bruise, scrape, or soft spot on them.
I believe they said that during the winter they have no choice but to import some of their wares, but during the growing seasons people are not allowed to sell anything that isn't local. The area has some of the richest soil in North America, which is what allows this massive farmer's market to flourish. I believe our professor also said something about this place being the largest farmer's market in North America as well. One could see why. Though I think something notable about this place was that it truly did not sell anything but food. Just food. I believe there was mention of some cooking utensils and some cookbooks around, though I never spotted them. This place was really all about the art that is producing quality cuisine.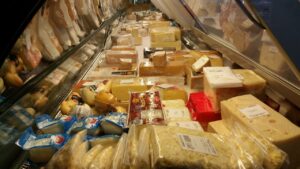 Now going into detail about some of the shops we visited, I myself am a pretty big fan of cheese. So the cheese shop was an absolute delight. Inside there were just rows and rows of different kinds of cheeses, well kept, and many of which none of us had heard of. Our professor let us sample a few of the different kinds. I myself ended up buying 2 decent sized blocks of a white cheddar that's been aged four years, and a white goat cheese cheddar that had been aged for two years. I didn't even know goat cheddar existed. We also sampled a two year old white cheddar as well, which had an incredibly strong, sharp flavor but still kept it's slightly creamy finish. While the two I had bought were so intense and well crafted, I may not do anything but eat very small pieces by themselves at a time. I feel like there's nothing I own that I could pair these with that wouldn't be a downgrade in quality. They were hard, with almost tiny, barely noticeable crystallites of flavor in them just from being aged for so long. They were both truly unlike anything any of us had tasted before. Truth be told, I would make the trip back to Jean Talon just for the cheese shop.
But the best part is, every shop holds that same level of unbelieveable quality. We also spent time sampling from the ice cream shop. It had quite the list of flavors to choose from, but each one was intense and magnificent. I think we were all taken aback when we tasted the blood orange ice cream. It had to be the most intense fruit flavor I had ever experienced. It was surprising to learn that no food dyes were added to any of the ice creams or smoothies either. Each one just had it's own natural ingredients that made them amazing.
After our tour of the main building, we decided to check out three of the other small buildings nearby, just outside of the main complex. Our first stop was a bread and sandwich shop. This you could know before you even got to see what was inside, because as soon as we opened the door a powerful smell of fresh baked bread hit us all hard. The inside of this place was so incredibly quaint and just lovely to be in; the whole thing was made up of dark, polished wood, and was delicately lit with soft yellow lights. I took a seat for a moment before we headed out again in the small dining area of to the side just to enjoy being in this little store.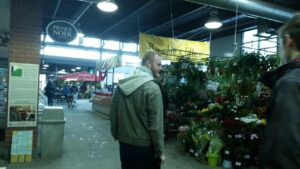 Next stop was what I can only think to describe as a taco shop, seeing as how to be frank, that was the only word I knew that was labeled on the building. [It's called El Rey Del Taco, and it's AWESOME!!! – Ed.] As we entered, a large menu was plastered on the wall, with pictures of the most delicious looking Mexican food. We passed an entire wall of just different kinds of tortilla chips before we came up on a small table before the register. Seven or eight different kinds of salsa were out for sampling. I love spicy food, but I decided to try the one that looked like guacamole. Either that was not guacamole, or that was the hottest guacamole I've ever had. I'd be lying if I said I didn't cough a little afterwards, but even so, the spice wasn't just hot for the sake of being hot. Pairing with the spice was a very pleasant flavor that came along with it. This would be an excellent stop for those people that love getting together and eating quality spicy food.
Our very last stop was what I believe to be a Turkish food store. This place was incredibly interesting. I got the feeling that the store contained very traditional foods. As we looked around we spotted things that we had tried in class the week before, such as baklava and halva. I myself was stoked when I spotted boxes of Turkish Delight, a gooey, gummy-like dessert coated in powdered sugar. I bought a box of the orange flavor, and one of the rose flavor, though at the time I wasn't sure what "rose flavor" was. But when I tried it it was fascinating. It actually tastes like a rose smells. Probably one of the coolest flavor experiences I've had.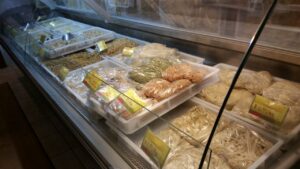 The very last thing we did before we were set free to shop for ourselves and head home, was go back inside the main building to have a whole bowl of freshly made pasta. Everything is made right there in the pasta shop, and the tradition has been passed down for generations. The man that owns the shop? Pasta making is in his blood. The meat inside was somewhat dry, offsetting the texture of the pasta and meat sauce that is cooked in a large vat in the shop every Sunday. But it wasn't too dry to where it didn't stick together. Definitely a unique spin on a usually common dish. The last thing we bought was a large maple pie pastry from a pastry shop in the main complex. And with our fresh goodies, we finally took the metro home.
Most of us go to a place called Provigo to do our regular grocery shopping. But trust me, Provigo is now where we go to get our necessary weekly sustenance, but Jean Talon Market is where we go to get real authentic, mouthwatering food. And for such high quality, it's not all that badly priced either. So even if you're not in food writing, take a trip to Jean Talon Market. You're stomach will thank you.