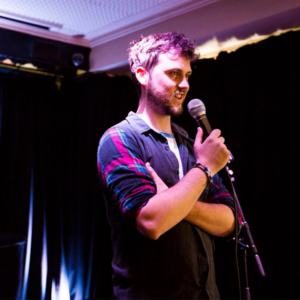 Tony Langan is from Dromiskin, County Louth, about 40 miles north of Dublin. He has been involved in the study abroad world for the past 7 years, joining Champlain Abroad Dublin for the Spring 2018 semester as the Student Life Manager. Tony enjoys a good live gig, a nice pint of Guinness and showing people the hidden sights and sounds of Dublin!
Below you'll find a list of some local Irish songs that Tony is listening to at the moment! All these artist's are Irish, young and there is a very good chance you can catch them live during your study abroad semester in Dublin.
Fontaines D.C – Liberty Belle
You will hear loads about Fontaines D.C. in the future, if you have not already. They are a young rock/punk band and their debut album, Dogrel, has won countless awards for best album last year. Also as the name suggests Liberty Belle is about the Liberties area where the band studied music at BIMM.
Lankum – Cold Old Fire
Junior Brother – You make a fine picture
It took me a long time to get into the unique sound of Junior Brother but once I did I was hooked. Like Lankum this is a folk sound but his unique voice is amazing. This song is from his EP and he also has a terrific new album called pull the wrong rope.
Kojaque – Love and Braggadocio
Kojaque is an amazing rapper from the North side of Dublin. His first album was nominated for album of the year in Ireland. This song is from that album, Deli Daydreams. I love the smooth jazz sounds with hip hop over it.
A Lazarus Soul – Black and Amber
Like most Irish folk songs they are catchy and deal with a difficult subject matter. This song is no different. A Lazarus Soul are a 3 piece from Dublin who write songs about their city and life. Amazing band.
There are SO many more new bands to discuss, never mind the absolute wealth of beautiful music from years gone by. I will be doing a lot more of these so keep an eye out. You can also find Tony's Tunes as a playlist on Spotify.
To keep up with Champlain Abroad's programs this semester and beyond, be sure to follow @ChamplainAbroad on Twitter, Facebook, and Instagram