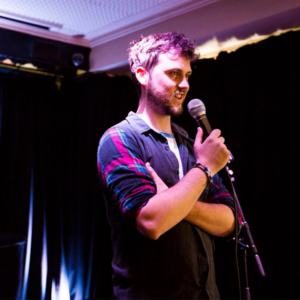 Welcome to the second edition to Tony's Tunes. This month, as it is the month of Love, I am focusing on Irish songs based around all things love. Here are some of my favourite songs that deal with love, hurt, relationships and everything else you can imagine.
Tony Langan is from Dromiskin, County Louth, about 40 miles north of Dublin. He has been involved in the study abroad world for the past 7 years, joining Champlain Abroad Dublin for the Spring 2018 semester as the Student Life Manager. Tony enjoys a good live gig, a nice pint of Guinness and showing people the hidden sights and sounds of Dublin!
1. The Waterboys – Bang on the Ear
The Waterboys are a legendary Scottish/Irish band that have been around for years. This particular song is about the singer, Mike Scott, recounting various different relationships he has had over the years. Beautiful lyrics, melody and storytelling.
2. Glen Hansard – Bird of Sorrow
Glen Hansard is probably my favourite singer from Ireland, if not anywhere in the world. I must have seen him perform over 20 times and counting, and this is certainly not the last time he will show up in one of these lists. This song starts slow and ends in an amazing burst of passion and shows off his incredible voice. The song is apparently written as a love letter to his mother and talks about how he will be there for her during tough times. This live version is amazing and well worth watching as well as listening too!
3. The Pogues – Rainy night in Soho
If you are unaware of The Pogues and the songwriting genius of Shane MacGowan, the leader singer, you are about to enter into a rabbit hole of amazing music. The Pogues started out as an Irish punk band in London many years ago and became famous for their on stage energy, Irish folk ballads and Shane MacGowans haunting and beautiful lyrics. This song speaks of an Irish man abroad, in Soho, and recounts meeting a lover. It is simply amazing and one of Ireland's most famous love songs. The song ends with the loving words…"You're the measure of my dreams"
4. Thin Lizzy – Dancing in the Moonlight
Thin Lizzy are widely known as one of Ireland's greatest rock exports and there have been recent complaints by bands such as Metallica as to why Thin Lizzy are not in the Rock n Roll Hall of Fame yet. Dancing in the Moonlight brings the listener on a journey of a young couple going on a date, and the consequences that follow.
5. U2 – The Sweetest Thing
One of my favourite U2 songs. Catchy music and nice lyrics. Bono wrote his song as an apology to his wife Ali as he forgot her birthday. This is also a special music video as it was recorded just around the corner from Champlain College's Academic Centre in Dublin. All our alumni should easily recognise Fitzwilliam street in the background.
Don't forget to check out the first edition of my favourite Irish Music and remember you can also find Tony's Tunes as a playlist on Spotify.
See you next month for our Paddy's Day special where we will celebrate songs about the Irish diaspora. Wishing you a great Valentines day from Dublin!!
To keep up with Champlain Abroad's programs this semester and beyond, be sure to follow @ChamplainAbroad on Twitter, Facebook, and Instagram