Though I do not tend to indulge in the shopping mall experience, I decided to try something new this weekend and head over to the Eaton Centre, a huge mall complex that is connected underground to, you guessed it, many more mall complexes. Montreal's subterranean walkway is basically one giant shopping center. So for those of you that love to spend the day wandering through store after store taking in the wonders of what Montreal has for sale, this is most definitely the place for you.
With a friend, I started the afternoon by taking the metro to McGill station. Once we got off the metro, we didn't have to even come back above ground to find the Eaton Centre. There were signs hanging from the ceiling leading us right to it. We started walking down some large halls that already had stores lining them before we made it into the actual complex. Once were there, we were greeted with the sight of a four-and-a-half-story mall filled with people. We spotted some shops that would be familiar to Americans, such as Gap, Old Navy, Forever 21, Lush, Levis, Godiva, Skechers, Payless, and Bath & Bodyworks, but were also happy to be greeted with some new stores that we'd never heard of such as Guess, Bizou, Bleu Marine & Co., Le Chateau, True Religion, Rudsak, Sirens, Limité, and many more. This place had everything from high-end collectibles and luxury items, to more basic, reasonably priced fashions for all. Not to mention food to fit any kind of craving.
And then we discovered David's Tea. Though perhaps slightly on the pricey side, it was a small tea shop that packed a big punch. They sold everything from water bottles with a tea steeper built-in to full tea sets to other specialized products for the real tea connoisseurs. The was was packed with giant tins of any tea you could possibly want. My friend and I were looking to buy some loose leaf tea, though there were plenty of people that were just coming in to purchase a ready-made order of their favorite tea. Not only did I find the best green tea I've ever had with orange in it, but I also found chocolate tea with actual sprinkles in it. We also spotted birthday cake tea and another kind that smelled a bit like ice cream. Needless to say, these people got pretty creative when it came to finding new kinds of tea mixtures to create.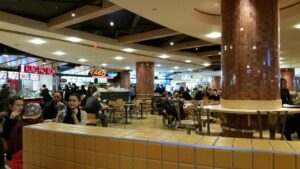 So with our unique teas in hand, we figured it was time to eat. We went back down to the first floor into the food court. I'll warn you right now if you have no idea what you want, it's very easy to spend more time than you expected deciding. This food court had everything. Greek, Indian, Chinese, sub sandwiches, crepes, burgers and fries, Japanese, Lebanese and Mediterranean, poutine, smoked meat, and so so much more. There was a joint in the food court JUST for popcorn. And the sweets? They have an entirely separate section just for those. Seriously, if you don't know what you want for lunch and you happen to be in the area, just go here and get something that hits the spot. While my friend went to go get Greek food, I went right for the crepes at Crepes de Gerard. I had one crepe stuffed with ham, mushrooms, and brie cheese, with a salad on the side, plus a pina colada milkshake. As we sat down to eat we found we were both incredibly happy with our choices. That's the great thing about Montreal: You can pick up just about any food from any restaurant and be pretty satisfied with your meal. We sat and talked for a while taking in how big this place was and how much variety there was in just one area. The Eaton Centre is connected to Les Alies, another complex that is literally right next to it (which is actually the one that housed Forever 21). These are only two of the complexes that make up this spreading network that is underground. There's a LOT more to see than just these two places.
After we finished up our lunch we decided to wander through a few more stores and head home. I myself can only take so much shopping, though even I was surprised at how much I enjoyed the place. I'll definitely be coming back with more friends for a full day outing. It's definitely worth returning to, especially because it's so close to the residence hall. McGill is the very next metro stop away from Place des Arts on the green line in the Angrignon direction. One could easily walk there as well. It's about the same distance from the residence hall as the academic center is, possibly closer, but in the opposite direction.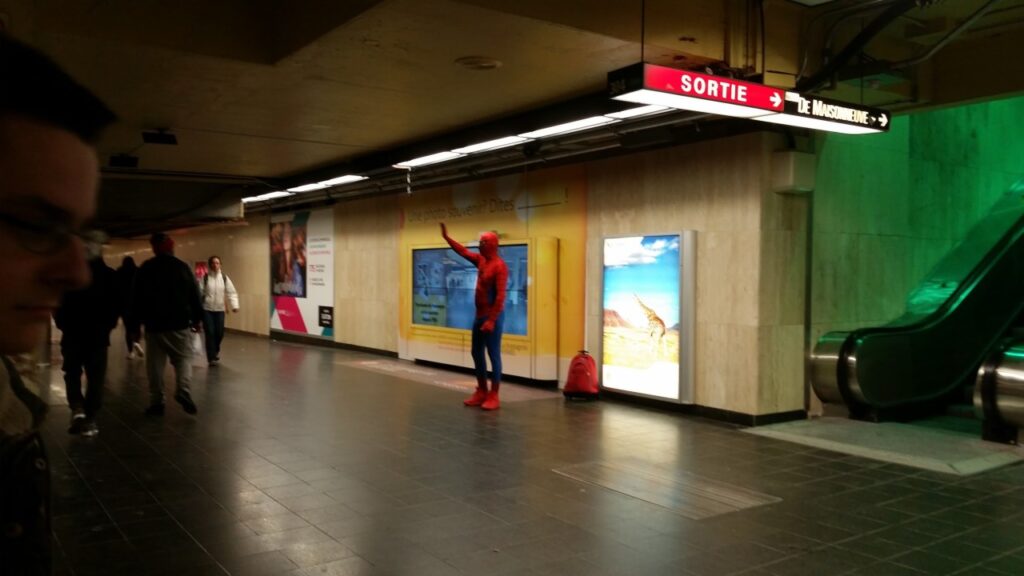 And though unexpected, we got one last surprise before we left: Spiderman:
We did not ask, we just admired.
So if you have a day, because trust me, you'll probably want a full day, go out and shop and explore by grabbing some friends and heading over to the Eaton Center. Just be careful about how much you spend, because this is one place that will definitely have something for everybody's tastes.