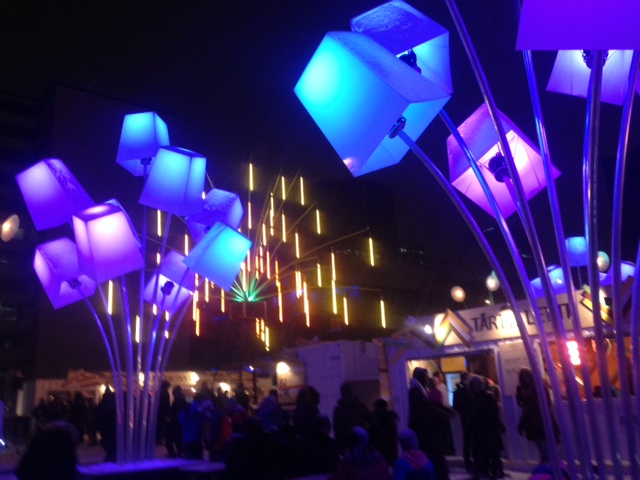 In Montreal, there is always an interesting event happening or to look forward too. You can always find something to do that's only a short walk from the dormitory. It's great for relieving stress and having a good time with friends. For us this week that meant going to the Montreal En Lumiere festival.
The two week festival, coincidentally happening over two blocks from the dorms, is an annual event that showcases the joys of Montreal wintertime. Combining performing arts and artists, outdoor activities, amusement rides, and different foods, it creates great festival experience. And the best part about it? Apart from the food and drinks you can buy, it's all free!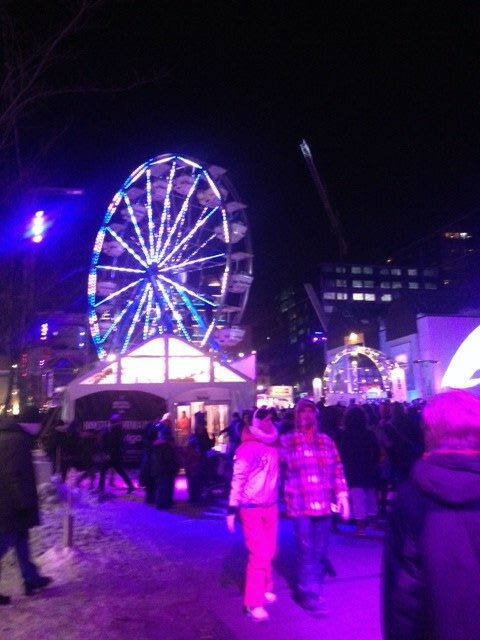 The first night my roommates and I went, we mostly just wanted to make it from one side of the festival to the other. Unfortunately, we left to go around 11PM, which is when the festival starts to close down for the night. But it seemed there was so much to do! A large ferris wheel to ride on, a lengthy ice slide that travelled throughout the festival itself, musical performers, and the lights! There's a reason why it's called the "Montreal Light" festival. Wherever you look, there's some beautiful display of art and lights that really brings a vibe of wonder and excitement.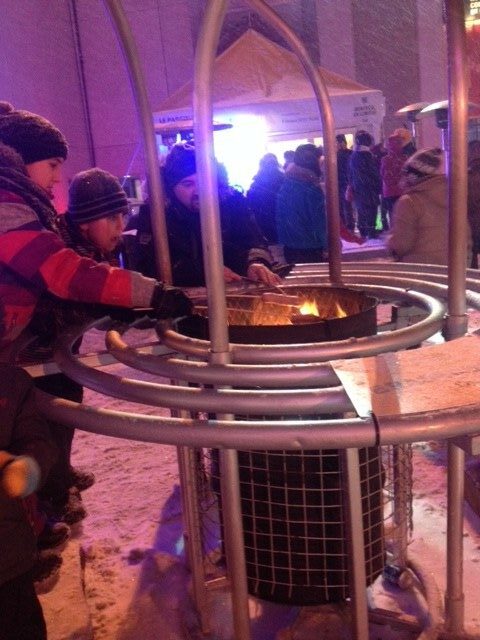 Unfulfilled with our first experience, a group of us from the dorms went for Nuit Blanche, the last night of the festival. On Nuit Blanche, the festival becomes an allnight event for those who want to party all night long, and oh man it was packed! The festival was full with quadruple the amount of people we saw the first night. There was a DJ playing some good beats on a stage, a solo performer playing bongos on another stage, and a group of dance performers at another. As well as the usual amusements that we saw the other night, a couple of new ones seemed to appear for this night. There were stands that contained live wood fires to warm up next to and even put a sausage or marshmallow over, a zipline you can ride above all the festival goers, and live ice sculptors carving out new pieces of art with chainsaws. After riding the ferris wheel, eating a sausage or two, and dancing the night away with the live DJs, we reluctantly decided to head home.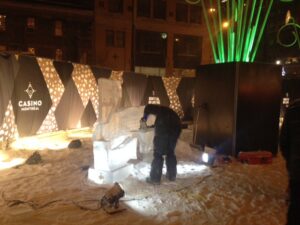 If you are able to plan your time right during the festival, there are also tons of free events to go to during the day, such as an interactive video experience, a couple of live theatre performances, and tons of local musicians. The festival is a great excuse to get out and enjoy the time you have abroad, soaking in some of the pop culture that lives in Montreal. If anything, definitely go to Nuit Blanche for a free and fun DJ experience. It's a great excuse to get with your friends to jam the night away.
Link to some more information: https://www.montrealenlumiere.com/home.aspx