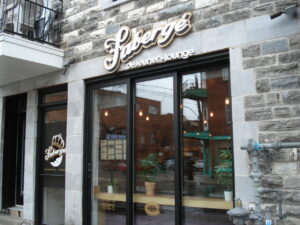 Generally, Saturday mornings don't boast the brightest, peppiest versions of us. If I leave my home before 10 am, that's something I'm doing alone and I know I'm not going to run into anyone under 30. But if it does happen, it's because there's been some sort of bat signal sent out, its alert brunch-related. If you're looking to see a tiny café situation packed with 20-somethings alternately recapping the previous night's events and scanning Adventure Time on one of the various televisions on the walls, brunch in Mile End is for you.
I think Fabergé is optimal because there's a velvet curtain (hung up on what must be shower curtain railings) that you can hide behind, right by the entrance, while you wait for a table. This affords you much less uncomfortable eye contact with anyone already eating their Eggs Benedict and, in turn, much less opportunity to survey the room with jealousy and hunger. The parfait you might indulge in comes with a full banana, swear to god. But not enough granola. Maybe ask for a switch, on that.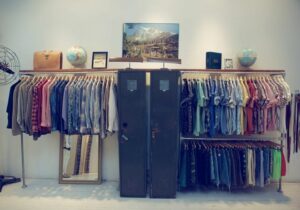 Fair warning, Mile End is like some sort of makeshift vintage haven. If you care about your money, pace yourself. But if you're American and the Canadian dollar's not faring well, it's basically all monopoly money to you. For a while at least. Citizen Vintage is a nice starting point. Indulge in some ill-fitting jeans, for the person who's not trying to prove anything. This advice is entirely without irony, as it's my truest belief that jeans work on some sort of reverse psychology. The less flattering you want them to be, the more they do for you. It's like you can trick denim into craving your approval.
The Annex next, for tops. Here, you'll end up with a few leather goods and a pink sweater that, in the mix with the rest of your wardrobe, might make you look like Patty Simcox from the Grease Live revival hurled herself into the Lost Boys. It's all preference but honestly, I think it'll be your high point. The low point of the situation? Everyone wants to give you one of those giant shopping bags that bump up against your legs while you walk. Reject those, get a million small bags. Ask friends to carry something; they care about you, don't they?
By now you probably have one more shop left in you and the space for one last bag. Right by Café Olympico and St-Viateur Bagel, Bohême Friperie is an opportune last stop– a place crammed full of sweaters and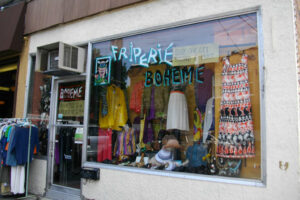 amazing coats that have someone else's name proudly stitched across the arm. Mesmerizing in its clutter, you'll want to grab things as you go along and compare them to the last, rotating the lineup of what's vital and what you have to concede and put back (somewhere, anywhere).  It's all oversized, it's all cozy as hell, let a friend choose blindly for you and just buy it. They've been through enough for you today, they can't take one more "But what about this though?" while you hold up another men's sweatshirt a la the bully who hit on Hilary Swank in the third Karate Kid movie. Be done.
Let this serve as a Saturday morning call to arms. You can always go home and fall into an accidental nap for five hours afterwards. It happens. But if your day winds up like this, you'll have a few bags full of clothes that smell like they've been through stuff to show for it. The nap won't even seem that crazy if it's past six p.m. It's been dark for hours.