One of the fun parts about studying abroad through Champlain College is that, during junior year, any classes about another culture can count towards the 6 required credits of COR 330. For me, the Italian Language was a required class at Lorenzo de'Medici Italian International Institute (the school I studied at in Florence), which automatically took care of 3 credits. The most Italian I had ever heard was when I was growing up and my dad would play opera through the house in the morning as I was got ready for school, so I was put in the most basic Italian language course they offered. It actually turned out to be surprisingly helpful while learning my way around the city, and I barely needed to worry about studying when I was out practicing the language every day.
For the rest of my core credits that semester, I took a class on modern Italian cooking. Who wouldn't want to study a different culture by studying its food? In Current Trends in Italian Cuisine, we modernized classic Italian dishes to make them healthier and incorporate modern ingredients. We studied, cooked, and ate (yes, you get to eat every dish you make at the end of class) meat*, pasta, and even a few desserts.
One aspect of the class that was both amusing and a bit challenging was getting around the language barrier between a class full of English-speaking study abroad students, and our professor Alfonso. Alfonso was a moderately well-known professional chef in the area and had previously worked at 1-, 2-, and 3-star Michelin restaurants. However, his grasp of the English language was nowhere near as strong as his cooking skills. Oftentimes he would make up his own idioms that fell short of making sense in either English or Italian.
One of my favorite examples of this is from the day that we prepared pasta al Pomodoro in Bianco, where we learned to make "roses" out of tomato peels to top our dish. At one point, while peeling and chopping tomatoes, Alfonso stopped and set down his knife. He picked up an untouched tomato and gave us all advice that I'll never forget, though probably for the wrong reasons: "Remember, guys, don't be like tomato." He then continued chopping tomatoes and explaining the recipe as if nothing was said. I almost regret not asking him for clarification, but I think that nugget of wisdom might actually be best left unexplained.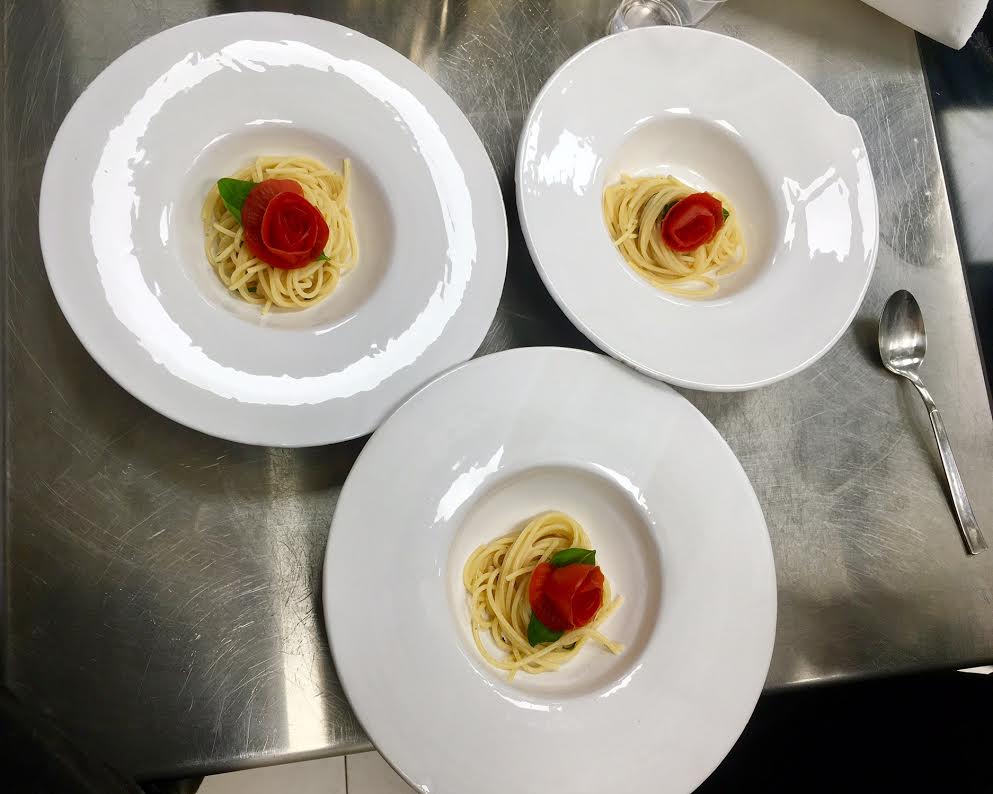 *Fun fact: Tuscany is the only region of Italy that is obsessed with red meat more than fish. An iconic Florentine dish is the Bistecca Alla Fiorentina, a T-bone steak that weighs over a kilogram!
APPLY NOW FOR YOUR INTERNATIONAL EXPERIENCE WITH CHAMPLAIN ABROAD!